The Latest From BostonBiker.org
News, Events, Updates
Written by Boston Biker on Jun 24
Livable streets is collecting data on which intersections need to be made better, see below for details.
—————
Do you walk out of your way to avoid unsafe intersections?

Do you poke at walk-signal buttons and wonder if they're connected to anything?

The LivableStreets Safer Streets Campaign is deepening the city's commitment to safety and advocating for better infrastructure – like cycle tracks and improved traffic signalization – to allow people to confidently explore the city on bike, foot and public transit.

Safety is particularly important at intersections, where people in cars, on foot, on bike, and in transit interact together. 

That's why LivableStreets is working to survey and recommend changes for specific crossings in the City of Boston. And, we need your help to identify intersections with pedestrian signals that need improvement.

We are surveying dozens of crossings and working with engineers in the City to implement fast fixes that improve signal timing, phasing and sequencing.
Together, we can make sure those everlasting Don't Walk signals are a thing of the past.
Best,
Mike
Mike Sanders
LivableStreets Alliance Lead Volunteer
E:

F: LivableStreets

T: @StreetsBoston/#SaferStreetsBoston
Tags:
infrastructure
,
livable streets
,
survey
,
upgrade
Posted in
advocacy
,
Commuting
,
infrastructure
|
No Comments »
Written by greg on Feb 26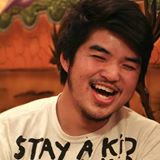 Greg Hum plays drums on his bike, gets people together for really big midnight and monthly bike rides, and smiles too much. He shares stories and more on his personal blog, The Humble Cyclist. Tweet at him, bro: @thehum. 
____________________________________________________________________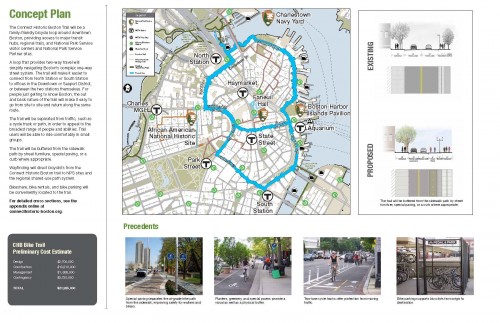 Imagine being able to bike around the heart of downtown Boston on completely safe and separated from car-traffic bike paths, or cycle-tracks. This is the goal of the Tiger Grant-funded Connect History Boston Trail
Tonight is the public hearing to present plans for a protected bike path loop around downtown Boston to the public. Here's the info about the hearing from the Boston Bikes event calendar, so definitely show up to voice support, comments, or concerns:
A Public Hearing will be held by the City of Boston Public Works Department to discuss the proposed Connect Historic Boston project that is being funded through a Federal Highway Administration Transportation Investment Generating Economic Recovery (TIGER) Grant.

WHERE: City Hall, Boston
One City Hall Square, Room 801
Boston, MA 02201

WHEN: Wednesday, February 26, 2014
Open House 6:00 PM
Meeting 6:30PM

The City of Boston Public Works Department will be holding a public hearing to present the City's Connect Historic Boston Project at the location and time shown above. The public notice which provides additional information relative to the hearing and project can be found here.
The plans for this path sound almost too good to be true:
The Connect History Boston Trail will be a family-friendly bicycle loop around downtown Boston, providing access to major transit hubs, regional trails, and National Park Service visitor centers and National Park service Partner sites.

A loop that provites two-way travel will simplify navigating Boston's complex one-way street system. The trail will make it easier to connect from North Station to offices in the Downtown or Seaport District, or between the two stations themslves. For people just getting to know Boston, the out and back nature of the trail will make it easy to go from site to site and return along the same route.

The trail will be separated from traffic, such as a cycle track or path, in order to appeal to the broadest range of people and abilities. Trail users will be able to ride comfortably in small groups.

The trail will be buffered from sidewalk path by street furniture, special paving, or a curb where appropriate.

Wayfinding will direct bicyclists from the Connect History Boston trail to NPS sites and the regional shared-use path system.

Bikeshare, bike rental, and bike parking will be conveniently located to the trail.
If these plans go forward, we can expect to see a very different landscape for bicycling in Boston once completed.
Tags:
bike lane
,
bike path
,
Boston Bikes
,
connect history boston
,
cycletrack
,
infrastructure
,
tiger grant
Posted in
advocacy
,
infrastructure
|
No Comments »
Written by greg on Mar 13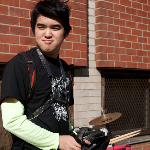 Greg Hum has been riding a bike everywhere since 2008, plays drums on his bike, organizes the annual Midnight Marathon Bike Ride, and shares stories and more on his personal blog, The Humble Cyclist. Tweet at him, bro: @thehum. 
____________________________________________________________________
This morning on my commute into Boston, I spotted BTD prepping some "Share The Road" signs to be hung up on Comm. Ave. by Kenmore Sq.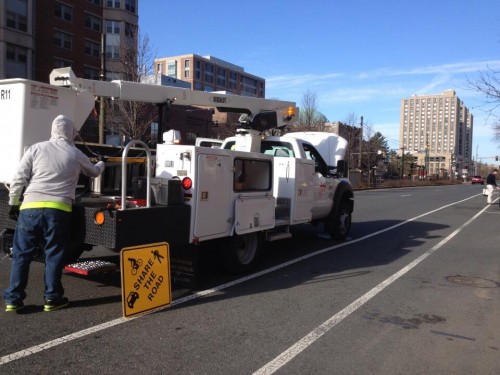 When I walked by the same spot this afternoon, I couldn't find them anywhere. Has anyone seen where they've been put up?
Tags:
bike saftey
,
Comm. Ave
,
infrastructure
,
Kenmore
,
road signs
,
share the road
,
signs
Posted in
infrastructure
|
3 Comments »
Written by Boston Biker on Nov 14
From Livable Streets:
———–
StreetTalk: 10 in 1 Request for Proposal submission period open
Ever wanted to present at a LivableStreets StreetTalk? Do you have a transportation advocacy story you want to tell? Are you doing transportation or land use research you want to share? Are you a part of the next hot transportation start-up? Then we want to hear
from you!
The 2nd Annual StreetTalk: 10 in 1 is Tuesday, December 11thand the RFP submission period is open now until November 23rd at midnight. Be one of 10 people presenting to fellow community members, advocates, LivableStreets members, and transportation leaders at our last StreetTalk of 2012.
400 volunteers – Thank you! 
Did you know that LivableStreets has over 400 current volunteers that we call on for any given project on any given day? Our volunteers are students, mothers, planners, architects, biologists, bakers, marathon runners, shop owners, cyclists, swimmers, and designers, all working to make streets safer and our communities more livable for you.
"
Whenever I see a bunch of folks standing on a corner in bright orange shirts I know they are fighting the good fight and getting stuff done." – LivableStreets volunteer
Our volunteers are out in the neighborhoods, sharing the latest news with residents, giving out information and collecting thousands of postcards to send to our city and state transportation leaders. Daily, they are speaking at public meetings, submitting comments and getting letters to the editor published to advocate for safer streets in the Boston region for you.
 "Volunteering with LivableStreets has been a great experience. It's wonderful to be part of an organization that is really making a difference in the lives of those in the community. I've also learned a great deal about outreach, advocacy, and how non-profits such as LivableStreets function – knowledge that will help me in my future work." – LivableStreets volunteer
We want to say THANK YOU to every volunteer who has ever helped us with a campaign, work in the office, and/or an event. Thanks to you, LivableStreets is where it is today.
US Cities Gather to Rethink Street Design   
"It's like our city streets have been in a suspended state of animation for decades… they are designed for a different era."
                                      – Janette Sadik-Kahn, NYCDOT Commissioner
Jackie Douglas (E.D of LivableStreets) Ray LaHood (Secretary of US. DOT) and Jeffrey Rosenblum (Co-founder of LivableStreets) at the NACTO Conference in New York City.
Why did hundreds of elected officials, transportation leaders, and key stakeholders from US cities gather for a three-day Designing Cities conference last month hosted by the National Association of City Transportation Officials (NACTO)? Cities recognize the shortcomings of traditional street design guidelines and are leading an innovative agenda to invest in sustainable transportation projects that re-imagine and reinvent our streets.
LivableStreets Executive Director Jackie Douglas moderated a panel "Safer Streets" with leaders from across the US. Though every year over 5,000 pedestrians and cyclists are killed in traffic nationwide (worldwide, 145 people die per hour in all road collisions- that's more than 2 per minute!), most collisions in US cities are preventable. Design is critical. But design doesn't have to be long-term and expensive capital projects. Cities are being creative with quick cheaper fixes and using in-house crews to keep costs low and increase impact.
LivableStreets Co-founder Jeff Rosenblum moderated a panel "Traffic signals: integrating space and time," challenging the conventional wisdom of traditional designs based solely on car throughput at the hour. New transparent design criteria are starting to be used that address mobility of walking, biking, and transit, recognizing that street design is more than just technical number crunching but incorporates policy and social values into the decision making process.
StreetTalk: How Cambridge made mode-shift a reality
Wednesday, November 28, 7:00-9:00pm
@ Ironwood Pharmaceuticals, 301 Binney St, Cambridge
Open to the public, $5-$15 suggested donation   
The statistics look like a mistake. In July, the Globe highlighted a successful mode-shift policy in Kendall Square. Kendall Square has managed to add 4.6 million square feet of new spaces (a 40% increase since 2000) while reducing car trips by as much as 14% in the last decade.
What is the City of Cambridge doing that made it possible to bring new development without bringing new drivers? Stephanie Groll, Parking and Transportation Demand Management Officer, and Geoff Hewer-Candee, Graphic Designer for the City of Cambridge, will share insight about two programs that change travel behavior – one aimed at commuters and the other aimed at residents. Highlighting Kendall Square, learn how Cambridge has made it a priority to reduce car use among its workers, and what the city's innovative CitySmart program has done for residents' non-work trips to put Cambridge on the social marketing map.
Hosted by LivableStreets Alliance with WalkBoston.
Sponsored by Ironwood Pharmaceuticals 
For more information:  [email protected] / 617.621.1746/ www.livablestreets.info 
Networking Night rescheduled to December 13th
Thursday, December 13, 2012, 6:00pm-9:00pm   
@ Lir Irish Pub, 903 Boylston St, Boston 
Sponsored by New England Institute of Transportation Engineers
Think that transportation has the power to make our city more connected and more livable? Want to meet local organizations working to make this happen? Please join us at our second annual Networking Night. Come schmooze with us and take advantage of this event to expand your social and professional network. Light appetizers will be provided and drink specials will be available.
Interested in getting involved, co-hosting, or sponsoring this event? Email [email protected] for more information.
We are hiring!
Help us spread the good word. Forward this email.
Join the LivableStreets growing team as a Campaign Coordinator
LivableStreets is searching for a Campaign Coordinator to play a critical part in our growing non-profit organization. We challenge people, government, and businesses to think differently about the role of transportation in our daily lives. We're working to create a system that better balances transit, walking, and biking with automobiles to make the Boston region more connected and livable. We inspire a vision, build partnerships, empower communities, and create change.
As a Campaign Coordinator, you will be responsible for coordinating LivableStreets'
Help make this happen.
advocacy campaigns. On any given day, you might:
Develop and implement campaign tactics and strategies
Track transportation projects and policies in the Boston region, and from around the world to introduce best practices here.
Interact with city and state agency staff, legislators, and partner organizations and articulate our policy and engineering recommendations.
Coordinate production of campaign materials, including, print, email, web and social media communications.
Represent LivableStreets at public events, meetings, and with the press.
Activate and train volunteers
Build partnerships with organizations and key stakeholders.
Attend and speak up at one of the "Future of Transportation in MA" public meetings
Future of Transportation in MA, MassDOT Public Meetings
The Massachusetts Department of Transportation is holding a series of statewide public meetings, engaging with residents, community leaders and business owners to discuss the future of transportation in the Commonwealth.
"Every person in the Commonwealth has a stake in our transportation system," said MassDOT Secretary and CEO Richard A. Davey. "Whether someone drives, walks, takes public transit or rides their bike, there is rarely a day that goes by that they don't interact with the system.
These statewide discussions are intended to allow you to share your ideas, thoughts and proposals for improving and paying for our transportation network for many years to come. Representatives from each division of MassDOT – RMV, Highway, Aeronautics and MBTA/Rail and Transit – will be available to answer questions and provide information.
Framingham: tonight, Wednesday, November 14, 6:00pm-8:00pm
@ Memorial Building -Nevins Hall, 150 Concord Street, Framingham

Click here for more info>>

Mattapan: tomorrow, Thursday, November 15,
5:30-7:30pm
@ Mattapan Branch Library, Community Room, 1350 Blue Hill Avenue, Mattapan
Click here for more info>>

Boston: Thursday, November 29
, 6:00pm-8:00pm
@ MA Transportation Building, conference rooms 1, 2, 3, 10 Park Plaza, Boston
Click here for more info>>
Tags:
bike jobs
,
infrastructure
,
livable streets
Posted in
advocacy
,
jobs
,
news
|
No Comments »
Written by Boston Biker on Jul 31
Got this in the email, anyone seen these yet? Thanks John for the tip.
——————-
I am sure you got the memo but Hubway is in Cambridge, Harvard, Central, and Lafayette squares. The build out will continue over the next few weeks but the station maps on the installed stations should give a nice idea of locations.
In addition stripping has been completed on Western Ave in Boston with a parking protected buffered bike lane on the Cambridge in-bound side and a very wide (5.5-6feet I think) curb lane with no parking on the outbound side.
Tags:
cambridge
,
hubway
,
infrastructure
Posted in
infrastructure
|
3 Comments »
Written by Boston Biker on Jul 09
There is an awesome post in the globe about the future of biking in Boston as well as a great overview of the new super awesome bike/ped bridge under the Zakim Bridge.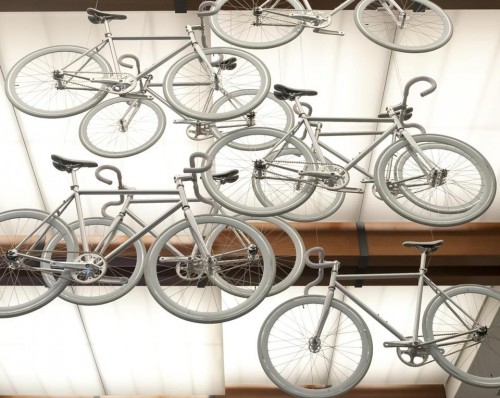 BIKE PATHS, BIKE LANES, BIKE RACKS, AND CYCLE TRACKS. Bike this and bike that. Cities and towns across Greater Boston are peddling cycling construction projects this summer like never before: If it isn't a Newton city committee proposing 30 new miles of bike lanes, it's Malden and Everett converting downtown railroad beds into a multiuse path, or Charlestown and Jamaica Plain residents lobbying for bike improvements once antiquated highway overpasses are torn down.

Meanwhile, at 698 feet, the longest bicycle and pedestrian bridge ever built in Boston is expected to open this month. The North Bank Bridge, paid for with $10 million in federal stimulus funds, begins under the Leonard P. Zakim Bunker Hill Memorial Bridge in Charlestown's Paul Revere Park and ends in Cambridge's North Point Park. Looping like a giant steel roller coaster over four sets of railroad tracks and a boat ramp, it is a sight to behold, whether you own a bicycle or not.

With so many people buzzing about biking — none louder than Mayor Tom Menino — could Greater Boston transform before our eyes into a world-class bicycling region like Copenhagen, where a third of the workforce pedals to the office each day? Is the Big Dig, which redefined the city a decade ago, already passe? Transportation planners and bicycle advocates say we're on that path but still a long way from achieving such dreams, in part because we haven't always pedaled forward.
Read the rest of this article here.
Tags:
article
,
globe
,
infrastructure
Posted in
advocacy
,
infrastructure
,
news
|
No Comments »
Written by Boston Biker on Nov 15
Got this in the email, anyone got pictures yet? Thanks Nate for the heads up.
—————————————–
"Happy to report I rode some new bike lanes to work along Cambridge St from Washington St in Brighton to Union Square in Allston."
Tags:
Bike Lanes
,
cambridge street
,
infrastructure
Posted in
infrastructure
|
2 Comments »
Written by Boston Biker on Oct 13
Got the following report.
Ruggles Street was recently repaved and, at least, as of this afternoon has lanes from Ruggles Station to Columbus Avenue. From Ruggles Station to Huntington Avenue there are spray painted sharrows and crosswalks awaiting the next round of thermoplastic.
Anyone have pictures of this yet?
Thanks Fenway for the tip.
You can also see some new sharrows on South Huntington over at The Hum's blog.
Tags:
infrastructure
,
Ruggles
,
sharrows
Posted in
infrastructure
|
4 Comments »
The Word On The Street