The Latest From BostonBiker.org
News, Events, Updates
Written by Boston Biker on Jan 20
Got this in the email from the Cambridge Bike Safety Folks:
Happy New Year! We hope you had a wonderful holiday season. We're excited to report that planning for the Spring protected bicycle lane pilots is now in full swing. We want to thank everyone that helped us get to this point – without everyone who turned up to city council, writing to councillors, spreading the word, the network would not be on the table.
In December, the city installed pop-up protected bike lanes on Mass Ave in Central Square near the Mass and Main intersection, and north of Harvard Square, in front of the Harvard Law School. As planning for the spring network of popups ramps up, we want to express positive feedback to the city about the winter popups and remind them that we are all paying attention to what happens this spring.
It would be very helpful for you to take both of the following two actions:
Contact the city council, the new City Manager Louis DePasquale, and Deputy City Manager Lisa Peterson, and thank them for the winter pop-ups. Even just a short note to thank them for making us safer and to request an expansive network of similar protected bike lanes this spring will go a long way.

Email [email protected], [email protected], [email protected], and copy [email protected].

Take our short five question survey to provide feedback about the winter pop-ups.
Thanks for your time and stay warm!
Nate, Annie, and other CBS core members
Tags:
Cambridge Bike Safety
,
CBS
Posted in
advocacy
,
infrastructure
|
No Comments »
Written by Boston Biker on Jan 11
From BNB:
Office Volunteers Needed!
We could really use some help in the office with data entry and mailings. Are you free during regular office hours (M-F 9-5pm)? This is not the most glamorous job but does require attention to detail, basic computer skills and is super important!
Email [email protected] for more information or to sign up.
Winter at the Bike Shop
Things are on sale at the Shop! We're having a 50% off sale many of our used parts including wheels and accessories. Many of our bikes have been discounted and winter helmets and other cold weather gear is in stock!
Upcoming Clinics:
Mon 2/6 7-9pm AEAB Alumni Night
Mon 2/13 7-9pm Femmechanics
Volunteer of the Month – Rob Townsend
Rob Townsend started volunteering with BNB in the summer of 2015 after he found out about BNB at the Redbones Bike Party. As he expresses, BNB's mission, community of other volunteers and staff had him "hooked' and he has been volunteering ever since. His favorite part of volunteering is the different ways he can volunteer while also meeting new people and having fun.
Tags:
bikes not bombs
Posted in
advocacy
|
1 Comment »
Written by Boston Biker on Jan 06
A common political argument is that bike and transit riders should "pay their own way." A study in Vancouver however suggested that for every dollar we individually spend on walking, society pays just 1 cent. For biking, it's eight cents, and for bus-riding, $1.50. But for every personal dollar spent driving, society pays a whopping $9.20! Such math makes clear where the big subsidies are, without even starting to count the broader environmental, economic, spatial and quality-of-life consequences of our movement choices. The less people need to drive in our cities, the less we all pay, in more ways than one.
Or to put it another way, you are not paying for bike lanes and side walks with your taxes, your paying for massive infrastructure projects to move cars around.
All that money could be used in much better ways.  For instance we could just leave it in your pocket…or we could put it into public transit, or renewable energy, or use it to hire more teachers, or make sure our water is clean, the list is nearly endless.
The other thing to think about is that once car usage is reduced, deaths from car usage is also reduced.  Less crashes, less hit and runs, less obesity, less asthma, less wars for oil, less fracking, less cancer, less diabetes, less global warming induced bad weather.
In short we are spending our money all wrong on things that are only hurting us.
In contrast cycling walking and public transit actually makes money for society!
A recent American study suggested that compact development, on average, costs 38 per cent less in up-front infrastructure and 10 per cent less in ongoing service delivery than conventional suburban development, while generating 10 times more per acre in tax revenue. Many cities overbuilding the suburbs are putting their fiscal future at risk — and that's before the bigger picture costs are even included.

Over the last decade, Canadian cities like Calgary, Edmonton, London, Halifax, Regina and Abbotsford have been doing the hard math on the real costs of how and where they grow — not just up or out, but how smarter design choices save costs. The resulting math has been powerful — tens of billions of dollars more of public cost for car-dependant suburban growth than for smart infill — and I haven't even yet seen such a study that includes all the full and life-cycle costs of our growth choices. Once these shocking numbers are revealed, municipal leaders can't "un-know" them, no matter what political ideology they live by.
Want more examples? There's math showing that replacing on-street parking with safe, separated bike-lanes is good for street-fronting businesses. That crime goes down as density goes up. That providing housing for the homeless actually saves public money. That you can move more people on a street when car lanes are replaced by well-designed space for walking, biking and transit.
It's hard to argue with numbers like that.  Building car infrastructure is a dead end, and needs to stop.
With sea level rising, and a demonic Cheeto in office convinced its a Chinese hoax,  its going to be beholden on local municipalities to rescue themselves.  Boston is already experiencing flooding on some high tide days, its only going to get worse.  Our tax money needs to go towards fighting and recovering from the mistakes of the past, not repeating them.
Tags:
cars are bad for the budget
,
cars cost a lot of tax money
,
politics
Posted in
advocacy
,
Commuting
,
infrastructure
|
No Comments »
Written by Boston Biker on Jan 05
Don't know if the governor is going to sign it…but he should.
Drivers across the state could be penalized with a ticket of up to $50 for stopping in a bike lane under legislation sent to the governor's desk on Tuesday, the last day of the biennial session.

State and local officials have increasingly turned portions of roadways into bike lanes, and municipalities have imposed their own fines against drivers who use bike lanes for parking or stopping.

In May 2014, a new bike lane obstruction penalty went into effect in Cambridge, with a $35 charge, according to the city's website, which says that previously vehicles obstructing bike lanes were ticketed for double-parking or other offenses. Boston also tickets drivers for stopping or parking in a bike lane, according to its website. (via)
Tags:
about time
,
bike lane
,
fines
Posted in
advocacy
,
Commuting
,
infrastructure
|
2 Comments »
Written by Boston Biker on Dec 09
The good folks in cambridge fighting for improved bike safety are claiming their first (of hopefully many) victories, with the installation of protected bike lanes in Central Square.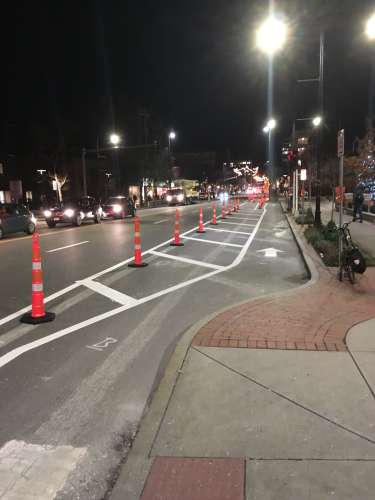 from their email:
We are excited to report major progress in the push for bike safety in Cambridge! Today, the City started to implement pop-up protected bike lanes on sections of Mass Ave! Additionally, the City has has committed to begin building a broader network of pop-up protected bike lanes this spring.

These are a major achievements and they would not have happened without you. The City Council and the new City Manager Louis DePasquale are responding to our petition signatures, phone calls, letter writing, rallies, and council meeting attendance. As a measure of the city's commitment, the traffic department will be hiring an additional engineer in large part to help with the plans for increased bike infrastructure.

Our road to success has not been without challenges. As you may recall, in early November, the city had stated publicly that establishing even a single protected bike lane before the end of the year would be impossible due to the time needed for planning and the practical problems posed by snow and cold weather. This surprising reversal in policy was the result of our calls, letters and presence at council meetings letting City Hall know that we were not satisfied with the pace of progress.

Even as we celebrate, we recognize that we are still a long way from our goal of a network of protected bike infrastructure on all major thoroughfares. During the Winter, conversations will continue with city officials to work out details for the Spring roll-out of additional protected bike lanes. The city has not specified the exact plan for the spring pop-up network and we want to make sure that it is significant in scope and is as successful as possible. It will be important to voice our opinion at public meetings and, if necessary, at the council to make this happen. Let's continue to use our collective power to ensure that we get the safe streets everyone deserves.
Tags:
cambridge
,
central square
,
mass ave.
,
protected bike lanes
Posted in
advocacy
,
Commuting
,
infrastructure
|
1 Comment »
The Word On The Street