The Latest From BostonBiker.org
News, Events, Updates
Written by Boston Biker on Sep 17
In case you didn't know, the Idaho Stop is when cyclists are allowed to treat stop signs like yields, and red lights like stop signs.  Idaho was the first to try it out, and more or less its been pretty ok.
Saw this tweet from the Brookline PD today…asking for feedback about said Idaho Stops.
Feedback welcome, should we allow cyclists to use Idaho Stop's? Not at all? Perhaps during heavy commuter hours? Certain roads?

— Brookline PD (@BrooklineMAPD) September 17, 2014
I saw if you are going to do it, it has to be all the time all roads, otherwise its just too confusing. As far as I know it would require a change in the law, and would for sure need to be accompanied by a huge education campaign.
What do you think?
Tags:
brookline pd
,
idaho stops
Posted in
advocacy
,
infrastructure
|
3 Comments »
Written by Boston Biker on Sep 10
While I am very sad to see David go, he did an excellent job at MassBike for many years, its great that he is moving on to other challenges.
Today our Executive Director, David Watson, announced that he will be leaving MassBike. David has been with us for more than eight years and in that time has used his passion for biking to help make Massachusetts safer for all cyclists.
Watson remembers biking in the streets of Massachusetts at the beginning of his tenure at MassBike. "Bike commuters were bravely riding along, but largely limited to the strongest and most fearless among us," he wrote in his announcement (pdf). "There were precious few bike lanes in the state, and none at all in Boston. State transportation policies were just beginning to contemplate biking and walking, but that had not yet translated to change on the streets. Little or no funding was dedicated to bicycle infrastructure or education."
Now, eight years later, much has improved. Massachusetts has installed more bike lanes and increased state funding for bike paths. More residents have an interest in biking for transportation and health. In a time when federal funding for biking and walking has been cut, Massachusetts has created a state policy to triple biking, walking, and transit, and is providing funding to make it happen. With David at the helm, MassBike has:
Launched our Safe Routes to School Program in 2008, which has reached more than 11,000 kids
Championed the Bicyclist Safety Bill, which became law in 2009
Trained MBTA bus drivers since 2010 to better prepare drivers for interactions with bicyclists
Successfully advocated for improved bike parking at transit stations and bike racks on all buses
Expanded Bay State Bike Week in 2010 to a statewide celebration in partnership with MassDOT
Introduced legislation in 2011 (and again in 2013) to protect Vulnerable Road Users
Secured expanded bicycle hours on the MBTA Blue Line in 2011
Published bike safety information in seven languages in 2012 (now 10 languages!)
Launched the Bikeable Communities Program in 2012, which has helped more than 40 cities and towns improve bicycling conditions
Created the annual Massachusetts Bike/Walk Summit in 2012
Helped educate police officers in 2014 with our training video
In 2014 successfully advocated for increased funding for bike paths, including more than $130 million in the MassDOT capital budget and $377 million in bonding authority
"A tireless advocate – and a tireless cyclist – David has been instrumental in seeing so many wins for safe biking in Massachusetts," said Jim Bradley, President of MassBike's Board of Directors. "We thank him for serving MassBike, bicyclists in Massachusetts, and the community so well these last eight years. We will remember his time at MassBike as one of action, commitment, and enthusiasm."
The Board now begins a search for a new Executive Director. The right person will capitalize on the successes of Watson's tenure to provide Massachusetts with a future of greater acceptance of and enthusiasm for bicycling.
"I am very proud of the team, the organization, and the partnerships we have built together over the past eight years," Watson wrote of the MassBike board, staff, and community. "This has been the most challenging and the most rewarding job I have ever had, and I thank you for giving me the opportunity to do it."
———————-
It also means that someone can step in to take the helm and move MassBike forward even more!
Yesterday we announced that David Watson is stepping down as the Executive Director of MassBike. Now we are starting the search for a new ED. If you or anyone you know is interested, read the job description here (pdf), and send an application to [email protected]!
Tags:
David Watson
,
massbike
Posted in
advocacy
,
news
|
1 Comment »
Written by Boston Biker on Sep 09
From The Boston Cyclists Union:
—————-
The City of Boston took a big step forward for the country today as Mayor Marty Walsh presented an ordinance to the City Council that will make truck design far safer for pedestrians and bikes.
"We believe this is the first ordinance of it's kind in the country," wrote Mayor Walsh's press secretary Kate Norton. "The ordinance requires side guards, convex mirrors, cross-over mirrors, and blind-spot awareness decals on all vehicles over 10,000 pounds awarded a city contract. There is a fine for those not in compliance — escalating from $100 for the first offense, to potential termination of the contract."
The Bike Union began pushing for the ordinance through Councillor Ayanna Pressley's office in the wake of Eoin McGrory's tragic death in Charlestown in early April. (Please contribute to a charity fund in his memory.) At the same time, the city's office of Urban Mechanics was talking to the city's new mayor about the success of a pilot program that required sideguards first on the city's public works truck fleet, and subsequently on all trash hauling trucks that contracted with the city. The results of the pilot were positive and all parties agreed that a move toward design requirements for all trucks contracting with the city was the best next step.
Today the Bike Union is also releasing a new"Sideguards Save Lives" fact sheet that illustrates the benefits side guards and blind spot mirrors. The fact sheet is that will give residents in other municipalities, the state, and the country a tool to push forward similar ordinances and legislation.
"The Bike Union knows who's who and they set up a face to face meeting with Councillor Ayanna Pressley's staff," said Alex Epstein, one of the nation's expert on truck safety design who works at USDOT at the Volpe Center in Cambridge, and also helped advise the Mayor's staff. "I don't think it would have been possible without that insider connection."
Read more here.  I can't wait to see this passed into law.  There is no reason such a simple and cost effective way to save lives is not mandatory.
Tags:
cyclists safety
,
Law
,
mayor walsh
Posted in
advocacy
,
news
|
No Comments »
Written by Boston Biker on Aug 27
From MassBike:
———–
Big news this week when the Healthy Transportation Compact (HTC) met in Boston. At the meeting, MassDOT announced an initial investment of up to $5 million for the critical Complete Streets Certification Program. The program provides competitive funds to cities and towns to create streets that are safe and welcoming for all users. Led by MPHA and MAPC, MassBike and other advocates succeeded in incorporating the program and its funding into the Transportation Bond Bill passed in April. But MassDOT still had to budget the money, and now they have – thank you MassDOT! 
The HTC was created by the 2009 transportation reform law and requires the Secretaries of Transportation, Health and Human Services, and Energy and Environment (and the agencies under their supervision) to work together to get more people walking and biking in Massachusetts. Last year, the HTC added the Secretary of Housing and Economic Development, recognizing the link between land use decisions and healthy transportation options. 
Imagine what it would be like to have a street dedicated to bicycling and walking. This street is not a shared bike lane. It is a neighborhood block with houses and open spaces for play and community engagement.
What you are picturing is a playway. Playways are temporary street closures in a residential neighborhood that get community members, especially kids, active. Playways utilize street spaces for people rather than cars. They can be done in many places, from dense urban areas to suburban and rural towns.
Although playways might sound like just another simple, fun event, they have a serious purpose. They create opportunities for activities and exercise, rally communities around open spaces, and connect neighborhoods. Playways allow children to be creative with play. Of course we especially love playways because they promote bicycling to all generations. In addition, by virtue of their simplicity, playways are sustainable in a way that other neighborhood events, such as carnivals, are not. 
 

What does it mean to be a MassBike member?

 It means you have joined us at any one of our membership levels to support our programs, such as our Bikeable Communities Program that works with local advocates to improve bicycling conditions in their cities, towns, and neighborhoods. It also means that you can bring your MassBike member card to many local businesses and bike shops throughout the state for a discount.
 

Organizers of the 9th Annual Boston Bike Film Festival have asked filmmakers with a cycling habit to submit their work to be shown October 24, 2014, at the historic Regent Theatre in Arlington. Film submissions are due September 1, 2014. The event is a fundraiser for state-wide and national cycling advocacy groups, including MassBike and Bikes Not Bombs. Film concepts from last year's festival ranged from a young man attempting re-learn to ride, to an animated film about a cute bike that moves in next door, a couple of international documentaries, and everything in between. Among the benefits for acclaimed and amateur filmmakers, the Festival offers a chance to get their films in front of audiences who are intrigued and influential to the quality of cycling nationwide. So Come Pedal Your Film! And see the next generation of cycling films!
On August 7-10 we rode the 8th Annual Mass BikePike Tour, and as usual it was a lot of fun. We started in Shirley, MA and went through many picturesque towns. Every day seemed to reveal landscape and scenery more beautiful than the last.
Each year we especially enjoy the feeling of community we get from spending time with so many dedicated cyclists during the tour. We see familiar faces along with fresh ones. We greet old friends and meet new bicycling enthusiasts and advocates.
Tags:
massbike
,
update
Posted in
advocacy
|
No Comments »
Written by Boston Biker on Aug 27
From Boston Bikes:
————-
Kick off your Labor Day weekend this Friday morning by riding to City Hall Plaza and enjoying breakfast with us! Bike in on your own or join a convoy from all over Greater Boston. And, a special challenge for the last BikeFriday this summer: Recruit a friend or colleague to come with you! Don't forget to tell us you're coming! Free breakfast will be provided by our friends at Boloco, Larabar, and Iggy's Bread of the World!
This month we have a new Mattapan/Dorchester/Roxbury Convoy! Complete details on all convoys can be found here.
Photo credit: Lee Toma
---
We are seeking applicants to join our team of Youth Cycling Instructors. Youth Cycling Instructors teach in-classroom and on-bike workshops to students in grades 2-12 during the school day in the Boston Public Schools. For more information, visit http://www.bostonbikes.org/about/getinvolved/work-with-us/
---
Bikes Lanes Coming Soon!
We've been working hard to get new bike lanes in the ground! Keep your eyes open for new lanes in these neighborhoods / on these streets:
East Boston: Maverick St, Border St, Marginal St, Orleans St, Jeffries St
Mattapan: Ballou Ave, Willowood St, Woodrow Ave, Walk Hill St
South Boston: West 4th St, Dorchester Ave, Albany St
West Roxbury: Baker St, VFW Parkway
There are several other streets that are in design and will hopefully be coming soon!
---
Vote for the Next Hubway Unicorn
Earlier this month Hubway put out a call for design ideas to be considered in the #HubwayEveryday Bike Design Contest, and five finalists have been selected. Now it's your turn to decide which one will be turned into a limited edition, one-of-a-kind, "unicorn" Hubway bike.
Click here to view the finalists and cast your vote.
When you vote, you can also enter for a chance to win a free Annual Hubway Membership!
Voting will run through Tuesday, September 9th, 2014, at11:59pm ET, and you can only vote once. The winning design will become the newest ride in Hubway's fleet of more than 1300 bikes. Place your vote now!
---
Boston's First Women's Festival a Success!
Boston Bikes held New England's first-ever women's bike ride & festival earlier this month in Millennium Park. Over 150 women enjoyed riding together, learning new skills, and celebrating with live music, food and fun. It was inspiring to see so many women on bikes, and the happy faces at the finish line brightened an already gorgeous day. Count on watching this event grow and improve every year! We want to thank our generous sponsors including Boloco, Larabar, Hubway, Zipcar, Rialto, Bern, Landry's, Ferris Wheels, Equal Exchange, the Museum of Science, the Coolidge Corner Theater, and Whole Foods. We're also incredibly grateful to our partners who led clinics or contributed volunteers to the event, including the Luna Chix, the Boston Cyclists Union, Hubway, and the Boston Bike Party.
And finally, we want to extend a special thanks to Gary and Maureen Briere of River's Edge Cycling, who provided instrumental logistical support in organizing this event. River's Edge produces the annual Berkshires to Boston ride, which is coming up in September. There's still time to register ride, or join River's Edge for a day as a volunteer.
Pictured above: City Councilor Ayanna Pressley sending off 150+ riders on the first-annual Boston Women's Bike Ride & Festival.
---
Mark Your Calendars: Mayor's Cup & Hub On Wheels
Mark your calendar to come down to City Hall Plaza onSaturday, September 20th for the TD Bank Mayor's Cup. Enjoy the Boloco Block Party and watch professional cyclists race around downtown Boston. The next day, experience the city on two wheels as part of Hub on Wheels, riding on a car-free Storrow Drive and discovering Boston on a 10, 30, or 50-mile route. And, new this year, you can select to have a portion of your entry fee donated to supporting Boston Bikes programs!More info.
---
Earlier this summer we helped the Boston Public Library launch the Bibliocycle, a mobile library powered by bike. We're proud to also announce the launch of ReadBoston's BookBike, a bike-powered trailer that brings books out to ReadBoston's Storymobile program, which seeks to increase literacy and distribute books in Boston. Click here to see a video about the new trailer.
Tags:
Boston Bikes
,
update
Posted in
advocacy
,
fun
|
No Comments »
Written by Boston Biker on Aug 12
Did you know you can ride your bike to Red Sox Games?  Did you know MassBike will vallet park them for you? Did you know you can volunteer to help park bikes and also get to watch the game!  Not only that if you volunteer enough hours you will get a free membership to MassBike which gets you even more cool stuff!
From MassBike:
———————–
Did you park your bike with us at Fenway Park on July 19th or July 20th? If so you were one of the many who took advantage of the free Valet Bicycle Parking for Bike to the Ballpark. The launch of this program was a big hit, and we are extremely pleased to announce that MassBike is continuing to partner with the Boston Red Sox through our Valet Bicycle Parking service for #biketotheballpark.
Now through September, every Saturday and Sunday home game will offer this convenient, free way to arrive at the ballpark. Coast in, hand your bike to one of our trained staff, and enjoy some baseball. When you are done cheering on the Sox, come back, claim your bike, and ride away.
If you have tickets for this weekend's August 2nd or August 3rd game, ride your bike and avoid the expensive parking lot down the road. After all, not only is it free to park your bike with us, the Valet Bicycle Parking offers the closest parking to Fenway during a game. In other words, if you Bike to the Ballpark this weekend, you can get the best parking and it costs nothing.
The MassBike free Valet Bicycle Parking is located by Gate D, at the corner of Yawkey Way and Van Ness Street. It is best to approach Fenway Park on your bike from the Boylston Street side of Fenway.
For any questions about Valet Bicycle Parking, please contact [email protected] or call 617-542-2453 (BIKE).
We'll see you at the game!
And more here
———————————-
We are so pleased to be working with the Red Sox by offering Valet Bicycle Parking at Fenway Park. Now, we need some enthusiastic volunteers to help us before the game. If you want to hang out at Fenway, support Massachusetts cyclists, and even get to see some of the game, please contact us today.
Volunteers help with setup, parking bikes, getting cyclists to the parking area, and ensuring a seamless and hassle-free experience for users. After your shift, you will get a special volunteer pass so you can catch some of the game. 
We need immediate help for the upcoming games.
Saturday, August 16: 5:00 pm-7:00 pm
Sunday, August 17: 11:30 am-1:30 pm
During your shift, you'll have the chance to take a break. No previous Bike Valet experience necessary – we will train you.
If you are interested, please email [email protected] for more information. If you can't help out on the 16th and 17th, email [email protected]to ask about other Fenway Park Bike Valet opportunities.
Volunteers make up a huge part of our success, so we want to make volunteering with us even better. Anyone who volunteers ten hours of their time will automatically earn a MassBike membership.
Tags:
awesome
,
free game!
,
massbike
,
red sox
,
vallet parking
Posted in
advocacy
,
Commuting
|
No Comments »
Written by Boston Biker on Aug 08
This is pretty awesome, most research shows that when less "risk adverse" groups feel safe doing something it means that it is starting to be perceived as a more mainstream activity.  Hurray for everyone riding bikes!
—————-
From the City: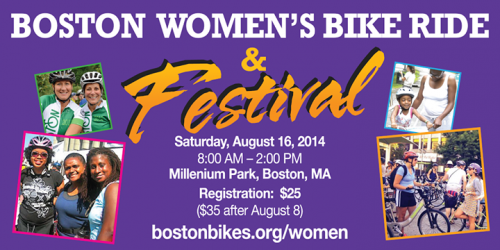 Register now for our hallmark women's event of the season, the Boston Women's Bike Ride & Festival, Saturday August 16th. Save $10 by registering before 11:59 pm on 8/8. Use code EARLYBIKE.
This celebration of women on bikes will be New England's largest all-women's ride and festival, and will feature scenic 10, 30, and 50 mile rides, skills clinics, family activities, music, an expo with bike-friendly companies, and more! Seasoned commuters, occasional cyclists, new riders, and kids are all welcome to participate in the event.
Join for just the ride or take part in a workshop taught by some of the best pro cyclists in the area to get tips on mountain biking, commuting, mechanics and more.
Adult learn-to-ride clinics will be offered for new riders or those who can't remember the last time they were on a bike.
Discounted registration is available to low-income Boston residents.
And men on bikes – we love you too! Please join the festival as volunteers, or to cheer on the women in your lives as they take part in the ride.
Please email [email protected] or call 617-918-4343 for more information on discounted registration or to volunteer.
Tags:
bike festival
,
smash the patriarchy!
,
Women
Posted in
advocacy
,
education
,
fun
|
No Comments »
Written by Boston Biker on Aug 06
Its crazy considering how many pedestrians, cyclists, and public transport user are on Comm. Ave CONSTANTLY that the city wouldn't spend more time trying to make it safe for all road users.  Follow the links below to let the Mayor know that this project needs to be a high priority.
From Livable Streets:
Did you see the paper this weekend?
Our work together to make a #SaferCommAve for everyone made the front page of Saturday'sBoston Globe, and was featured in Boston Magazine on Monday.

This media highlights that the redesign of Comm Ave is one of the most important projects in Boston right now, because it impacts so many people who live in or travel through our city.

Yet, the City says that they can't make any major changes to current designs for Comm Ave because they're "busy with other projects." This redesign is a once-in-a-lifetime opportunity to make the street better for everyone to use. Help make sure the City makes improvements a priority.

Click here to tell Mayor Walsh that the City must prioritize making Comm Ave safer for everyone to use.

The City also claims that "we have to be careful we're not creating a safety problem" with the Comm Ave redesign. We completely agree.That's why we're calling for changes like slower speeds, protected bike lanes, and wider sidewalks to keep all people safe and comfortable on the street.




Jamie

P.S. Did you already sign the postcard? Amplify your impact by sharing on Facebook and Twitter. 
Tags:
Comm. Ave
,
livable streets
,
speak up
Posted in
advocacy
|
No Comments »
The Word On The Street