The Latest From BostonBiker.org
News, Events, Updates
Written by greg on Feb 26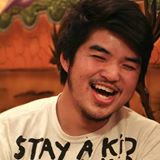 Greg Hum plays drums on his bike, gets people together for really big midnight and monthly bike rides, and smiles too much. He shares stories and more on his personal blog, The Humble Cyclist. Tweet at him, bro: @thehum. 
____________________________________________________________________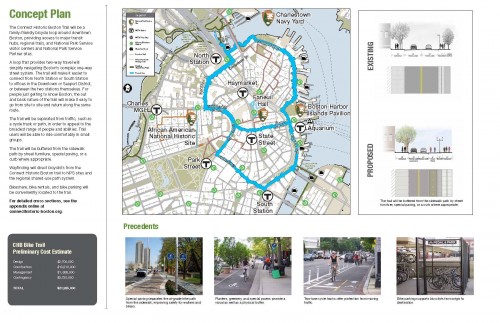 Imagine being able to bike around the heart of downtown Boston on completely safe and separated from car-traffic bike paths, or cycle-tracks. This is the goal of the Tiger Grant-funded Connect History Boston Trail
Tonight is the public hearing to present plans for a protected bike path loop around downtown Boston to the public. Here's the info about the hearing from the Boston Bikes event calendar, so definitely show up to voice support, comments, or concerns:
A Public Hearing will be held by the City of Boston Public Works Department to discuss the proposed Connect Historic Boston project that is being funded through a Federal Highway Administration Transportation Investment Generating Economic Recovery (TIGER) Grant.

WHERE: City Hall, Boston
One City Hall Square, Room 801
Boston, MA 02201

WHEN: Wednesday, February 26, 2014
Open House 6:00 PM
Meeting 6:30PM

The City of Boston Public Works Department will be holding a public hearing to present the City's Connect Historic Boston Project at the location and time shown above. The public notice which provides additional information relative to the hearing and project can be found here.
The plans for this path sound almost too good to be true:
The Connect History Boston Trail will be a family-friendly bicycle loop around downtown Boston, providing access to major transit hubs, regional trails, and National Park Service visitor centers and National Park service Partner sites.

A loop that provites two-way travel will simplify navigating Boston's complex one-way street system. The trail will make it easier to connect from North Station to offices in the Downtown or Seaport District, or between the two stations themslves. For people just getting to know Boston, the out and back nature of the trail will make it easy to go from site to site and return along the same route.

The trail will be separated from traffic, such as a cycle track or path, in order to appeal to the broadest range of people and abilities. Trail users will be able to ride comfortably in small groups.

The trail will be buffered from sidewalk path by street furniture, special paving, or a curb where appropriate.

Wayfinding will direct bicyclists from the Connect History Boston trail to NPS sites and the regional shared-use path system.

Bikeshare, bike rental, and bike parking will be conveniently located to the trail.
If these plans go forward, we can expect to see a very different landscape for bicycling in Boston once completed.
Tags:
bike lane
,
bike path
,
Boston Bikes
,
connect history boston
,
cycletrack
,
infrastructure
,
tiger grant
Posted in
advocacy
,
infrastructure
|
No Comments »
Written by Boston Biker on Feb 24
RSVP today
 for 6th Annual Boston Bike Update, happening March 27th.
Biking has doubled in Boston in the last six years.
Want to know how, why and who helped make this happen? Wondering how biking fits into larger transportation network?
Join us for this sixth annual event to hear Boston Bikes Director, Nicole Freedman discuss the future of biking in Boston and the path forward under Mayor Walsh.
If you care about biking in Boston you don't want to miss this event.
Thursday, March 27, 2014
@ Boston Public Library, Rabb Hall, 700 Boylston St, Boston
5:30pm doors open – Free and open to the public
6pm presentations begin
8:30-10pm LivableStreets member social @ Lir Pub
RSVP now.
Tags:
Boston Bikes
,
rsvp
,
update
Posted in
advocacy
|
1 Comment »
Written by Boston Biker on Feb 21
From the email:
——
We are seeking applicants to join our team of Youth Cycling Instructors. Youth Cycling Instructors teach in-classroom and on-bike workshops to students in grades 2-12 in the Boston Public Schools. For more information, visit http://www.bostonbikes.org/about/getinvolved/work-with-us/
Save the Date
6th Annual Boston Bike Update hosted by LivableStreets Alliance
Come hear about our 2013 accomplishments and plans for 2014!
Thursday, March 27, 2013
Boston Public Library, 700 Boylston St
5:30pm - Doors open
6pm - Presentation begins
7:30pm - Q&A
8:30pm - LivableStreets member social
Bike Week & Friday Schedule
We're happy to announce our 2014 Bike FridaySchedule! Join us for fun, music, food, and bike love on City Hall Plaza on the followingFriday mornings:
May 9th
June 27th
July 18th
August 29th
Volunteer With Us!
Interested in volunteering with Boston Bikes this spring? Complete our new volunteer form and we'll contact you with future volunteer opportunities!
Tags:
Boston Bikes
,
update
Posted in
advocacy
,
news
|
No Comments »
Written by Boston Biker on Feb 11
And more, from their website:
Boston Bikes employs a small team of part-time employees, primarily for Community Cycling Programs. Once you're a part of our team, you'll have opportunities to support all of our projects.
We are actively seeking Cycling Instructor applicants to hire for our Spring 2014 season and will begin interviewing in late February/March. We also hire interns.
Cycling Instructor:
You don't need to be a bike expert: An affinity for teaching, youth development, and a relentless work ethic are much more important. Reliability and professionalism are expected at all times. We're looking for people who take personal pride in their work, regardless of whether you're teaching a classroom or loading a truck. Work happens primarily during day time hours on weekdays (during the school day), with some night and weekend events. Applicants should live in the City of Boston or anticipate living in Boston before beginning employment.
Cycling instructors work as part of a team to teach cycling skills and safety to kids and teens in the Boston Public Schools as part of our Youth Cycling Program. Our program visits a school for two weeks with a fleet of bikes and helmets. On the first day, instructors lay the groundwork for safe riding including helmet fitting, signaling, and safe biking behaviors during a classroom-based workshop. The rest of the time, instructors lead on-the-bike activities and games to reinforce safety lessons and to expose kids to the fun of riding a bike. Cycling instructors also support our Roll it Forward program by leading safety workshops and fitting recipients for helmets and bikes.
This is a fun job, but without a doubt, it is highly physical work. Our instructors and mechanics are constantly lifting bikes, loading trucks, and climbing stairs. If hired, you will be expected to jump in, learn quickly, and be ready to get your hands dirty. Training is provided, but the ability to learn on-the-job is just as important.
To apply, send a resume and a short message of interest to Jenny Duquette. Please include an overview of when you would be able to work and how many hours you seek. Resumes should focus on teaching experience, youth development or early-childhood development, and bicycling experience (if applicable). Unfortunately we cannot guarantee a response to all applicants. CORI background checks will be performed on candidates that advance past the interview.
Bike mechanic:
This is a serious mechanic job and we are looking for experienced shop mechanics. Experience from home or on friends' bikes is not sufficient. Boston Bikes mechanics chip away at a steady workload alternating between children's bikes and used bikes for Roll It Forward. Often these are low-cost bikes or very old bikes with multiple problems. Accurate diagnosis (e.g. service writing), patience, and diligence are expected on every bike to meet the number-one goal: A bike does not leave our shop if it isn't safe. Quality work and quick, efficient repair are expected in equal measure.
Despite the bikes, we want our mechanics to apply the same standard of care as they would for a customer's high-end racing bike. Rigid repair rules do not apply: we need problem solvers and improvisers. We are also looking for candidates that have an interest in working outside the shop with children and youth: a significant portion of time is spent out in the field, supporting Youth Cycling Programs and Roll It Forward giveaways. Working hours are flexible (including evenings) once candidates have demonstrated responsibility and an unquestionable work ethic.
To apply, send a resumedetailing your experience at bike shops. Include specific capacities as they would relate to our work with difficult bikes. Also include a short statement of interest that lets us know why you're interested in the gig. Moonlighting veterans from local shops are most welcome! CORI background checks will be performed on candidates that advance past the interview.
Mayor Menino with 2011 interns
Internships:
Internships and Co-ops are available year-round within our office. We design internship responsibilities in conjunction with your field of study and the duration of the internship. At Boston Bikes, interns start contributing to essential program functions on day one. Please start the process at your school with a placement or internship coordinator who shouldcontact Nicole Freedman for openings. There is an interview and selection process.
Tags:
bike jobs
,
Boston Bikes
,
City of Boston
Posted in
jobs
|
No Comments »
Written by Boston Biker on Jan 16
This looks like a lot of fun, check it out!


Tuesday, January 21, 2014
8:00pm in EST
It's summertime in Antarctica and Boston Bike Party is enjoying it penguin style. So throw on that Hawaiian shirt, ray-bans, & grass skirt, and head waaaaaay down south with us. Come ride the Heatwave!
FIRST WAVE: Meet up with Boston Bikes at Government Center for hot chocolate!
SECOND WAVE: Warm up your legs and ride out the heatwave with us on bikes!
THIRD WAVE: Epic after party (details to come)!
We roll out of City Hall Plaza at 8pm SHARP, so get there a bit early for cocoa!
Make Bike Party yours! Add music to the Spotify Collaborative Playlist:http://open.spotify.com/user/124512560/playlist/2xfHJf1GbW9frs8Peinihb
Tags:
Bike party
,
Boston Bikes
,
heat wave
Posted in
fun
|
No Comments »
Written by Boston Biker on Jan 14
1000+ Bikes Distributed Through Roll It Forward!
We're proud to say that in 2013 we distributed 1,081 bikes through our 
Roll it Forward
 program. We cannot say thank you enough to everyone who helped us reach this major accomplishment.
Check out this blog post for more details about our past year and a video highlighting one of our latest giveaways.
Donate to Roll it Forward
2013 was a huge year for the Roll it Forward program. Help us make 2014 even bigger – we are in dire need of more bikes! 
Donate a bike
 today and get a jersey/t-shirt/chocolate and be entered into a raffle for an L.L. Bean gift card! Or make a bigger impact and host a bike drive in your community or at your workplace. Contact
[email protected]
 for more information!
Meet our new Program Managers, Kim & Najah
Najah and Kim
Kim Foltz has been biking in Boston since 1998 when she moved here from Olympia, WA. She quickly found a home among bike enthusiasts/advocates at Bikes Not Bombs, where she served as volunteer bike instructor then Board Chair, and eventually Interim Director. Kim took a break from organizing and advocacy to get a Masters in Urban Planning at MIT, where she focused on sustainability. In 2010 she returned to the trenches as Director of Community Building and Organizing at Neighborhood of Affordable Housing, Inc (NOAH), a community-based organization in East Boston. Among other projects at NOAH, Kim worked with youth to change bike policy on the Blue Line and engaged residents in the redesign of East Boston's Central Square, a complete streets demonstration project.
Kim lives in East Boston with her husband David Diaz, and son Diego. In her free time you can find her running, skiing, playing soccer, or of course biking with her family. Kim is excited to join the Boston Bikes team!
Najah Shakir started at Boston Bikes as an intern in 2011. Before joining us again in July of 2013, she finished her degree in Planning at MIT, took an adventure on a bike, then traveled around Europe, Australia, and New Zealand. Her previous work includes projects with YouthBuild USA, the MIT CoLab, the Vehicle Design Summit, and MIT@Lawrence.
She returns to Boston Bikes with a love of cities and a desire to make biking accessible to all. Since returning to Boston Bikes, she has managed Bike Fridays, the Hubway Subsidized Membership Program, annual bike counts, and our social media. She tweets professionally using 
@bikeboston
 and personally using 
@najahbikes
.
Najah is originally from Philadelphia, PA and now lives in the Back Bay. She grew up riding tandems and recumbent tricycles. In her free time you can find her catching up on the latest blockbusters, wandering around the city, fiddling with a computer, or cross-stitching. She's happy to be back on the team and excited to get to know more bikers in Boston.
Meet our new Intern, Hollis
Hollis is excited to be joining the Boston Bikes team. She recently moved to the city, and is thrilled to be involved in the ever-growing movement to make Boston greener.
Her life thus far has been defined by jumping from city to city, in the process seeing what landscapes and lifestyles really bring her home in the end. Having spent a good chunk of her youth in Tucson, Arizona, she gained a great appreciation of the outdoors. She has also lived in Tuscany, Italy, where she helped out on olive orchards. Upon returning to the States, she and her family settled in Amherst, MA.
Hollis has a Bachelor's degree from the University of Massachusetts in Environmental Design with a minor in Chinese Language and Literature. She has a love of the environment, art, sustainability, and an appreciation for different cultures and cities. While at UMass, she participated in 3 study abroad programs that took her to Sicily, China, Germany, and Denmark. In Berlin and Copenhagen, she learned first-hand about the importance of bike infrastructure, and developed a love of transportation planning. She wanted to be part of similar transformations here in the States, so now she's here and we're very glad to have her!
Tags:
Boston Bikes
,
City of Boston
,
level 1000!
,
roll if forward
Posted in
advocacy
,
fun
|
No Comments »
Written by Boston Biker on Nov 21
Lots of good stuff below from the City Of Boston:
HelmetHub Launch

We are proud to announce that the first helmet vending machine in the country can be found at Boylston St and Mass Ave. This machine will help HelmetHub gather information and we hope to start the next Hubway season with more stations around the city. Make sure you visit the machine while you still can.
We are sad to announce that Hubway will be shutting down for the season. Station closures began on November 18th, and the 2013 season will end on November 27th. Please visit http://www.thehubway.com/news for information about specific station closures.
New Bike Lanes Installed
We're on track to reach our goal of 20 miles of new bike lane in 2013! Have you seen or ridden on the latest additions to Boston's bike infrastructure?
These lanes have recently been installed or are in progress:
VFW Parkway – From: Centre Street, To: Brookline Town line
VFW Parkway – From: Spring St, To: Brookline Town line
Mount Vernon St – From: Old Colony Ave, To: University Drive North
Freeport St – From: Dorchester Ave, To: Conley Street
Stuart / Huntington – From: Harcourt Ave, To: Dartmouth St
Adams St – From: Neponset, To: Hancock
Ashmont – From: Dorchester Ave, To: Neponset Ave
Cross Street / N Washington Street
Upcoming Public Meetings  
These meetings are part of the Connect Historic Boston project.
Atlantic Ave / Commercial St
11/20 – 6:00pm - Nazzaro Community Center, 30 N. Bennet St
The City of Boston will present a Concept Plan for Atlantic Avenue / Commercial Street (from Christopher Columbus Park to Hull Street) in the North End as part of the Connect Historic Boston initiative. The goal is to transform this corridor into a street with sufficient space for pedestrians, bicycles, and vehicles to share the road comfortably.
Causeway St
11/21 – 6:00 pm - CBT Architects, 110 Canal St, 02114
This will be a public meeting to discuss the redesign of Causeway St.
Donate to Roll It Forward
"Though a bike may be thought of as a toy, it can also be a machine of empowerment that can change someone's outlook on life." -Canton Citizen
Recently, our work was highlighted in The Canton Citizen. The Canton Girl Scouts will be hosting a bike drive on November 24th from 12 – 3 pm at the Canton Public Library.
We are always accepting bike donations. If you have a bike to donate please visit http://www.bostonbikes.org/programs/roll-it-forward/donate. If you would like to host a bike drive please contact our Community Programs Manager, Jenny Duquette, atjenny.duquette@cityofboston.gov
BU's new Bike Safety website is a valuable resource for cyclists of all abilities. It provides safe cycling tips, Boston cycling laws, and Charles River Campus and Medical Campus bike rack maps, and more.
With the new BU Bike Accident Toolkit, cyclists, pedestrians, and motorists have the ability to leverage the technology in their mobile device to create a digital record of their accident. Available free of charge to iPhone and Android users, this new app automatically records the date, time, and GPS coordinates, and prompts the user to ask the important questions and document the accident with photos, video, and recorded witness statements.
Tags:
Bike Lanes
,
Boston Bikes
,
City of Boston
,
helmet hub
,
hubway
Posted in
advocacy
,
Commuting
,
infrastructure
|
3 Comments »
Written by Boston Biker on Sep 04
Below is the update from Boston Bikes (the city), I am pretty stoked about the HelmetHub vending machines, I got to see them being made, and the final product looks pretty damn amazing.
———-

Volunteer for Boston's Annual Counts & Safety Campaign 
Boston Bikes is seeking volunteers for two important projects:
Count cyclists during the Boston Bikes annual counts.  These counts help shape policy and infrastructure changes.   Dates and times as follows: September 15  to October 7.   7 AM-9 AM and 4 PM -6 PM.Minimum shifts are two hours.
Spread the word about bike safety during Boston's Urban Cycling Safety Campaign.  Put flyers on bicycles or be a riding ambassador. Dates and times as follows: September 15 to October 7th. Flexible times. Minimum shifts are two hours.
E-mail najah.shakir@cityofboston.gov for more information or to get involved.
Join Boston Bikes Advisory Group. Apply now.
Boston Bikes is seeking applicants to become to be part of the Boston Bikes Advisory Group (BBAG). The BBAG will advise the Director of Boston Bikes on priorities related to cycling in Boston and serve as a liaison to the cycling community.  Applications are due September 13, 2013.
For an application visit http://www.bostonbikes.org/?p=4024 or e-mailnicole.freedman@cityofboston.gov.
  HelmetHub Launch
Thursday, September 5, 2013
12:30pm - Boston Public Library
Join Mayor Tom Menino, Boston Bikes, and Hubway in a ribbon cutting ceremony for HelmetHub, Boston's helmet vending machines. HelmetHub will provide a way for cyclists to rent or purchase a helmet at Hubway stations.  Ceremony takes place outside at the Hubway station.
Other volunteer opportunities 
One time opportunities:
East Boston Makers & Movers event. We are looking for volunteers to staff tables where attendees will have the chance to design signage, help orient bike parking, and learn about bike safety. Friday, September 6, 3-6pm. Contact Mariko Davidson at mariko.davidson@cityofboston.gov for more information.
Recurring opportunities:
Do you like WordPress? We are seeking a volunteer webmaster who can help us troubleshoot. This is a long-term opportunity, that requires few hours of work. You must be a quick responder who has extensive knowledge of and experience working with WordPress. Contact [email protected] for more information.
$5 Subsidized Hubway Memberships
The City of Boston offers $5 annual Hubway memberships to residents of Boston who are receiving public assistance or have low incomes. These
memberships also includes a free helmet.
Visit: http://www.bostonbikes.org/programs/subsidized-hubway-memberships/ for more information about the program.
Contact Najah Shakir at 617-918-4343 to see if you qualify or for more information.
Upcoming Public Meetings
Attend these upcoming public meetings to voice your support or criticism of bike facilities in the following areas.
Cycle-track around Public Garden
Wednesday, September 18th
6pm – 8pm
Firehouse
127 Mount Vernon Street, Beacon Hill
Visit our website for more information. If you cannot attend the meetings, send us your comments via e-mail, Facebook, or Twitter.
Apply to join the Boston Bikes Advisory Group!
Boston Bikes is seeking applicants to become to be part of the Boston Bikes Advisory Group (BBAG). The BBAG will advise the Director of Boston Bikes on priorities related to cycling in Boston and serve as a liaison to the cycling community.
E-mail nicole.freedman@cityofboston.gov for an application.
Tags:
Boston Bikes
,
helmet hub
,
volunteer
Posted in
advocacy
,
Bike Business
|
1 Comment »
The Word On The Street