The Latest From BostonBiker.org
News, Events, Updates
Written by Boston Biker on Nov 11
A contest where cities compete to be the most friendly is one in which we all win.  And Somerville has edged out "traditional" bike friendly Cambridge for the top spot this year.
Somerville is the top bike commuting city in the Northeast, according to an annual report from the League of American Bicyclists.

Somerville beat out its neighbor, Cambridge, and New Haven, Philadelphia, and Pittsburgh to capture the title. The study ranked cities by calculating the percentage of commuters who ride bikes, using 2012 American Community Survey data from the US Census Bureau.
In Somerville, 7.77 percent of commuters regularly ride bikes. Right behind them, in Cambridge about 6.49 percent of commuters travel regularly by bike.

Somerville Mayor Joseph A. Curtatone said he was excited, but not surprised, by the ranking: The city has invested in bike lanes and infrastructure for years. "This is not by accident," he said.

Hayes Morrison, Somerville's director of transportation and infrastructure, said there's even more on the horizon for cyclists in Somerville. Adding to the city's 14 miles of bike lanes, 6 miles of bike paths, and 25 miles of shared roads marked for bicycle travel, the city will soon break ground on its first cycle track — a protected bike lane.

Cambridge is also gearing up to further improve biking in the city.

"Every time we redo a street, we try to make it better for walking and biking," said Cara Seiderman, the city's transportation program manager. (via)
Awesome! I saw that they are putting in more bike lanes on Broadway and narrowing the street with a center divider and curb extensions. All in all a great idea to turn that nasty highway like section of Broadway into a livable walk-able community. Once they get that overpass tore down in union and put in the new green line station Somerville will be THE place to ride your bike.
Tags:
awesome
,
somerville
,
top biking city
Posted in
Commuting
,
infrastructure
,
news
|
2 Comments »
Written by Boston Biker on Nov 07
From Hubway:
————
Hello Hubway riders!

It's that time of year again. Stations and bikes will soon be removed from the street for winter. Hubway will begin our regular season-end station closures on Monday, November 17, 2014, and the final day of this year's full-system operations will beWednesday, November 26th.

BUT WAIT! The good news is we're not done riding this year! After last year's successful winter pilot in Cambridge, Hubway's winter operations have expanded. We're pleased to announce that many stations in Boston will remain open through December, and almost all stations in Cambridge will continue operations all winter long. All closed stations are expected to re-open in the spring.
"Will my station close for the year? And when?"
This year you can sign up to receive email system alerts on the days that stations are removed, so you can easily get the latest info and develop a contingency plan for routes that involve your favorite stations. Plus, we'll publish specific station closure and system alerts on the Hubway website, as well as Hubway's facebook page andtwitter profile.
Please note: we will still send full system shutdown warnings in the event of inclement weather, but you must sign up here to receive the seasonal station removal alerts.
We're keeping the wheels rolling on as many stations as possible through the 26th and beyond, so make sure you get in some extra miles in the next couple of weeks.
Thank you for more than 1.1 MILLION rides this year… and counting!

The Team at Hubway
With heavy hearts, we mourn the passing of Thomas M. Menino, Boston's longest serving mayor and a champion of bike sharing in the Boston area. Please click hereto view a letter from Hubway General Manager, Emily Stapleton, distributed to all Hubway staff last week, about the Mayor's trailblazing support of Hubway and the impact of that support on the City.
 HUBWAY PRO-TIP: ALWAYS DOUBLE-CHECK YOUR DOCKING
Didn't see a green light when you docked? 
Lift the bike ever-so-slightly by the seat and give a tug to make ensure that it is fully secure and that your trip has closed. If you ever have that "left-the-oven-on" feeling later in the day that perhaps you didn't see that green light,
log into your Hubway member account here
 and click the
Rentals
tab to confirm your trip was successfully closed. Of course, you can always reach the Hubway customer support team, 24 hours a day, 7 days a week, by calling 1-855-9HUBWAY (948-2929).
CAMBRIDGE SEEKING DANA PARK HUBWAY STATION USER FEEDBACK
Do you use the Dana Park Hubway Station? This station is currently located on Lawrence Street, and with almost 10,000 trips taken so far it is well used and has provided tremendous benefits to those in the Cambridgeport neighborhood. At the request of some area residents, the City of Cambridge has doneadditional analysis, including looking at the options for off-street locations to allow year-round use. The City welcomes your input on options and comments about the station's long-term location.
5Point Film Festival, Today, Thursday, 11/6, Somerville Theatre. These short adventure films are hand picked to get your heart pumping, mind engaged, and self inspired to pursue your own passions, whatever those may be. Details here.
Green Pedal Film Festival, Sunday, 11/9, 6pm, Aeronaut Brewery, 14 Tyler Street, Somerville. An evening of short films on environmental innovations, plus visits from the Bibliocycle, the Coffee Trike, AlFreshCo, Bootstrap Compost, Metro Pedal Power, and more! More info here.
Boston Bikes Hosts "Half the Road" screening, Wednesday, 11/19, 6:30pm, Fenway Landmark Theatre, Boston. Thisgroundbreaking documentary by pro-cyclist and director Kathryn Bertine explores the passion, pitfalls & power of women's professional cycling. The film focuses on both the joy of sport and the challenges of inequality that female riders face today in a male-dominated world of cycling. "We thought we were making a movie about women's professional cycling," the filmmakers described. "Then it turned into a film about equality." TICKETS MUST BE RESERVED BY 11/11! Get yours now. Boston Bikes will host an informal discussion and Q&A after the film with professional cyclist Sara Bresnick.
Rules of the Road Bicycle Workshop, Wednesday, 11/12, 6:30pm, Cambridge Main Library @ 449 Broadway.
This one-hour presentation will cover bike safety statistics, rules of the road, both bike-specific and car-specific laws & legislation, general safety tips, current legislative efforts, and the realreasons to obey traffic laws. Registration info here.
Boston Bike Party presents A Space Odyssey, Friday, 11/14, 7:30pm, Copley Square. Wonder what it would be like to journey through space (safely on a bike in the streets of Boston)? Boston Bike Party will take you there. Prepare for liftoff in 5-4-3…

Kaiju Big Battel 20th Anniversary Bash, Saturday, 11/22, Cuisine en Locale, 156 Highland Avenue, Somerville.
Prepare to be dumbfounded and confused, but thoroughly entertained when this oddball mix of comic book, sci-fi, and professional wrestling returns to Somerville for "Shpadoinka Mania 20, Part 2." Seriously — you may never see anything like it ever again.
Have an event we should be mentioning in our newsletter?
Tweet it to us @Hubway.
Tags:
hubway
,
update
Posted in
Commuting
,
infrastructure
|
No Comments »
Written by Boston Biker on Nov 06
And they are staying open until December this year, and opening a month early, with plans to add 10-15 more stations, all in all a steady progression towards more and better Hubway service.  If you live in Cambridge you will get to use Hubway all winter!
————
BOSTON — The operator of bike share Hubway is getting new owners and winter service is expanding in Boston. Here's what riders need to know about the Hubway news this week:
Bike share acquisition deal
Alta Bicycle Share, which is contracted by Boston, Brookline, Somerville and Cambridge to operate Hubway, has entered into an agreement to be acquired by investment group Bikeshare Holdings LLC. The newly formed investment group includes the CEOs of Equinox Fitness Clubs and real estate firm Related Companies.
In addition to Boston, Alta Bicycle Share currently runs bicycle shares in New York, Washington, D.C., Chicago, San Francisco, Toronto, Chattanooga, Tennessee, and Melbourne, Australia.
In announcing the deal Tuesday, the company said the acquisition will bring in more capital and allow them to expand operations and serve more riders. (read more)
Tags:
hubway
,
new owner
Posted in
Commuting
,
infrastructure
|
No Comments »
Written by Boston Biker on Aug 12
Did you know you can ride your bike to Red Sox Games?  Did you know MassBike will vallet park them for you? Did you know you can volunteer to help park bikes and also get to watch the game!  Not only that if you volunteer enough hours you will get a free membership to MassBike which gets you even more cool stuff!
From MassBike:
———————–
Did you park your bike with us at Fenway Park on July 19th or July 20th? If so you were one of the many who took advantage of the free Valet Bicycle Parking for Bike to the Ballpark. The launch of this program was a big hit, and we are extremely pleased to announce that MassBike is continuing to partner with the Boston Red Sox through our Valet Bicycle Parking service for #biketotheballpark.
Now through September, every Saturday and Sunday home game will offer this convenient, free way to arrive at the ballpark. Coast in, hand your bike to one of our trained staff, and enjoy some baseball. When you are done cheering on the Sox, come back, claim your bike, and ride away.
If you have tickets for this weekend's August 2nd or August 3rd game, ride your bike and avoid the expensive parking lot down the road. After all, not only is it free to park your bike with us, the Valet Bicycle Parking offers the closest parking to Fenway during a game. In other words, if you Bike to the Ballpark this weekend, you can get the best parking and it costs nothing.
The MassBike free Valet Bicycle Parking is located by Gate D, at the corner of Yawkey Way and Van Ness Street. It is best to approach Fenway Park on your bike from the Boylston Street side of Fenway.
For any questions about Valet Bicycle Parking, please contact [email protected] or call 617-542-2453 (BIKE).
We'll see you at the game!
And more here
———————————-
We are so pleased to be working with the Red Sox by offering Valet Bicycle Parking at Fenway Park. Now, we need some enthusiastic volunteers to help us before the game. If you want to hang out at Fenway, support Massachusetts cyclists, and even get to see some of the game, please contact us today.
Volunteers help with setup, parking bikes, getting cyclists to the parking area, and ensuring a seamless and hassle-free experience for users. After your shift, you will get a special volunteer pass so you can catch some of the game. 
We need immediate help for the upcoming games.
Saturday, August 16: 5:00 pm-7:00 pm
Sunday, August 17: 11:30 am-1:30 pm
During your shift, you'll have the chance to take a break. No previous Bike Valet experience necessary – we will train you.
If you are interested, please email [email protected] for more information. If you can't help out on the 16th and 17th, email [email protected]to ask about other Fenway Park Bike Valet opportunities.
Volunteers make up a huge part of our success, so we want to make volunteering with us even better. Anyone who volunteers ten hours of their time will automatically earn a MassBike membership.
Tags:
awesome
,
free game!
,
massbike
,
red sox
,
vallet parking
Posted in
advocacy
,
Commuting
|
No Comments »
Written by Boston Biker on Jul 10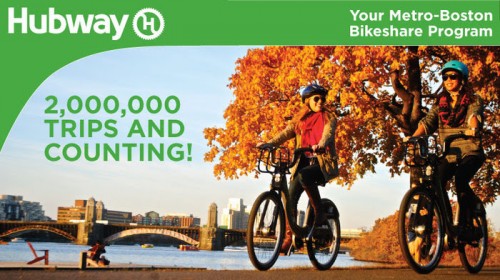 Congrats to Paul Wagner checked out a Hubway bike this past Sunday June 29th, at 11:53am he added his name to the annals of Hubway history by being the two millionth rider!   Pretty awesome, and a sign that Hubway is growing rapidly.  I heard that he didn't believe it when they emailed him, so they had to call him and force him to accept his prize ha ha.
Tags:
2 million rides!
,
hubway
Posted in
Bike Business
,
Commuting
,
infrastructure
|
No Comments »
Written by Boston Biker on Jul 07
Cars are pretty bad. Its probably not very hard to come up with a dozen bad things our use of cars has done for the planet, for cities, and for people. You might be thinking you can escape thous bad effects by riding a bicycle instead. And for the most part this is true.
But there is one danger posed by cars that still holds true when you ride your bicycle. Pollution, specifically cancer and asthma causing pollution.
A fascinating study from the Harvard school of public health shows that car drivers are not just hurting themselves, but are also hurting everyone who chooses not to drive cars.  For most things in this country your right to do whatever you want, extends right up until they hurt someone else,  however it seems that when it comes to environmental damage we still have the idea that the sky is a public dumping ground and anyone can inflict damage on anyone else.
Luckily it seems that bike paths and use of proper planning can greatly reduce the exposure to these pollutants.  Combined with the added health benefits of cycling, and the reduction of single car occupants on the road, cycling is still one of the single greatest ways to make yourself healthier, and make everyone else healthier at the same time.
From the Harvard School of Public Health:
Boston has installed more than 50 miles of bike lanes since 2007, and the number of pedal-powered commuters in the city, while only 2.1%, is more than three times the national average. To help urban planners continue to improve bike friendliness, researchers at Harvard School of Public Health (HSPH) set out to determine the types of lanes that expose cyclists to the smallest amount of vehicle pollution.

The researchers attached a mobile monitoring unit to the back of a bicycle and hit the road to sample two types of pollutants from vehicular exhaust—black carbon and nitrogen dioxide—known to increase the risk of asthma, heart disorders, and other health problems. They traveled five common bicycling routes in the city during both morning and evening commutes, to compare bike paths, which are separated from the road, and bike lanes, which run adjacent to traffic.

Bike paths had the best air quality, with concentrations of both pollutants about a third lower than on bike lanes. This was true even when bike paths near crowded streets were compared with bike lanes on quieter streets, suggesting that separation from the road and a protective barrier of vegetation, such as trees and bushes, makes a difference. Bike paths also allow cyclists to bypass intersections, where idling cars make the air quality particularly bad.

Piers MacNaughton, SM '14, led the data analysis, which was published online May 16, 2014 in Science of the Total Environment. He earned his degree in the Exposure, Epidemiology and Risk Program in the Department of Environmental Health and will start a PhD in the program this fall.

A bike commuter himself, MacNaughton said the aim of the study is not to scare off city bicyclists but rather to provide evidence to shape future urban planning—particularly now that Boston is on the short list of host cities for the 2024 Olympics. "They are really pushing to be a biking capital. I wanted to get this research out so that when they start developing more bike lanes, they can do so in a smart way," MacNaughton said.

Read abstract: Impact of bicycle route type on exposure to traffic-related air pollution

Read Boston Globe coverage: Cyclists, don your gas masks
Tags:
harvard school of public health
,
pollution
,
science
Posted in
advocacy
,
Commuting
,
infrastructure
|
No Comments »
Written by Boston Biker on Jun 26
It's been less than a year, and they have racked up another million rides!  Its nice to see the growth is not only continuing but getting faster.
Hello Hubway riders!
In Hubway's first season of operations in 2011, you took more than 142,000 rides. In 2012, more than 533,000 rides. And last year, over 910,000 rides! If it seems like less than a year since we were celebrating Hubway's 1,000,000th ride, that's because it was! You've already taken over 375,000 more since this season's full system reopening in April, and we're anticipating Hubway's 2,000,000th trip to be taken sometime this weekend.
Will you be Hubway's 2 millionth rider? If you are, you'll receive a $130 gift certificate from New Balance! That's enough for a brand new top-of-the-line pair of shoes to keep you riding in style!
Plus, with a newly deployed station, a bunch of events on the horizon, and more system expansion on the way, you've got plenty of places and reasons to ride! Congratulations in advance of 2 million rides! 3 million is right around the corner.
Tags:
2 million rides!
,
hubway
Posted in
Commuting
,
infrastructure
|
1 Comment »
Written by Boston Biker on Jun 24
Livable streets is collecting data on which intersections need to be made better, see below for details.
—————
Do you walk out of your way to avoid unsafe intersections?

Do you poke at walk-signal buttons and wonder if they're connected to anything?

The LivableStreets Safer Streets Campaign is deepening the city's commitment to safety and advocating for better infrastructure – like cycle tracks and improved traffic signalization – to allow people to confidently explore the city on bike, foot and public transit.

Safety is particularly important at intersections, where people in cars, on foot, on bike, and in transit interact together. 

That's why LivableStreets is working to survey and recommend changes for specific crossings in the City of Boston. And, we need your help to identify intersections with pedestrian signals that need improvement.

We are surveying dozens of crossings and working with engineers in the City to implement fast fixes that improve signal timing, phasing and sequencing.
Together, we can make sure those everlasting Don't Walk signals are a thing of the past.
Best,
Mike
Mike Sanders
LivableStreets Alliance Lead Volunteer
E:

F: LivableStreets

T: @StreetsBoston/#SaferStreetsBoston
Tags:
infrastructure
,
livable streets
,
survey
,
upgrade
Posted in
advocacy
,
Commuting
,
infrastructure
|
No Comments »
The Word On The Street