Written by Boston Biker on Sep 29
Many times when people start talking about bike lanes, some cyclist in the back pipes up and says "yea but they are no good cause you are in the door zone!!!!11!1!" These people area almost allways confident experienced cyclists. They have no problem ridding down any road. But to a brand new rider, or to people thinking about riding (you know the people currently in cars that we would love to see on a bike) the bike lane offers the promise of "safer" biking. Bike lanes on the street might be just that little extra that gets them riding.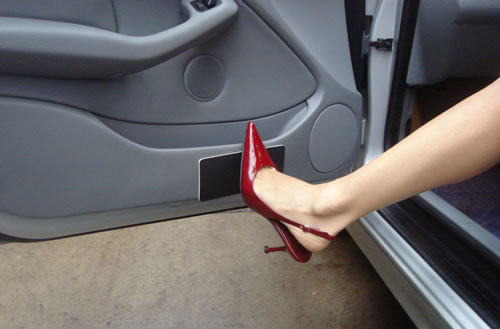 We could argue all day and night (and a lot of people do) about bike lanes, and if they make you safer, but really that isn't the point. The point is people don't "feel safe", you can argue all day and night about that, but no amount of logic or well thought out study is going to make people "feel" different. Many people need an actual physical "something" to make them feel safer, if a little stripe of white paint will do that, well then by god paint some white stripes on the ground! If hanging waffles around their neck made them feel safer I would do it…I want to see more people out on the streets on bicycles, and less people in cars.
Experienced cyclists fail to realize that they would be driving down the same exact street even if there was no bike lane on it. They also fail to realize that bike lanes are to keep cars OUT not to keep bikes IN. Let me say that again…bike lanes are to keep cars out, not to keep bikes in.
You are allowed to leave a bike lane whenever you want. In fact you are encouraged to leave the bike lane for safety, or if you want to make a left hand turn, or if you see some debris in the bike lane, or if you want to pass a slower rider, or some jerk pulled half into the bike lane, or if someone is getting out of their car, or if someone looks like they might be getting out of their car, or if a pedestrian is walking out, or…well you get the idea.
Boston and surrounding towns are absolutely in love with on street parking, and it is very unlikely that they will fall out of love anytime soon, so here is how you use a "door zone" bike lane. By door zone I mean, "the area by which an opening car door would cause a biker to be struck by said opening door." An easy way to find out if you are in the door zone is to ask yourself the following question "if that car door opened would I run into it?" If the answer is "yes" you are in the door zone.
Here is an example of a typical bike lane in this area.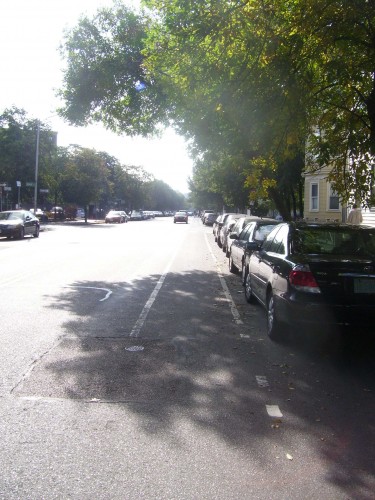 So let me clarify where the door zone is.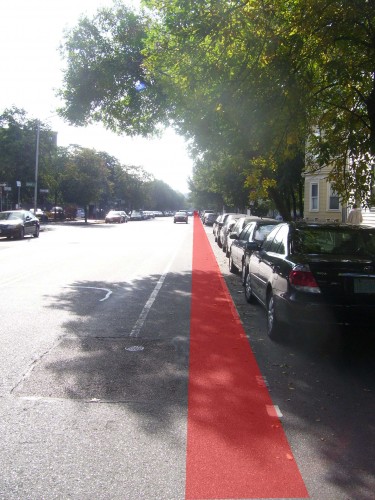 and here is where I personally would ride in this bike lane.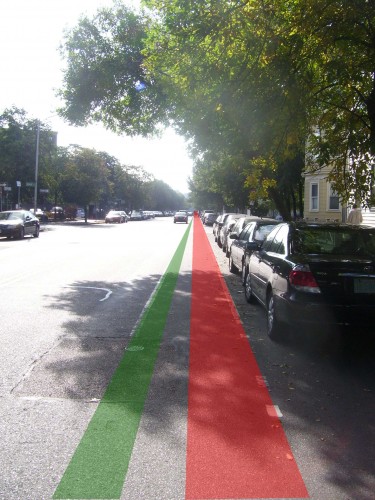 Right away new cyclists are going to balk at this suggestion, stating something like
"But how can being over on the left hand side with the moving cars be safer than over on the right near the parked cars, surely moving cars are more dangerous than parked ones!"
I would respond them by saying that while this might seem true, it isn't. Parked cars have a nasty habit of sprouting doors, and pedestrians like to sneak out between them. If you ride in a nice straight line (this is actually really important), and are predictable (signal your turns, stop at red lights etc), being on the left hand side of the bike lane allows cars to plan for what you are going to do. They will move over a bit, go past you, then continue on there way. It might seem loud, as cars often give it some gas to get past you faster, but they are not being malicious they are just trying to get by.
You are going to have to trust me on this, but having two predictable vehicles (car and bike) interacting in a predictable and planned way (bike stays in a straight line, car moves over slightly passes then resumes position) is MUCH MUCH safer, than a car door randomly opening and breaking your face, collar bone, or worse. People get tossed into traffic and run over by doors opening, people swerve into cars and are run over when doors open. There is no easy way to predict when a car door will open, and getting doored is horrific (even at low speed) so the best method of dealing with it is to STAY OUT OF THE DOOR ZONE.
Imagine would would happen to this person if the car in front of them opened the door…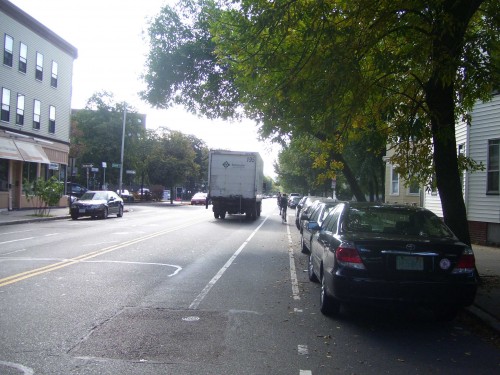 Would they end up under the wheels of that truck?
You can see that the truck has moved over to go past the cyclist ahead of the one closed to me (click the image for the bigger version). The person in the foreground is smack in the door zone. You will also notice that they would be just fine (even with this wide truck) and have plenty of space if they were on the left hand side of the lane. It would take some getting used to but by moving over to the left they would avoid the door zone, and still have plenty of space to use the bike lane. Giving them the best of both worlds the safety (perceived or actual) of the bike lane, without the danger (real) of the door zone.
It took me a couple of weeks of riding to get comfortable with the feeling of being on the left hand side of the lane. But in that couple of weeks more than a few people opened their doors in front of me and I never had to swerve into traffic, or even really make any avoidance maneuver at all. Being on the far left of the bike lane has saved my skin more times than I can count.
So the next time you hear someone complaining about bike lanes because they have parked cars next to them simply explain to them that they are allowed to leave the bike lane, and that the far left of the bike lane is the safest place for them to be. If they are not happy with that tell them to lobby for the removal of on street parking, or perhaps ride down streets without bike lanes on them.
Tags:
Bike Lanes
,
door zone
,
dooring
,
getting doored
,
safety
Posted in
education
|
32 Comments »