The Latest From BostonBiker.org
News, Events, Updates
Written by Boston Biker on Sep 17
In case you didn't know, the Idaho Stop is when cyclists are allowed to treat stop signs like yields, and red lights like stop signs.  Idaho was the first to try it out, and more or less its been pretty ok.
Saw this tweet from the Brookline PD today…asking for feedback about said Idaho Stops.
Feedback welcome, should we allow cyclists to use Idaho Stop's? Not at all? Perhaps during heavy commuter hours? Certain roads?

— Brookline PD (@BrooklineMAPD) September 17, 2014
I saw if you are going to do it, it has to be all the time all roads, otherwise its just too confusing. As far as I know it would require a change in the law, and would for sure need to be accompanied by a huge education campaign.
What do you think?
Tags:
brookline pd
,
idaho stops
Posted in
advocacy
,
infrastructure
|
6 Comments »
Written by Boston Biker on Sep 10
From Boston Magazine:
———-
In late July, a Hubway cyclist traveling down Massachusetts Avenue in the South End was hit by a city-contracted trash truck as it went to make a right hand turn onto Columbus Avenue. The cyclist survived the accident, and it may have been due to just one detail: special safety guards that were installed on the sides of the vehicle as part of a pilot program launched by the city last year.
In 2013, through a collaboration between the Mayor's Office of New Urban Mechanics and the Public Works Department, officials said they undertook the largest municipal pilot program of truck side guards in the nation, testing three different types of guards on 16 active vehicles driving the streets, including trash collection trucks.
Officials also worked with researchers from the U.S. Department of Transportation's Volpe Center in Kendall Square to sketch out the details for the proposed guard project, as well as City Councillor Ayanna Pressley, and members of the Boston Cyclists Union.
Tags:
news
,
sideguards
Posted in
infrastructure
,
news
|
No Comments »
Written by Boston Biker on Jul 15
Check out these awesome lanes!  Parked cars on the outside, nice buffer zone, that fresh zing of new thermo plastic.  More of these please.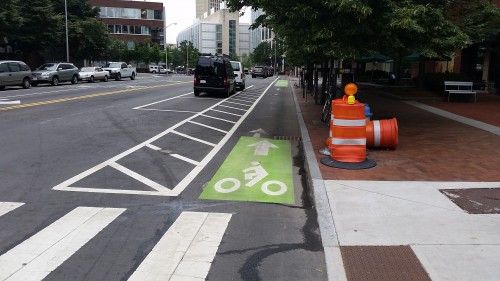 Tags:
buffered bike lanes
,
cambridge
Posted in
infrastructure
|
3 Comments »
Written by Boston Biker on Jul 10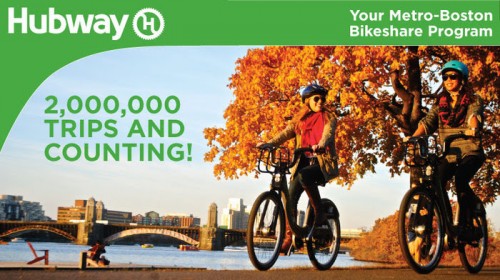 Congrats to Paul Wagner checked out a Hubway bike this past Sunday June 29th, at 11:53am he added his name to the annals of Hubway history by being the two millionth rider!   Pretty awesome, and a sign that Hubway is growing rapidly.  I heard that he didn't believe it when they emailed him, so they had to call him and force him to accept his prize ha ha.
Tags:
2 million rides!
,
hubway
Posted in
Bike Business
,
Commuting
,
infrastructure
|
No Comments »
Written by Boston Biker on Jul 07
Cars are pretty bad. Its probably not very hard to come up with a dozen bad things our use of cars has done for the planet, for cities, and for people. You might be thinking you can escape thous bad effects by riding a bicycle instead. And for the most part this is true.
But there is one danger posed by cars that still holds true when you ride your bicycle. Pollution, specifically cancer and asthma causing pollution.
A fascinating study from the Harvard school of public health shows that car drivers are not just hurting themselves, but are also hurting everyone who chooses not to drive cars.  For most things in this country your right to do whatever you want, extends right up until they hurt someone else,  however it seems that when it comes to environmental damage we still have the idea that the sky is a public dumping ground and anyone can inflict damage on anyone else.
Luckily it seems that bike paths and use of proper planning can greatly reduce the exposure to these pollutants.  Combined with the added health benefits of cycling, and the reduction of single car occupants on the road, cycling is still one of the single greatest ways to make yourself healthier, and make everyone else healthier at the same time.
From the Harvard School of Public Health:
Boston has installed more than 50 miles of bike lanes since 2007, and the number of pedal-powered commuters in the city, while only 2.1%, is more than three times the national average. To help urban planners continue to improve bike friendliness, researchers at Harvard School of Public Health (HSPH) set out to determine the types of lanes that expose cyclists to the smallest amount of vehicle pollution.

The researchers attached a mobile monitoring unit to the back of a bicycle and hit the road to sample two types of pollutants from vehicular exhaust—black carbon and nitrogen dioxide—known to increase the risk of asthma, heart disorders, and other health problems. They traveled five common bicycling routes in the city during both morning and evening commutes, to compare bike paths, which are separated from the road, and bike lanes, which run adjacent to traffic.

Bike paths had the best air quality, with concentrations of both pollutants about a third lower than on bike lanes. This was true even when bike paths near crowded streets were compared with bike lanes on quieter streets, suggesting that separation from the road and a protective barrier of vegetation, such as trees and bushes, makes a difference. Bike paths also allow cyclists to bypass intersections, where idling cars make the air quality particularly bad.

Piers MacNaughton, SM '14, led the data analysis, which was published online May 16, 2014 in Science of the Total Environment. He earned his degree in the Exposure, Epidemiology and Risk Program in the Department of Environmental Health and will start a PhD in the program this fall.

A bike commuter himself, MacNaughton said the aim of the study is not to scare off city bicyclists but rather to provide evidence to shape future urban planning—particularly now that Boston is on the short list of host cities for the 2024 Olympics. "They are really pushing to be a biking capital. I wanted to get this research out so that when they start developing more bike lanes, they can do so in a smart way," MacNaughton said.

Read abstract: Impact of bicycle route type on exposure to traffic-related air pollution

Read Boston Globe coverage: Cyclists, don your gas masks
Tags:
harvard school of public health
,
pollution
,
science
Posted in
advocacy
,
Commuting
,
infrastructure
|
No Comments »
Written by Boston Biker on Jun 30
Not only have the cities of Cambridge, Somerville, and Boston been out in force re-painting old bike lanes, but I have seen some new ones go in as well. School street in Somerville  got a new one, Mass Ave in Central saw a slight modification to some old one (see below), and there have been other small and large changes around town.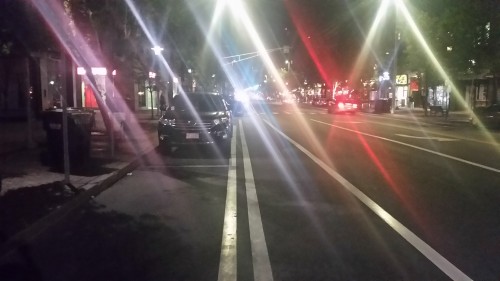 These are the new Central Square treatments. I like how they have tried to make sure the parked cars get right up against the curb, leaving just that much more space for non-door zone bike lane.
Have you noticed any new bike infrastructure? Tiss' the season to be laying down thermo-plastic it seems.
Tags:
Bike Lanes
,
new
Posted in
infrastructure
|
No Comments »
Written by Boston Biker on Jun 26
It's been less than a year, and they have racked up another million rides!  Its nice to see the growth is not only continuing but getting faster.
Hello Hubway riders!
In Hubway's first season of operations in 2011, you took more than 142,000 rides. In 2012, more than 533,000 rides. And last year, over 910,000 rides! If it seems like less than a year since we were celebrating Hubway's 1,000,000th ride, that's because it was! You've already taken over 375,000 more since this season's full system reopening in April, and we're anticipating Hubway's 2,000,000th trip to be taken sometime this weekend.
Will you be Hubway's 2 millionth rider? If you are, you'll receive a $130 gift certificate from New Balance! That's enough for a brand new top-of-the-line pair of shoes to keep you riding in style!
Plus, with a newly deployed station, a bunch of events on the horizon, and more system expansion on the way, you've got plenty of places and reasons to ride! Congratulations in advance of 2 million rides! 3 million is right around the corner.
Tags:
2 million rides!
,
hubway
Posted in
Commuting
,
infrastructure
|
1 Comment »
The Word On The Street