The Latest From BostonBiker.org
News, Events, Updates
Written by Boston Biker on Nov 19
The driver in this #CambMA crash was IDd; Will be summonsed for A&B w/Dangerous Weapon Causing Serious Bodily Injury pic.twitter.com/kkCkKyz0KB

— Cambridge Police (@CambridgePolice) November 18, 2015
Woo!  Now all we can hope for is that this attempted murder gets treated as such, instead of the more usual case of having the charges thrown out or reduced to a ridiculous degree.  Trying to kill someone with your car should be treated in the same way that trying to kill someone with anything else is, seriously.
Tags:
asshole in a truck
,
cambridge
,
hit and run
Posted in
news
|
No Comments »
Written by Boston Biker on Nov 16
From The Email
———-
Somerville Bike Kitchen is looking for additional staff members to help run the coop so that we can expand our open-shop hours. In exchange for agreeing to host open-shop hours once a month and a fee of $18 per month, SBK staff get key access to the SBK bike repair space. You also get to help us shape the future of the bike kitchen. Each SBK staff agrees to serve for a minimum term of three months. No experience necessary.
SBK is a cooperative bicycle repair space located near Davis Sq. We currently hold open shop hours once a week on Tuesdays from
6-9pm
at 339R Summer street. If your bike is misbehaving, want to use our truing stand, or just want to hang out and talk shop, bike on over and say hi. All are welcome!
Please check our website for our next bike-in movie night and our first repair workshop!
Tags:
help out
,
somerville bike kitchen
Posted in
advocacy
,
fun
|
No Comments »
Written by Boston Biker on Nov 16
Got this in the email, seems someone has come into possession a bicycle they think is stolen.  They think it belongs to someone named Brendan Liszanckie, who rode the Pan Mass challenge (judging from the stickers on the bike I guess), if you are this person, or you know this person, have them drop me an email and I will connect you with the person who has your bike.
Tags:
brendan liszanckie
,
did your bike get stolen
Posted in
news
|
1 Comment »
Written by Boston Biker on Nov 16
It's a Crash, not an accident.
———-
MassBike is a part of the Massachusetts Vision Zero Coalition, a group that advocates for the implementation of Vision Zero across Massachusetts, working together with community organizations, non-profits, businesses, and individuals.
What is Vision Zero?
Vision Zero is a strategy to eliminate all traffic fatalities and severe injuries, while increasing safe, health, equitable mobility for all.
---
What is MassBike doing to support the Vision Zero effort?
There are 3 crucial bills that we have filed to protect bicyclists and pedestrians and there is still time to voice your support.The vulnerable users bill, the bike lane bill, and the crosswalk bill are imperative to improving safety on the road. To read more about these 3 bills and what they mean, click here. There is also a sample letter you can send!
Tags:
crash not accident
,
massbike
,
vision zero
Posted in
advocacy
|
No Comments »
Written by Boston Biker on Nov 16
Got this in the email, very peaceful and lovely.
Boston Public Market- Arnold Arboretum from rick beaty on Vimeo.
(and before all you grumps get in a fuss, yes I realize there is some sidewalk riding, and some less than stellar helmet use, try to see the big picture, the synergy of life and bicycle, and how the two can make for a lovely journey)
Tags:
arnold arboretum
,
bike ride
,
boston public market
,
video
Posted in
fun
,
video
|
No Comments »
Written by Boston Biker on Nov 16
from Bikes Not Bombs:
———-
Come Celebrate the Year With Us!
Join us to celebrate an amazing 2015! We'll be unveiling our new video mechanics manual and celebrating the contributions of staff members David Branigan and Derek McIntire as they transition out of their roles at BNB, and Stephen Bosco who has stepped back to a lead volunteer role. All ages welcome at Doyle's Cafe on December 16th from 6-10pm, we'll provide light appetizers, cash bar available.
Join our Board of Directors!
The Bikes Not Bombs Board of Directors is seeking candidates to join our team! The Board is responsible for guiding and providing oversight to the organization as a whole. We are particularly seeking candidates with experience in legal services, nonprofit financial management, fundraising, and human resources. People with a strong connection to our programs, mission, and the communities we serve are encouraged to apply.
Free Clinics at the Bike Shop
 Wed 11/12 8-9pm Winter Commuting Clinic
Mon 12/7 7-9pm Tool Time
Mon 12/14 7-9pm Femmechanics
RSVPs for Tool Time are due by 6pm November 7th, please be on time for the clinics.
We've switched to our Winter hours and will now be open on Monday 11-7pm, Tuesday, Wednesday and Thursday 8-8pm, Friday 11-7pm, Saturday 10-6pmand closed on Sundays.
Help BNB Load Bikes to Kenya!
We will be shipping our second container to our new partner Cycloville in Kenya on December 13th. Please join us! Stop by our warehouse for an hour or stay all day.
This will be our last container of 2015!
Volunteer of the Month – Susan Redlich!
Susan Redlich has been an invaluable part of Bikes Not Bombs since the beginning. She started collecting bike boxes in her basement to ship to Nicaragua in the 80s, and continues to load containers to this day. She says her favorite part about loading containers is "I can see in my mind the excitement of people unloading the bikes in Ghana, Guatemala, and other partner destinations." Here is a photo of Susan visiting Maya Pedal in Guatemala. Thank you for all you do for Bikes Not Bombs Susan!
Successful 5th Annual Building Momentum Breakfast!
On Thursday October 15th 85 people joined us at Bikes Not Bombs' Fifth Annual Building Momentum Breakfast. We are especially grateful that over 64% of guests were inspired to support Bikes Not Bombs' work by committing to multi-year gifts and in total the breakfast raised over $69,000 for the next 5 years. Thank you to Ula Cafe for catering, Barrington Coffee for the coffee, Cambridge Innovation Center for the space and all of our guests and table captains for attending. Check out photos from the event.
News Outside of BNB
Bike Infrastructure Planning and Design Workshop – Join the Boston Cyclists Union on Saturday November 14th from 9-3:30pm to learn how to plan and design different kinds of bike route infrastructure!.
Cranksgiving – Come join the 2nd Annual Cranksgiving ride on November 21st 12pm at Copley! Cranksgiving is a bike ride and scavenger hunt where participants ride all over Boston buying food items to donate to the Greater Boston Food Bank, Red Cross, and Somerville Homeless Coalition. Ride bikes. Buy food. Give back.
Delegation to Honduras – In January join a Witness for Peace delegation to Honduras to visit and connect with a variety of communities to learn about the struggles of Hondurans amidst unfair economic policies, repression and militarization.
Tags:
bikes not bombs
,
news
,
update
Posted in
advocacy
,
news
|
No Comments »
Written by Boston Biker on Nov 05
People seem to be confused when they see the words "share" not just around here, but everywhere.  Which is why "share the road" signs are often less helpful than you might think.  I think the Boston interpretation of those signs is something like "everyone else get out of the way!"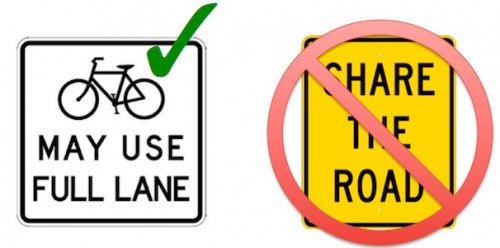 It's gotten so bad that at least one state has stopped using them all together.
Via BikeDe.org:
Comprehension of the familiar "Share the Road" signage as a statement of bicyclists' roadway rights has been challenged, based on arguments that it is ambiguous, imprecise, frequently misinterpreted, and not designed for that purpose…In fact, the US state of Delaware discontinued use of the "Share the Road" plaque in November, 2013."

– From "Bicycles May Use Full Lane" Signage Communicates U.S. Roadway Rules and Increases Perception of Safety, North Carolina State University, August 28, 2015

In November of 2013, Delaware formally discontinued the use of the "Share The Road" sign, the first (and so far still the only) U.S. state to do so. The sign was interpreted in diametrically opposite ways by cyclists and motorists and failed to prevent conflict and hostility between motorists and cyclists. Arguably, the sign may actually have been causing conflict.

Now a study published on Friday by researchers at North Carolina State University (NCSU) has confirmed what Delaware already knew: "Share The Road" is a problem.

The authors of the new study – both NCSU faculty – surveyed nearly 2,000 people and found that there was "no statistically significant difference in responses between those who saw 'Share the Road' signage and those who saw no signage" whatsoever in terms of their comprehension that cyclists are permitted in the center of the travel lane; that cyclists do not have to move right to allow motorists to pass within the same lane; or that motorists should wait for a break in traffic before passing in the adjacent lane.

In sharp contrast to the complete uselessness of "Share The Road", survey respondents who were shown the "Bicycle May Use Full Lane" sign showed uniformly high understanding of permissible cyclist lane positioning and appropriate safe passing behavior for motorists.
Which was why I was so happy to see this gem in Somerville yesterday:
It's a little hard to see, but the giant blinking sign reads:
"IMPORTANT! IMPORTANT! IMPORTANT!"
"CYCLISTS MAY USE THE FULL LANE"
"ANYWHERE, ANYTIME, IT'S THE LAW"
This is the same intersection that recently got new bike boxes (which still sadly are not working all that well, drivers are ignoring the signs)
What also makes this sign so useful is that this particular stretch of road is just too narrow to safely "share" you have to take the whole lane or you will be squished. This road is so narrow that a bus and a car can't pass going opposite directions if there is a parked car. It's so narrow that a bus can't fit in it's own lane, even if there is no parked cars…so the sign is a good reminder to asshole drivers that cyclists need to take the whole lane, because otherwise they would get hit.
(There is also a cop who likes to hang around this intersection, he will give you a ticket for running this red light on your bike, but he is really nice guy, if you don't sass him he will give you a warning, also don't run red lights on your bike)
Tags:
bike sign
,
somerville
,
union square
,
use the whole lane
Posted in
advocacy
,
Commuting
,
infrastructure
|
No Comments »
Written by Boston Biker on Nov 05
GET A LIGHT FOR YOUR BIKE!  A bright WHITE one for the front and a bright RED one for the back.  Turn them on when its dark.  This is not rocket surgery.
This goes for joggers in the street as well, you are completely invisible, I don't have head lights in my eyes, your reflective vests do nothing unless there is a car about to run you over to illuminate you.  Also don't run in the bike lanes, you don't want me riding on the sidewalks, you don't run in the streets…it seems like a fair trade.
This also applies to car drivers, you have to turn your damn lights on…its dark, there is a little knob, use it.
That is all.
Tags:
bike lights
,
min-rant
Posted in
advocacy
,
bostonbiker
|
No Comments »
The Word On The Street