The Latest From BostonBiker.org
News, Events, Updates
Written by Boston Biker on Jul 21
Starting location: 45 Danforth Street, Jamaica Plain, MA – 6PM Saturday!
Final details for World Naked Bike Ride BOSTON! Pass it on! We've a pre-party location and will release that info 24 hrs prior to the ride. pic.twitter.com/dx15bKNZIh

— WNBR Boston (@WNBRBoston) July 11, 2017
https://www.facebook.com/WNBRBoston
Each year for the past seven years a group of naked people, or mostly naked people, hop gently on their bikes and ride through the city. Last year, more than 200 jolly mostly naked people took to their bikes complete with police escort.

"I think after 7 years the city has finally come around to the ride," wrote the organizers on Facebook announcing the 2017 ride which is slated to begin in JP on July 22.

The organizers say the ride, though supported by the area nudist community (apparently there's a Boston nudist community) is not about promoting nudity so much as it is about promoting bike safety.

"The goal of this ride is to focus on bike awareness. Our nudity will demonstrate our vulnerability out on the city streets and the freedom that riding a bike can give you," said organizers.
Tags:
Jamaica Plain
,
world naked bike ride
Posted in
advocacy
,
fun
|
No Comments »
Written by Boston Biker on Jul 21
Boston by bike… at night.
Saturday, August 12, 2017, Midnight
 'til dawn
Twenty ninth annual tour of architectural and historic sites.
Meet at 

11:15 pm

 in front of Trinity Church in Copley Square
Bring a bicycle with a light and wear something reflective.  Helmet recommended
Commemorative T shirts available.
Bring something for pot luck breakfast 

Sunday

 in Christopher Columbus Park.
Please bring a spare inner tube that fits your tires.
Sponsored 

by

 the Back Bay Midnight Pedalers
Covers around 30 miles in 7-8 hours, so there are lots of stops. Sometimes the ride goes places you are not normally allowed to ride, though I don't know what is planned for this year.
Tags:
Back Bay Midnight Pedalers
,
boston by bike at night
Posted in
fun
|
No Comments »
Written by Boston Biker on Jun 02
From LivableStreets:
The 5th Annual Rush Hour Challenge is less than a week away! This friendly competition dares to answer the age-old question: what's the most reliable form of transportation for getting around Boston?
This year, there will be two parts to the challenge. Participants traveling by car, bike, T, and foot will journey from Dudley Square to Faneuil Hall during the morning rush hour, and then from Faneuil Hall to Davis Square in the evening.
Please help us spread the word and share the event with your network!
Here are three ways you can participate in the Challenge on June 5th: 
---
1. Kick off your morning by cheering on the contestants at the morning finish line!
Where: Faneuil Hall Marketplace (plaza between Faneuil Hall & Quincy Market)
When: Contestants will start arriving anytime after 8:00 am
Cost: Free (complimentary coffee will be available)
---
2. Try a new mode for your morning commute — and bring a friend! Create your own personal challenge (and tell us about it using #RHC2017).
Where: Your commute, ending at Faneuil Hall Marketplace
When: 8:00 – 9:00 am
Cost: Free (besides the cost of your transportation)
---
3. Cheer on the contestants as they reach the evening finish line and celebrate with a party!
Where: Redbones Bike Party, 55 Chester St, Davis Square, Somerville
When: 5:00 – 9:00 pm (contestants will be arriving between 5:30 and 6:30 pm)
Cost: $15 includes food, drink, a raffle ticket, and valet parking (proceeds go to MassBike and the New England Mountain Bike Association)
---
Rush Hour Challenge is meant to highlight Metro Boston's rapidly growing need for better and more diverse transportation options. Each of the participants will face the hectic and often dangerous traffic conditions, confusing intersections, and disconnected networks Bostonians experience every day. We're excited to be partnering again with the Somerville Bike Committee, Boston Cyclists Union and MassBike for the Challenge.
We have an awesome line up of Challenge participants, and we'll be announcing who they are via social media over the next few days, so be sure to follow us on Facebook and Twitter.
We hope to see you on June 5th! 
LivableStreets Alliance
http://www.livablestreets.info/
Tags:
livable streets
,
rush hour challenge
Posted in
advocacy
,
Commuting
,
fun
|
No Comments »
Written by Boston Biker on Jun 01
Good time, good fun, good cause!
---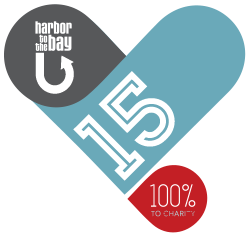 The 15th annual Harbor to the Bay bike ride is coming up September 23, 2017! This annual fundraiser benefits four AIDS-focused organizations in the Massachusetts area: Community Research Initiative (CRI), AIDS Action Committee, Fenway Health, and the AIDS Support Group of Cape Cod.
Riders can choose to take the 125-mile adventure from Boston to Provincetown, or to start from the Sagamore Bridge for the 68-mile abridged route. Because the planning and management of the event are all conducted by volunteers, 100 percent of proceeds donated to Harbor to the Bay and its riders will go to charity. If you're not interested in riding but still want to help, we are always looking for crew members to assist in handing out water, giving directions or helping repair bikes along the ride route.
Some groups are offering special incentives to join their fundraising team. For example, if you sign up to ride or crew for CRI before June 15, you will be entered to win a free XX2i Optics and Running and Cycling Enterprises (RACE) gift bag, including a pair of XX2i sunglasses, an XX2i/RACE shirt, an XX2i hat, and a gift certificate for an additional pair of glasses — a total retail value of $225.
Over the past 14 rides, CRI riders, crew members, donors, supporters, and volunteers have raised over $1 million for HIV/AIDS research, prevention, and care — and we hope with your help this year, we'll honor the 15th ride with our largest fundraising effort to date.
If you'd like more information about becoming a rider or crew member, or to make a donation, please visit www.harbortothebay.org. You can also call or email Libby Mullen, CRI's Development and Communications Manager, at 617-502-1726 or [email protected] See you in P-Town!
Tags:
bike ride
,
charity
,
harbor to the bay
Posted in
advocacy
,
fun
|
No Comments »
The Word On The Street