The Latest From BostonBiker.org
News, Events, Updates
Written by Boston Biker on Jul 16
From Livable Streets:
My name is Matt and I'm a BU grad student, active Allston community member, and
LivableStreets Commonwealth Avenue project lead. I'm writing to you for the first time today to ask for your help making Commonwealth Avenue safe for everyone to use.
The City of Boston is redesigning a section of Comm Ave, between Packard's Corner and the Boston University Bridge. We need your help to make sure that the City takes advantage of this opportunity to create a model street that serves the large and growing population of people who bike, walk, drive, and use transit.
My fear is that the current designs for the Comm Ave project actually make the street less safe – and less enjoyable – for people to use. The plans widen street lanes (which encourages speeding), narrow the already overcrowded sidewalks, and do not improve the bike lane (which has already been the site of many injuries and at least one fatality in recent years).
Thanks for your help,
Matt
Matthew Danish
LivableStreets Alliance Project Leader
E: reply@livablestreets.info
F: LivableStreets
T: @StreetsBoston/#SaferStreetsBoston
Tags:
action alert
,
Comm. Ave
,
livable streets
Posted in
advocacy
|
No Comments »
Written by Boston Biker on Nov 08
David B. Was nice enough to send me the complaint in the Weigl vs Ross Express case in
Superior Court, along with this context for folks who are not lawyers.  You can download the complaint here.  (pdf)  For more info on the case see here and here and here.
At this time (Nov 7), there's no answer from the defendants; the only things in the case file are the "cover sheet" used by the court to get the case going, and the complaint, which sets out what the plaintiff claims and will have to prove. All of the causes of action involve "negligence," which the plaintiff will have to show by proving that the defendants had a duty to Chris Weigl (to drive safely and not cause accidents) and that they breached that duty (by causing an accident) and caused injury to Weigl. They'll also try to show that the trucking company was not careful enough in hiring the driver. Perhaps he has a bad record or something like that. The defendants will try to show that there was nothing the driver did wrong, even though the accident occurred. They will also, no doubt, try to show that Weigl rode carelessly and was responsible for the crash. The police report of their investigation will be important evidence and hasn't been released yet, as far as I know. If the jury finds that both the driver and Weigl were negligent, they will have to determine how much each was at fault and that ratio will figure in the determination of any award.
Tags:
Christopher Weigl
,
Comm. Ave
,
lawsuit
,
ross express
Posted in
news
|
No Comments »
Written by Boston Biker on Mar 18
In response to recent deaths, the city and BU have teamed up to improve Comm. Ave. From BU Today:
More warning signs, better bike lane markings, and highway reflectors will be added to the campus' mile-and-a-half strip along Commonwealth Avenue to improve safety in the wake of the death of a student cyclist in December.
Those improvements, recommended by a joint BU-city working group, will be made by the city. Safety advocates, including Craig Hill, chairman of BU's Bike Safety Committee, commended the measures, while cautioning that additional improvements may be necessary in the future.
"I'm hopeful that these changes will help protect bicyclists and pedestrians traveling along this very busy stretch of Commonwealth Avenue," says BU President Robert A. Brown. "I am also extremely grateful for the city's continued support of bike safety initiatives that safeguard all people who use the city streets that pass through our campus."
The improvements will include:
Signs. New signage will designate a "High bicycle and pedestrian activity zone," and instruct drivers to "Share the road" and "Yield to bicycles when turning right." Other signs will post a 25-mile-per-hour speed limit. Part of the stretch had been posted for 30 mph.
Pavement markings:. The existing bike lanes, installed five years ago, will be painted at intersection crossings with skid-resistant, high-visibility green paint, and white bike-shared-lane markings will be added within the green paint at busy intersections and at long crossings. The width of the bike lanes' edges will be increased to six inches, from the present four inches.
Reflectors. Highway reflectors, recessed into the pavement, will be installed along the outside of bike lanes between intersections, and more closely spaced before each intersection crossing.
Warning signs to improve safety will be installed on Commonwealth Avenue. Photo courtesy of Tetra Tech
Read the rest of this long, and in depth article here.
Tags:
BU
,
Comm. Ave
,
improvements
Posted in
advocacy
,
infrastructure
|
3 Comments »
Written by greg on Mar 13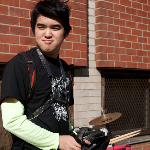 Greg Hum has been riding a bike everywhere since 2008, plays drums on his bike, organizes the annual Midnight Marathon Bike Ride, and shares stories and more on his personal blog, The Humble Cyclist. Tweet at him, bro: @thehum. 
____________________________________________________________________
This morning on my commute into Boston, I spotted BTD prepping some "Share The Road" signs to be hung up on Comm. Ave. by Kenmore Sq.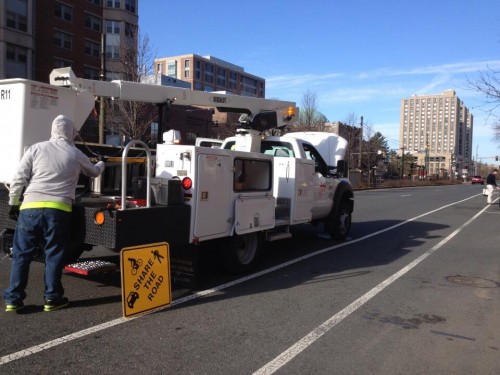 When I walked by the same spot this afternoon, I couldn't find them anywhere. Has anyone seen where they've been put up?
Tags:
bike saftey
,
Comm. Ave
,
infrastructure
,
Kenmore
,
road signs
,
share the road
,
signs
Posted in
infrastructure
|
3 Comments »
Written by Boston Biker on Dec 06
Its happened again…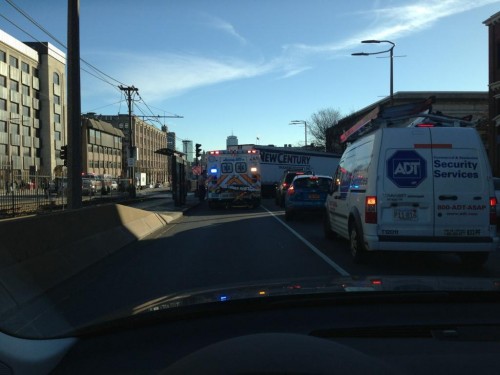 (img src)
A bicyclist did not survive a collision this morning with a semi at Comm. Ave. inbound at St. Paul St..

At 8:51, Sasha tweeted from a passing trolley:

Body covered by a tarp. RIP. what a bad start to the morn.

By coincidence, a City Council committee holds a hearing on making Boston safer for bicyclists today at noon at City Hall.
More info when I get it:
NPR reports, that a cyclist was in a bike lane when the semi-truck made a right turn and hit him. Was a white male in his 20′s.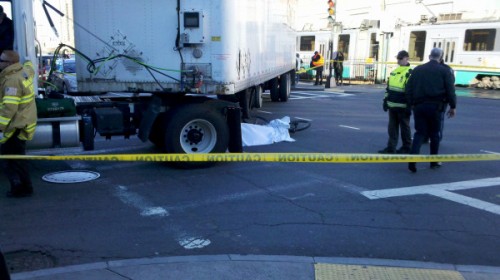 (img src)
According to Boston Police, at 8:36 a.m., a cyclist was struck by an 18-wheeler at the intersection of St. Paul Street and Commonwealth Avenue, near Boston University campus. Police closed down the 900 block where the accident occurred.

Police confirmed at 9:49 a.m. that the cyclist died as a result of the accident.

People reported seeing a sheet over the bike and the victim at the scene as they passed the accident near Boston University's campus.
EDIT: A picture of the truck.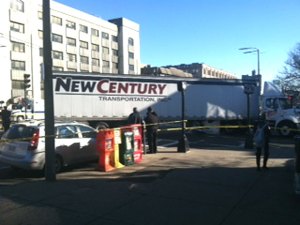 EDIT: another image of the scene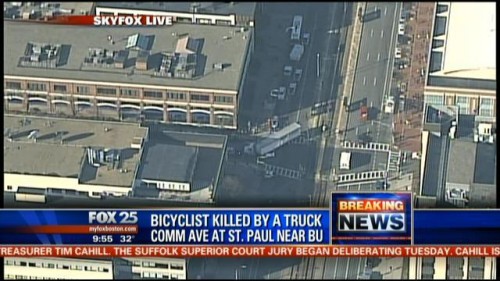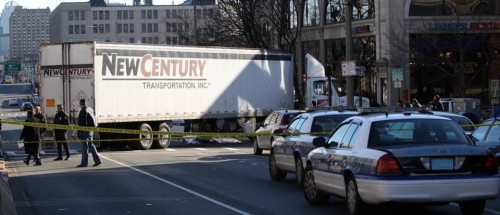 Boston police spokeswoman Cheryl Fiandaca said in an e-mail that the bicyclist was killed and that the department's Homicide Unit is now investigating the incident. Suffolk District Attorney Daniel F. Conley's office has also sent a prosecutor to the scene, officials said.
EDIT:
WHDH-TV –
EDIT: Heading to this meeting, on bike safety, see you there, more when I get back.
EDIT:
Students name released:
Christopher Weigl (COM'14), a 23-year-old BU graduate student who was pursuing a master's in photojournalism at the College of Communication, collided with a 16-wheel tractor-trailer at about 8:30 a.m. Witnesses say Weigl and the truck both were traveling east on Comm Ave and collided when the truck made a wide right turn onto St. Paul Street. The accident is being investigated by the Boston Police Department, which cordoned off the area and closed Comm Ave eastbound. No citations have been issued.

"Chris was just a great guy," says Sarah Ganzhorn (COM'13), a fellow graduate student in COM's photojournalism program. "He was always smiling. He was just a really chill guy who never had anything negative to say about anything."
EDIT: More photos: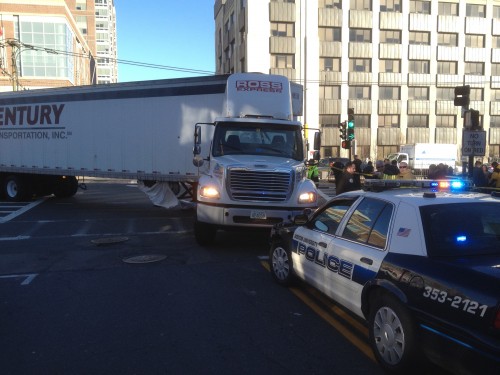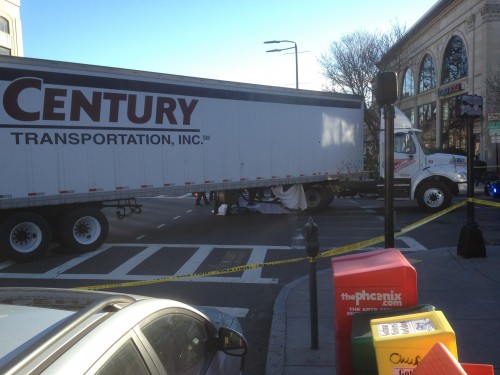 Tags:
Christopher Weigl
,
Comm. Ave
,
crash
,
cyclist killed
Posted in
news
,
video
|
103 Comments »
Written by Boston Biker on Oct 13
Got this in the email today, sad news, will try to keep on top of it as things change.
Thanks for the news tip Craig.
Hope she recovers.
—————————
Via the Daily Freepress.
A male Boston University student hit a female biker with the car he was driving at the corner of Buick Street and Commonwealth Avenue at about 6 p.m. Wednesday.

The victim was a BU student also, said Sargeant Patrick Nuzzi of the Boston University Police Department.

The biker's head smashed the windshield of the BMW sedan, which is registered in New York, said a Boston Police Department officer on the scene who wished to remain anonymous.

Despite being a BU student for the past four years, the driver had failed to get a Mass. license and is considered under state law to be driving without a license, the officer said.

New bike lanes on Comm. Ave. have made it easier for bikers to be safe, but the lack of traffic laws specific to bikers has led to accidents, he said.

A friend of the offender had to drive the vehicle away from the site of the accident and have his license verified by police.

The BPD officer said that the charges against the vehicle operator will depend on the victim's medical condition, but it is up to BPD to decide.

The female student was rushed to Brigham and Women's Hospital. She is in fairly critical condition and could possibly be suffering from head trauma, he said.
Tags:
BU
,
Comm. Ave
,
crash
Posted in
news
|
7 Comments »
Written by Boston Biker on Aug 12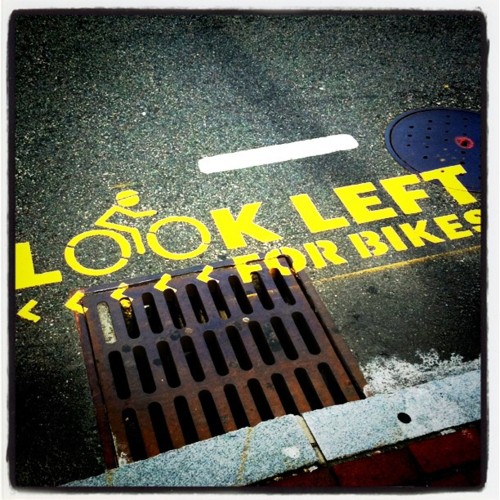 Spotted on Comm Ave, honestly I think we might need to put some sort of lights/audible alarms as well, BU students seem to have…trouble, crossing Comm Ave at even the best of times.
Tags:
BU
,
Comm. Ave
,
crossing the street is hard
Posted in
fun
,
infrastructure
|
1 Comment »
Written by Boston Biker on Aug 18
Tristan reports:
Hey – wanted to make sure you'd heard (Im sure you have), but there are new bike lanes on comm ave! I was only on comm from Packards corner inwards, but they were in place on that whole stretch. Beautiful!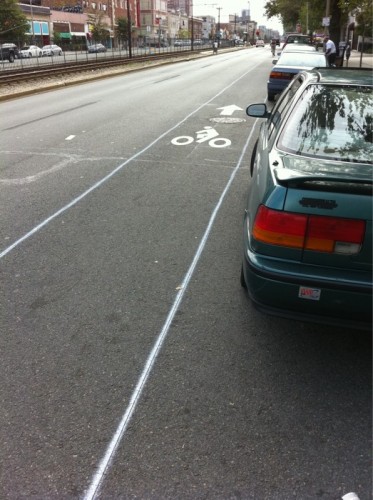 And AB Bikes saw them grinding off the arrows in preparation for moving the lane markings.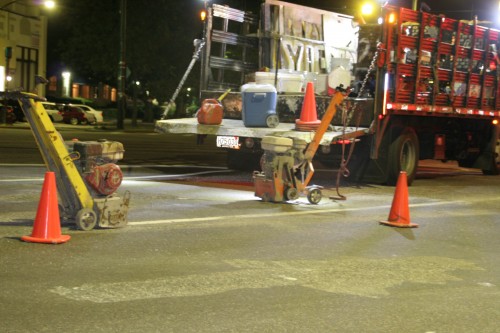 Weee!
Tags:
Bike Lanes
,
Comm. Ave
,
Commonwealth Ave
Posted in
infrastructure
|
4 Comments »
The Word On The Street