The Latest From BostonBiker.org
News, Events, Updates
Written by Boston Biker on Jun 03
Last week, the League of American Bicyclists released their list of Bicycle Friendly Communities for 2014, and named Lexington as Bronze Level winner. Lexington joins Arlington, Boston, Cambridge, Newton, Northampton, and Somerville as a Massachusetts Bicycle Friendly Communities, and brings the commonwealth's total to seven.
According to Lexington Patch:
The application process was coordinated by Bicycle Advisory Committee chair Peggy Enders, who worked with Town staff and bicycle advocates over the winter to assemble the data needed as part of the comprehensive assessment process required of applicants.

"The application process was essentially an exercise in benchmarking Lexington's accomplishments in becoming a more bike friendly community," Enders said. "There are a number of areas where the town has accomplished a great deal and other areas where there is room for improvement. It would be wonderful to receive a higher level designation in the future; the bronze level award is a great start that demonstrates Lexington's growing commitment to bicycles and those who ride them."
The League of American Bicyclists' Bicycle Friendly Community award recognizes cities and towns that have taken steps to improve conditions for bicycle transportation, and incentivizes communities to continue improving through technical assistance.
Congratulations, Lexington!
Tags:
awesome
,
bronze
,
Lexington
Posted in
news
|
No Comments »
Written by Boston Biker on Feb 05
Would you rather have this: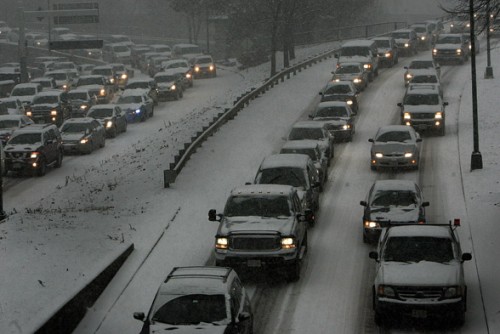 Or This: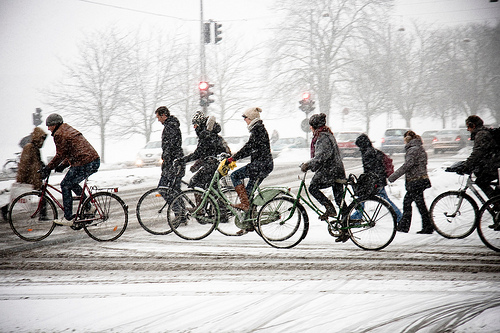 The choice is pretty obvious, at least to me.

That was THE BEST COMMUTE I have had in weeks.  The roads were sloppy as hell, more often than not my back wheel was not behind my front wheel, but it was sooooo nice.  No cars, no pedestrians, so peaceful and serine.  Like the whole city had decided to slow down, and be calm.
I also saw about 10 other cyclists out there having the times of their lives.  We all smiled and laughed at one another, it was a good time to be out.  We all had that look in our eye like "we have discovered something no one else knows about, and its awesome!"
Some of my co-workers think I am nuts for riding a bicycle in weather like this, but I think they are the ones who are nuts.  You would have to be crazy to get into a multi-thousand pound vehicle capable of sliding out of control and crushing you or someone else in weather like this.  Cars/trucks are just too big and dangerous to drive when the weather is bad.
The biggest problem I was going to run into today was plopping over into 5 inches of fluffy snow…or being crushed by a car…which are too dangerous to be on the roads on days like today.  Lucky for me it most everyone decided to walk or take the T, so I more or less had the road to myself.
What was your morning commute like?
Tags:
awesome
,
commuting
,
open thread
,
snow storm
Posted in
Commuting
|
2 Comments »
Written by Boston Biker on Jan 07
Broadway is a fantastic shop, and if you got the mechanical chops I can't think of a better place to work.  See below for details:
——————

Broadway Bicycle School is looking for some mechanically inclined people who are enthusiastic about bicycles to work at our shop as full-time bike mechanics/sales-people from Mid-March through October 2014.  Previous bike shop experience is preferred but not necessary.   For more information, stop by the shop at 351 Broadway in Cambridge or visit broadwaybicycleschool.com.
Tags:
awesome
,
Broadway bicycle school
,
jobs
Posted in
jobs
|
No Comments »
Written by Boston Biker on Nov 20
I guess my earlier bedtime story to Hubway was premature.  Like a kid who has gotten into the red bull and pixi sticks Hubway's in Cambridge are going to rock steady all winter long!
See below for all the details!
—————
HUBWAY TO PILOT YEAR-ROUND OPERATIONS IN CAMBRIDGE
Cambridge-based stations will remain available through the winter
Hello from Hubway!

We're excited to announce that part of the Hubway system will remain open throughout the winter for the first time. If you haven't yet heard, while most Hubway stations will be closed by Thanksgiving and removed until Spring 2014, the City of Cambridge will run a pilot program during which almost all of the Cambridge-based stations will remain open and operational year-round. Read the full City of Cambridge press release here.

With winter approaching, read below for cold-weather riding tips, and also read about specific winter station closures for the rest of the Hubway system.

The Team at Hubway
WINTER RIDING TIPS
To prepare for cold-weather bicycling, here are a few things you should keep in mind:
WEAR LAYERS
But remember that riding will warm you up. If you get hot as you ride, pull over and remove a layer, but always keep your ears and hands shielded.
FIND BIKE-APPROPRIATE GLOVES & EARMUFFS
Local bike shops offer products that do not obstruct the use of your helmet.
PLAN YOUR ROUTE
Have your route set ahead of time.
PLAN FOR AN ALTERNATIVE MODE OF TRANSPORTATION
Always make sure you have an option in case a blizzard hits or if you simply decide that riding is no longer comfortable for you.
MAKE THE SMART DECISION IF YOU'RE COLD
Each rider has a different comfort level in inclement weather. If you are uncomfortable for any reason while biking, stop riding and walk your bike to the nearest docking station. If you are cold, make your way indoors to warm up.
STAY VISIBLE
Be aware that visibility is particularly limited during the winter, with fewer daylight hours, glare, and foggy conditions. Hubway bikes have 24-hour lights, but it is also a good idea to wear light colored clothing and reflective materials if possible.
USE EXTRA CAUTION
Under wintry conditions, roads may not be completely cleared of snow and ice. You are always permitted to ride in the general travel lane (not only the bike lane) and should do so if the bike lane is snowy or icy.
---
SEASONAL STATION CLOSURE SCHEDULE
As we wrote last week, the Hubway system began its seasonal phased station closures on Monday, November 18th. With the exception of the Cambridge stations, the final day of 2013 regular season operations will be Wednesday, November 27th. The station closure schedule has been published for removals through this weekend. The schedule is subject to change, so please make sure to check Hubway's news site, facebook page, and twitter feed for the latest updates.
Tags:
awesome
,
hubway
,
trans siberian hubway
,
winter
Posted in
Commuting
,
infrastructure
|
No Comments »
Written by Boston Biker on Nov 14
Imagine a giant figure 8 loop around the downtown core of the city of dedicated car free cycle tracks for cyclists.
I really like this idea, I think it has potential as not only a way to see all the historic sights in Boston, but also as a downtown Bike Freeway system.  Providing a way to get around the core of the city (and beyond) on a high capacity dedicated bike way.
Most importantly it can be used as an foundation to build future infrastructure from.  Check out this meeting and attend to support this great idea!
got this in the email
———-
Spread the word!  Nov 21st 6pm
http://connecthistoric-boston.org/ideas/connect-historic-boston-bike-trail/
Crucial meeting: Support a cycletrack on Causeway St!
The Connect Historic Boston Bike Trail is a proposal for "a family-friendly bicycle loop around downtown Boston." To make Causeway Street family-friendly will require a physically separate bike lane (a.k.a. cycletrack) for bikes, and new improvements for pedestrians. The Boston Cyclists Union, LivableStreets Alliance, MassBike and WalkBoston invite you to show up and speak up at a meeting presenting a new plan for Causeway Street — a crucial link the proposed Connect Historic Boston Bike Trail downtown.
SAVE THE DATE:
Public Meeting on Causeway redesign
Thurs., Nov. 21
6pm
CBT Architects
110 Canal St.
Boston
Find more information on the Connect Historic Boston Bike Trail here.
Tags:
awesome
,
cycle track
,
down town
,
Historic
Posted in
advocacy
,
Bike Business
,
Commuting
,
infrastructure
|
No Comments »
Written by Boston Biker on Nov 11
Whoooo Hooooo!  No longer will you have to deal with the amazingly poor conditions on the Cambridge side in the bike lane!  This was WAY overdue.
More from Livable Streets Below:
———-
BREAKING NEWS
Massachusetts Ave (Harvard) Bridge is about to be much safer!
Over the weekend, MassDOT repaved the Mass Ave Bridge because YOU said you wanted a better bridge! This week it will be painted.
Just as every new bike lane is a product of relentless advocacy, maintaining the lanes, smooth pavement and public support requires constant dedicated resources.
Mass Ave Bridge conditions before this weekend.
We heard your complaints about the bridge for years, and documented the worsening conditions on the bridge… bumps in the pavement, gravel piling up, and disappearing bike lanes.
We worked with government and created handouts for the public. We organized Street Ambassador volunteers to go out on the bridge to collect your stories and signatures to give to transportation leaders to demand change.
Together, we won a better Mass Ave Bridge! What happened on Mass Ave bridge is happening across countless neighborhoods: a single poor road condition creates unsafe streets.
LivableStreets is working for you – providing resources, experience, and a network – fighting for better conditions.
With your support, we can develop innovative resources for local advocacy and continue to provide direct support to dozens of projects in neighborhoods across the region. Please donate today.
Sincerely,
Jackie Douglas
Executive Director
Tags:
awesome
,
livable streets
,
Mass Ave Bridge
,
Repaved
Posted in
advocacy
,
Commuting
,
infrastructure
|
4 Comments »
Written by Boston Biker on Nov 05
This is amazing, and highly useful, way to go MassBike!
——————-
We're Crowdsourcing The State!
Help us capture the best of Massachusetts biking in video! MassBike is in the midst of producing a new police training video, working with the Boston Police Department and several other police departments. We've been busy filming the actual training scenarios, but we could use some help from every corner of Massachusetts to lend a statewide flavor to the production. We want ocean, mountains, historic buildings, and more recognizable Massachusetts places.
What we need:
Very short video clips of bicyclists passing iconic places all over MA
More short clips of cyclists passing the "Entering …" signs outside Massachusetts cities and towns
Shots can be first-person (on-bike) or third-person perspective
Technical specs: We're using GoPro 1080p, 60fps, medium FOV. Try to keep each clip to no more than 10-15 seconds.
How to get involved: Email [email protected] and let me know what you plan to shoot. We'll figure out the best way to get the files to us.
We can't promise we'll use everyone's clips, but if we do we'll credit you in the training video!
Tags:
awesome
,
massbike
,
police training
,
video
Posted in
advocacy
,
education
,
video
|
1 Comment »
Written by Boston Biker on Oct 10
From BNB:
Help Send Bikes to Amuru, Northern Uganda
Village Health Workers riding BNB bikes to visit their patients.
Bikes Not Bombs is partnering with 550 volunteer Village Health Workers in Amuru, Northern Uganda to establish a bicycle transportation system for rural health care delivery to 40,000 people in post-conflict Amuru. BNB has already supplied 360 Village Health Workers with bikes, and this shipment will supply the remaining 190 Village Health Workers, while providing the initial set of bikes to expand the project into the neighboring area of Pabbo, to work with another group of 500 Village Health Workers serving another 50,000 people. In addition to the bicycles, BNB has supported this project to establish an extensive network of bicycle repair workshops with tools and spare parts, and has trained over 25 bicycle mechanics. These bicycles have already helped the Amuru Village Health Team increase their level of health activity to provide improved primary care support to rural households while also becoming a more organized and effective Village Health Worker Association.
Please join us to help BNB load bikes to these Village Health Workers in Northern Uganda!
TIME: Sunday November 10th from 10am to 5pm. Drop in for an hour or stay all day.
PLACE: The BNB warehouse at 10 Harvard Street in Dorchester
DETAILS: Breakfast and lunch will be provided. Equal Exchange coffee will be generously donated by City Feed & Supply.
Please let us know if you will be attending this container loading! RSVP here!
Also, to see more information about this Village Health Worker project, check out this new film created by BNB's Director of International Programs, David Branigan.
Apply to become a bike mechanic through BNB's Vocational Education program.
Bikes Not Bombs' Vocational Education Program (Voc Ed) is an 80-hour course for adults and youth (age 15 and older) offered at our Bike Shop in Jamaica Plain. Voc Ed provides a unique job training opportunity for those who are motivated to learn bicycle repair and mechanics. In the past, this training was taught in a classroom format. However, to improve the quality of the training and offer participants the opportunity to gain real experience in a full-service bike shop, we've shifted the structure of Voc Ed so that participants will now work one-on-one with skilled mechanics. The new model will allow participants to receive detailed explanations coupled with hands-on learning. Each participant will be expected to attend three, three-hour classes per week for the duration of the program which is December 9, 2013 – March 8, 2014. The actual hours of the class are flexible to accommodate the participant's schedule, but must be scheduled during regular Bikes Not Bombs Bike Shop business hours (at least Monday-Friday, 11am – 7 pm).
Because of the intensive nature of this training program, we can only accommodate two participants who are not already participants in BNB programs. Priority will be given to applicants who are serious about becoming professional bike mechanics and who do not have access to other training programs. Women and people of color are encouraged to apply, as are alumni of Bikes Not Bombs youth programs. While the Bikes Not Bombs Bike Shop largely hires graduates of Voc Ed, graduation from the class does not guarantee a position. However, graduates have gone on to work in Boston and Cambridge-based bike shops such as Broadway Bicycle School, Ferris Wheels, Community Bike Shop, Cambridge Bikes, Hubway and other bike-related businesses.
The 3-month training program costs $250. However, scholarships are available and the fee should not be a barrier to applying. Applications, along with resume and cover letter, are due November 18th and participants will be notified by November 28th at the latest. Contact [email protected] with any questions or download and complete the application
Do you love talking about Bikes Not Bombs and want to help raise money to support BNB's work in Boston and overseas? Then we want YOU to volunteer for our annual Phone-A-Thon!
We need about 30 amazing volunteers to call BNB supporters to inform them of the great things going on at BNB and ask them to make a year-end donation. Our goal is to raise $35,000 before December 31st and we need your help to get there! Every caller makes a difference – the more people we reach at this critical point in fundraising, the stronger and more financially stable we'll be entering 2014.
We have 10 calling sessions scheduled between November 26th and December 19th. Volunteers can sign up for one or more sessions. We will make sure you are trained and feel confident talking about BNB programs before getting on the phone. All sessions will be held at the Brewery Complex in Jamaica Plain. Snacks will be provided and you'll earn volunteer credits for your time. Here's a little secret: the Phone-A-Thon is actually a Fun-A-Thon!
Dates for the call sessions are:
Tuesday 11/26 6-9pm
Tuesday 12/3 6-9pm
Thursday 12/5 6-9pm
Saturday 12/7 12-3pm
Monday 12/9 6-9pm
Tuesday 12/10 6-9pm
Thursday 12/12 6-9pm
Saturday 12/14 12-3pm
Tuesday 12/17 6-9pm
Thursday 12/19 6-9pm
Fill out a brief online form to sign up to volunteer! If you have any questions, please contact Erica Rotman at[email protected] or 617-522-0222 x106.
Wednesday, October 23rd, 2013 at 8am
At: Space with a Soul
281 Summer Street, 7th floor
Boston, MA 02210
Save the date! Bikes Not Bombs' third annualBuilding Momentum Breakfast will take placeWednesday, October 23rd at 8am at Space with a Soul in the Fort Point Channel area of Boston. The Building Momentum Breakfast is designed to raise critical financial support for Bikes Not Bombs and spread the word about our innovative work using donated bicycles as a tool for self-empowerment and community transformation. The event will feature breakfast from our friends at Ula Café, inspiring stories from individuals who have been impacted by our work, a short video, and more. While attendees will be asked to consider making a donation to support Bikes Not Bombs, there is no obligation to give! If you would like more information about how to attend the Building Momentum Breakfast, contact Erica Rotman, Director of Fundraising & Events, at [email protected].
First time riders, long-term supporters, volunteers, and curious community members alike are welcomed to take part in the fun rides, fanfare, celebration and community-building of Bikes Not Bombs' biggest event and fundraiser of the year, the Bike-A-Thon! In 2014 we look to have our greatest rides yet, so don't miss out. PutSunday, June 8th in your calendar today! Also, don't forget to holdJune 22nd as a rain date just in case. We'll be coming out with more details as we get closer to the event, but you can be sure that we'll have:
Fully-supported rides for all skill levels!
Delicious food and a post-ride celebration for riders!
Brand new BNB t-shirts for all participants!
Great prizes for top fundraisers!
In the meantime, check out photos and the amazing results from the 2013 Bike-A-Thon!
We're looking for donations of any Apple computers from 2008 or later. Must be working. Laptops and desktops! Please contact Sean Madsen at [email protected] to arrange the donation.
Check out a large selection of refurbished bikes, starting at $340.
This October our Flat Fixing Clinic will be Tuesday October 15th from 8-9pm and our Basic Repair and Maintenance Clinic will be on Thursday the 24th from 8-9pm. More details online. As always, no need to sign up just be punctual and show up by 8pm!
With summer over and the days getting shorter the bike shop is starting to assemble refurbished bikes for resale which means that we finally have some of our more basic $340 City Bikes in stock (call ahead they often sell as soon as they're on the floor). Currently we're only scheduled 1 day out for repairs and have a wider range of sizes of refurbished bikes than we have had in recent months.
Finally, we're excited to share that shop employee Derek McIntire is preparing to travel to Ghana in early November to lead mechanics trainings at Ability Bikes. It's part of the Bike Shop's mission to support our youth and international programs, and we look forward to sharing a report from Derek about his experiences in Ghana once he's back.
Please join all of us at Bikes Not Bombs in welcoming our newest staff member, Charlotte Fagan, International Programs Coordinator. Charlotte comes to BNB with a great deal of international bicycle organizing experience. She helped found Carishina en Bici, a feminist bike collective in Ecuador and has volunteered with BNB projects in Sierra Leone and Guatemala. Charlotte will work closely with the Director of International Programs, David Branigan, and will be primarily responsible for coordinating technical assistance and support to Bikes Not Bombs' international partners. We're thrilled to have her on board and can't wait to see the amazing progress our International Programs make with her on the BNB team.
Do you have parts leftover from upgrading your bikes? Instead of sitting around unused, that derailleur could be keeping a rural health worker's bike on the road in Northern Uganda so they can reach more people, connect them to health care, and save lives! And if you ride with friends or in a club, please put out the word, collect parts together, and then bring them in to Bikes Not Bombs!
We need these parts by mid-October. Bikes Not Bombs is preparing to send a second shipment of bikes and parts to our newly developed partner project that so far has outfitted 360 community health workers with bikes. As Northern Uganda recovers from 20 years of civil war, this work is helping to create more healthy communities.
Items we can especially use:
Front Derailleurs – anything made for a mountain bike, or otherwise to fit a triple chain ring, road and hybrid derailleurs may work also.
Rear Derailleurs – anything made for a mountain bike, or otherwise a long cage derailleur
Shifters – rapid-fire, grip shift, or thumb shifters
Chains – any type, though 7-8 speed chains are especially valuable
Brakes – cantilever brakes, V-brakes
Tubes and Tires – 26″ (for mountain bikes) and any smaller sizes
Donations are tax deductible. Donors will be asked to assign the fair market value of your donation and please include the name and address where we should send the receipt. Contact Arik Grier,[email protected], 617-522-0222 x100.
BNB youth and staff greet Steve Murphy after his cross-country bike ride in support of BNB.
A hearty congratulations and thank you to Steve Murphy, a BNB Adult Instructor and steadfast volunteer who recently completed a cross-county bike ride in support of BNB. Steve rode from Seattle to Boston, and raised over $10,000 along the way. You can read about his journey, or donate in honor of his accomplishment.
If you are interested in planning a personal fundraising ride to support Bikes Not Bombs, please contact Erica Rotman at [email protected].
Tags:
awesome
,
bikes not bombs
,
update
Posted in
advocacy
,
education
|
No Comments »
The Word On The Street