The Latest From BostonBiker.org
News, Events, Updates
Written by Boston Biker on Nov 21
Lots of good stuff below from the City Of Boston:
HelmetHub Launch

We are proud to announce that the first helmet vending machine in the country can be found at Boylston St and Mass Ave. This machine will help HelmetHub gather information and we hope to start the next Hubway season with more stations around the city. Make sure you visit the machine while you still can.
We are sad to announce that Hubway will be shutting down for the season. Station closures began on November 18th, and the 2013 season will end on November 27th. Please visit http://www.thehubway.com/news for information about specific station closures.
New Bike Lanes Installed
We're on track to reach our goal of 20 miles of new bike lane in 2013! Have you seen or ridden on the latest additions to Boston's bike infrastructure?
These lanes have recently been installed or are in progress:
VFW Parkway – From: Centre Street, To: Brookline Town line
VFW Parkway – From: Spring St, To: Brookline Town line
Mount Vernon St – From: Old Colony Ave, To: University Drive North
Freeport St – From: Dorchester Ave, To: Conley Street
Stuart / Huntington – From: Harcourt Ave, To: Dartmouth St
Adams St – From: Neponset, To: Hancock
Ashmont – From: Dorchester Ave, To: Neponset Ave
Cross Street / N Washington Street
Upcoming Public Meetings  
These meetings are part of the Connect Historic Boston project.
Atlantic Ave / Commercial St
11/20 – 6:00pm - Nazzaro Community Center, 30 N. Bennet St
The City of Boston will present a Concept Plan for Atlantic Avenue / Commercial Street (from Christopher Columbus Park to Hull Street) in the North End as part of the Connect Historic Boston initiative. The goal is to transform this corridor into a street with sufficient space for pedestrians, bicycles, and vehicles to share the road comfortably.
Causeway St
11/21 – 6:00 pm - CBT Architects, 110 Canal St, 02114
This will be a public meeting to discuss the redesign of Causeway St.
Donate to Roll It Forward
"Though a bike may be thought of as a toy, it can also be a machine of empowerment that can change someone's outlook on life." -Canton Citizen
Recently, our work was highlighted in The Canton Citizen. The Canton Girl Scouts will be hosting a bike drive on November 24th from 12 – 3 pm at the Canton Public Library.
We are always accepting bike donations. If you have a bike to donate please visit http://www.bostonbikes.org/programs/roll-it-forward/donate. If you would like to host a bike drive please contact our Community Programs Manager, Jenny Duquette, atjenny.duquette@cityofboston.gov
BU's new Bike Safety website is a valuable resource for cyclists of all abilities. It provides safe cycling tips, Boston cycling laws, and Charles River Campus and Medical Campus bike rack maps, and more.
With the new BU Bike Accident Toolkit, cyclists, pedestrians, and motorists have the ability to leverage the technology in their mobile device to create a digital record of their accident. Available free of charge to iPhone and Android users, this new app automatically records the date, time, and GPS coordinates, and prompts the user to ask the important questions and document the accident with photos, video, and recorded witness statements.
Tags:
Bike Lanes
,
Boston Bikes
,
City of Boston
,
helmet hub
,
hubway
Posted in
advocacy
,
Commuting
,
infrastructure
|
3 Comments »
Written by Boston Biker on Nov 19
An eagle eyed reader spotted what look like baby bike lanes (soon to be painted) on cross street.
These were taken looking north at Stillman Place and Cross Street and also just before the intersection of Cross and Valenti Way
We can only hope that is what they are, although they look like bike lanes.  Thanks John for the awesome shots, and keen eye.
Tags:
baby bike lanes
,
Bike Lanes
,
cross street
Posted in
advocacy
,
infrastructure
|
No Comments »
Written by Boston Biker on Nov 19
From the email
———-
Support safer streets: Causeway St public meeting 
LivableStreets Alliance, Boston Cyclists Union, MassBike and WalkBoston invite you to attend and speak up at a meeting presenting a new plan for Causeway Street – a crucial link in the proposed Connect Historic Boston Bike Trail downtown.
Causeway Street redesign public meeting 
Thursday, Nov. 21, 6:00 PM
@ CBT Architects, 110 Canal Street, Boston
LivableStreets, Boston Cyclist Union, MassBike and WalkBoston collectively support the following ideas as foundational themes for Causeway Street:
1) A grand plaza in front of the TD North Garden.
2) When events let out, pedestrians get full priority.
3) Improved sidewalk and crosswalks.
4) Physically separated bike lanes (cycletracks) for people biking.
5) Safe connections to existing and future bikeways.
6) Wayfinding signage and pavement indications to help pedestrians, cyclists, transit users and drivers find their destinations.
Click here for more information on these six key points.
Tags:
Bike Lanes
,
cycle tracks
,
down town
,
the hub
Posted in
advocacy
,
infrastructure
|
No Comments »
Written by Boston Biker on Oct 29
There is good news for those who commute to the university by bicycle. The city of Boston is still making an effort to improve the experience, as noted by Director Nicole Freedman of the Boston Biker's Program. Additional bike lanes will be available in the upcoming weeks on Freeport Street, from Dorchester Avenue to Teanean Street, and on Tenean Street from Freeport Street to Conley Street.
Tags:
Bike Lanes
,
boston
,
UMass
Posted in
infrastructure
|
No Comments »
Written by Boston Biker on Oct 22
In Manhattan they did anyway, with the help of more pedestrians and higher transit rates, as well as the new bike share program.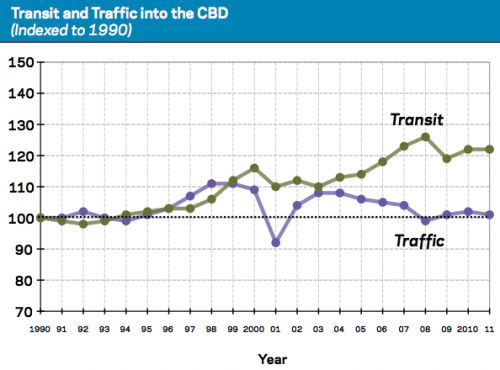 After several blocks in the heart of Times Square were pedestrianized and protected bike lanes were added to five avenues in the middle of Manhattan, motor vehicle traffic is actually moving more smoothly than before, according to the latest release of NYC DOT's annual Sustainable Streets Index [PDF].

The report, which gathers data from the MTA, the Taxi and Limousine Commission, and DOT's own counts, also shows that the volume of traffic entering Manhattan has basically stayed flat since 2009. At the same time, transit ridership has started to rebound from the recession and service cuts.

Even with population and employment levels increasing after the recession, car traffic into the Manhattan CBD declined 1.7 percent in 2011. Since 2003, traffic volumes are down 6.5 percent, while transit trips to the area have increased 11.3 percent.

…

The annual report incorporates numbers on bike-share usage. Between the Memorial Day launch and August 26, Citi Bike riders made more than 2.5 million trips covering more than 5.5 million miles. There have been eight crashes involving Citi Bikes, none causing injuries classified as serious. Of stations sampled during the final two weeks of July, the busiest included those near hubs like Grand Central Terminal and Union Square.
Read the rest of this fascinating article here. It seems obvious that if you take a bunch of people out of cars and instead they take public transit/ride a bike/ or walk that traffic would move better, but its always nice to see some real world data to prove it.
What I think is the real take home from this study is that peoples lives are improving.  They are being more healthy (even public transit is healthier than driving).  They are saving money, they are reducing their impact on the planet, and even the people who are still trapped in their cars are happier because traffic is moving smoothly.  I honestly wouldn't be surprised if they were happier as well.  Its a win win win win.
People defend cars, and get very upset when you try to make it harder to use them, but they really have so very few benefits and so very many drawbacks.  I think what we are seeing is that this fact is finally sinking in.
Thanks Ben for the heads up on this.
Tags:
Bike Lanes
,
improvement
,
new york city
,
traffic
Posted in
infrastructure
,
news
|
No Comments »
Written by Boston Biker on Oct 15
The City is circulating this flyer about bike lanes coming to Freeport and shared lanes on Ashmont and Adams.
———–
NOTIFICATION
Mayor Menino's Boston Bikes
Bike Lane Installation on Multiple Streets
Fall 2013 or Spring 2014
THE CITY OF BOSTON WOULD LIKE TO INFORM YOU THAT IT PLANS TO INSTALL BIKE PAVEMENT MARKINGS ON ADAMS STREET, ASHMONT STREET AND FREEPORT STREET.
The City of Boston will be installing the following types of bike facilities:
Shared lane markings – Shared lane markings are pavement markings that designate the road for shared
use between cyclists and drivers. Adams Street and Ashmont Street only employ shared lane markings.
Bike lanes – Bike lanes are sections of road designated for exclusive use by cyclists.  Freeport Street is a combination of shared lane markings and bike lanes.  On Freeport Street, green paint is occasionally used to highlight the bike lane through complex intersections.
Why install bike facilities? These bike facilities are designed to support bicycle traffic within Dorchester and along major commuting corridors.  All facilities are part of the Bike Network Plan.
What about safety?  Bike facilities make the roads safer for all users in the following ways:
Designate a safe riding zone for cyclists;

Encourage cars to drive at slower, safer speeds;

Encourage cyclists to bicycle more respectfully and predictably; and,

Make pedestrians and drivers more aware of cyclists.
What are the project limits and scope?
Adams Street: Bowdoin Street to Neponset Avenue

Ashmont Street: Dorchester Avenue to Neponset Avenue

Freeport Street: Dorchester Avenue to Tenean Street and Tenean Street from Freeport Street to Conely Street
When does installation happen?  Work typically takes place during the day or night over 1-3 days.
Will parking be impacted?  No parking will be removed along any of the roadways.
Will traffic be impacted?  No travel lanes will be removed and traffic will not be impacted.
Contact Nicole Freedman, Bike Programs Director, 617-918-4456, [email protected]
Boston Bikes is part of Mayor Menino's vision for a vibrant and healthy city that benefits all its citizens. It seeks to make Boston a world-class bicycling city by creating safe and inviting conditions for all.
Tags:
Bike Lanes
,
Dorchester
,
sharrows
Posted in
infrastructure
|
No Comments »
Written by Boston Biker on Sep 12
Got this in the email from Southie Bikes:
It has always been the position of Southie Bikes to listen to the constructive feedback from the people in the neighborhood. We received plenty of great ideas for how to make bike lanes work well in Southie, and we look forward to incorporating those ideas into the design going forward. There is more work to be done, and given Boston's rapidly changing political landscape the meeting will be deferred to a future date.

Planet Southie, Southie Bikes, Chamber of Commerce, and City Councilor Bill Linehan have more work to do toward common understanding.

Ride safe everyone! Southie Bikes
Which sounds to me like someone (can't say who from this limited info), is putting a monkey wrench into this process. I think we can safely assume that its not the bike advocates, so you know, do your own detective work.
Either way as some readers of this website have pointed out, this process is probably better than what happened in Charlestown where the lanes were put in, taken out, and put in again…  This town is full to the brim with cyclists these days, and one way or another its pretty clear that cycling infrastructure is the future.  Lets just hope this whole mess gets sorted out sooner rather than later.
No one should be afraid of public input on projects, hopefully at some point this meeting happens.
Tags:
Bike Lanes
,
public meeting
,
south boston
Posted in
advocacy
|
3 Comments »
Written by Boston Biker on Aug 26
A reader David sent in the following report about bike lanes in Roslindale/JP Area:
In the October 2009, bike lanes were added to Washington Street between Ukraine Way (just south of Forest Hills) and Roslindale Square. They added some convenience, and (some people feel) safety to the ride, and were generally perceived to be a useful development – an example of the city bringing bike facilities out into the neighborhoods.

In June 2013, the city added a handful of parking spaces on either side of Washington Street, just south of Ukraine, where previously there was no parking and just the bike lanes. They routed the southbound lane (the one in the video) around the parking spaces (you can still see the remains of the original lane). The northbound bike lane was replaced by sharrows when they added parking spaces to that side.

As you can see, to avoid the bike lane, vehicles need to make a pretty sharp swerve into a pretty thin car-and-bus-lane, and in the video taken at the time, almost none of them do. Same is true today, two months later, so there doesn't seem to be any progress along the learning curve among the car-and-bus-enthusiasts who use the road. (Some might argue that without actual parked cars, there's no need to respect the bike lane, but at the least, it means the paint will soon be worn off.)

The two buildings that the parking spaces were added for were built on MBTA-owned land, and (I thought) were considered transit-oriented development. Both buildings already have off-street parking, so there should be no need to put parking on the street.

This decision was made, I'm told, a while back, during the time that Boston had only an interim bike coordinator. I'm not aware of anyone in the bike community who was consulted, nor any public discussion of the change before it was implemented. Rumor has it that the decision to trash the lanes will not be changed.
I am not familiar with any of the facts surrounding the changes made to these bike lanes, or the people involved with them. But it is clear from the video that motorists have not "responded well" to the changes, aka they are driving in the bike lanes. This is a clear sign of poor planning, enforcement, or both.
If the car is truly no longer kind in this town, why do we continue to put on-street parking in? Especially considering this location is about a 3 minute walk to the T.
Anyone else have any information on these lanes, or how they got into their current configuration?
Tags:
Bike Lanes
,
MBTA
,
Roslindale
Posted in
infrastructure
|
6 Comments »
The Word On The Street