The Latest From BostonBiker.org
News, Events, Updates
Written by Boston Biker on May 05
In a sad story, an unitentified man who was probably a cyclist washed up on the beach last week.  Authorities need our help trying to identify him. (thanks Marcie for the tip)
From the Suffolk District Attorney:
——————-
Authorities Seeking ID of Revere Beach Remains
BOSTON, May 5, 2014—State Police detectives assigned to Suffolk County District Attorney Daniel F. Conley's office are seeking the public's help in identifying a man whose remains washed up on Revere Beach last week.
The conditions of the remains have thus far hindered investigators' efforts to identify the man or determine his ethnicity, but forensic anthropologists consulted by the Suffolk County State Police Detective Unit have opined that he was an adult between 20 and 40 years old – and likely on the younger end of that range.
The jeans themselves were American Eagle brand blue jeans with a 30" waist, suggesting a slim build, cinched with a black, braided leather belt. Inside one of the pockets was the key to a Kryptonite bicycle lock.  The key was not registered.  He was also wearing boxer shorts bearing an image resembling a Volkswagen Bug with a surfboard on its rooftop.
A passerby spotted the remains in shallow water along the shoreline at about 11:30 on April 30 and contacted State Police, who, with Revere Police, are attempting to locate his family or friends. The Office of the Chief Medical Examiner has not yet determined the cause or manner of his death.
"Somewhere, there may be a mother, father, son, or daughter suffering the worst kind of uncertainty," Conley said. "If we can identify this man, we can at least put an end to that waiting and worrying and allow them some closure. Even if members of the public don't have specific information, they can share these details online and, perhaps, help us reach the loved ones who need to know."
State Police detectives have already begun reviewing missing persons reports that may be of assistance and, through the Commonwealth Fusion Center, have notified law enforcement agencies across Massachusetts of their investigation. Members of the public who have specific information may call the Suffolk County State Police Detective Unit at 617-727-8817. Others without information but who wish to help are asked share the following link: http://wp.me/pKHdm-1Vk.
Tags:
cyclist
,
death
,
mystery
Posted in
news
|
No Comments »
Written by Boston Biker on Feb 15
The globe had a front page article today about the lack of an indictment for Dana McCoomb, the truck driver who killed cyclist Alex Motsenigos last year.
It's a common refrain among local ­cyclists: Want to kill someone and get away with it? Run them over while they're on a bicycle.

Within Boston's growing cycling community, a perceived lack of criminal prosecution of motorists involved in fatal bike crashes has been a regular source of outrage in recent years. That ire came to a ­fever pitch last week, when a grand jury investigation of a Wellesley bike crash with seemingly copious evidence — video footage, witnesses defending the deceased bicyclist, a truck driver who had fled the scene and had an extensive history of driving infractions — came back with no charges.

The grand jury's decision, bicyclists contend, is evidence of a wider problem: Most people do not respect the rights of bike riders.

"The message that we got from this particular case," said David Watson, executive director of the Massachusetts Bicycle Coalition, "is that, clearly, members of the general public still don't care enough about bicyclists' safety."
(VIA)
As if to prove the entire point of the article, the comment section is a wasteland…depressing.
Tags:
cyclist
,
death
,
globe
,
news
Posted in
news
|
9 Comments »
Written by Boston Biker on Oct 24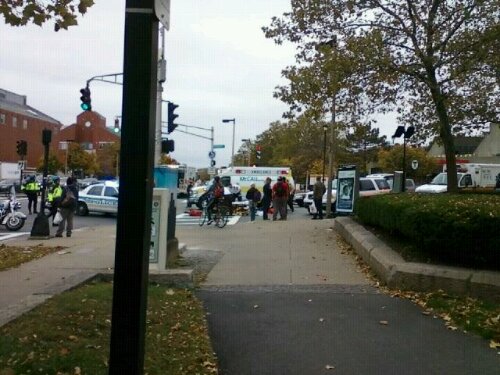 More information when I get it, as always feel free to leave any info you have in the comments. Hope everyone is alright.
This from the person who sent me the picture:
"Hard to tell how she is, was strapped into a stretcher and taken by ambulance. Several cop cars and ambulances at the scene. Her bike was pulled aside. Tires were mangled. Seems like she was crossing the intersection but not sure what direction car was coming from."
Tags:
crash
,
cyclist
,
roxbury crossing
Posted in
news
|
9 Comments »
Written by Boston Biker on Jun 02
EDIT: The name of the cyclist has been released it was Kelsey Rennebohm, who died late Friday. She was a Seattle native who was enrolled in the counseling psychology master's degree program at Boston College. (via)
A female cyclist was killed when struck by an MBTA bus Friday night. This is not the first time someone has been killed at this location…its about damn time something is done to make this stretch of road safer for cyclists and pedestrians.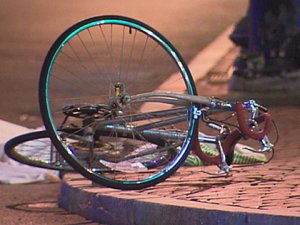 A woman cyclist was killed in a crash involving an MBTA bus Friday night in Boston.

MBTA Police say the accident happened on Huntington Avenue outbound at Forsyth Street.

Investigators say several vehicles were in close proximity to the accident site when it happened and it was not immediately clear which one had collided with the cyclist.

After a thorough investigation, police say they found evidence that the MBTA bus had made contact with the victim.

The bus operator has been questioned. No charges have been filed. The investigation is ongoing.

The victim's name has not yet been released, but police said she was in her twenties.

With no breakdown lane or bike lane on much of Huntington Avenue, the stretch of road is notoriously dangerous for cycling.
A woman who was riding her bike was struck and killed by an MBTA bus Friday evening, transit officials said.

The bicyclist, in her 20s, was killed while riding on Huntington Avenue near Northeastern University around 10:30 p.m.

The woman, whose name was not immediately released, was pronounced dead at the scene of the crash on Huntington Avenue at Forsyth Street.

"The bus operator has been questioned as part of this ongoing police investigation," said spokesman Joe Pesaturo.

He said details of the accident remain undetermined and forensic experts are investigating.

A police spokesman said no citations have been issued and the investigation into what caused the accident is ongoing.
EDIT: update from The Globe
Officials are investigating the involvement of an MBTA bus in an accident that left a woman dead after she fell from her bicycle into traffic Friday night, police said.

"An MBTA bus was involved in the accident," said Officer James Kenneally, a Boston police spokesman.

The victim was in her late 20s, Kenneally said. He said no charges have been issued at this time.

The accident occurred around 10:25 p.m. on the outbound side of Huntington Avenue at its intersection with Forsyth Street, said Joe Pesaturo, an MBTA spokesman, in an email Saturday.

"The preliminary investigation is focused on an MBTA Route 39 bus that was in the area of the accident at the time the 911 call was received," Pesaturo said.

Police questioned the driver of the bus, he said.

"Like others, he was interviewed by police," Pesaturo said.

The accident occurred near the Northeastern University campus, but the victim had no relation to the university, said Renata Nyul, a spokeswoman for the school.

Boston police could not say whether the victim was wearing a helmet at the time of the accident.

Pesaturo would not comment on whether the bus driver was aware of any involvement in the accident.

"Investigators are working to establish facts," he said.

The intersection where the accident occurred was blocked off by police tape Friday night leaving a stretch of Huntington Avenue closed.

The incident is under investigation by transit and city police.
EDIT: The Mayor has made a comment (via)
"That's the third accident we've had where somebody has lost their life and I've asked the transportation department to take a look at that roadway to see what we can do to make it safer for cyclists and automobiles," said Boston Mayor Tom Menino.
I am glad that at least there is the appearance of action, it will be up to all of us to make sure they follow through with this.
EDIT: The BCU is reporting she may have fallen into the street, I agree with them that bike lanes + reduced speed would go a long way to making this road better.
Eyewitnesses to the crash told the police that Rennebohm appeared to have lost her balance and fallen off her bike from the sidewalk and into the path of a Route 39 MBTA bus, according to Boston Police Department sources familiar with the investigation.

This new information puts a different spin on events for many cyclists who may have assumed that Rennebohm's injuries were received while riding her bike in the street. At the same time, it doesn't mean that the instincts of those who are demanding bike lanes on Huntington Avenue are wrong. In fact, the way the accident happened highlights a secondary benefit that bike lanes have for pedestrians—-that of creating a buffer space between moving traffic and people on the sidewalk. It may also, as details unfold, speak to the need to reduce speeds on the street.
Tags:
cyclist
,
cyclist killed
,
death
,
mbta bus
Posted in
news
|
32 Comments »
Written by Boston Biker on Oct 22
VIA Universal Hub:
From twitter:
"Bicyclist transported to the hospital w/ serious injuries after she was struck by a truck making a right turn"
More if I get updates.
Dear drivers, please check your mirrors before making turns, even right ones. In the same way you wouldn't make a left hand turn across multiple lanes without looking behind you, imagine that the right hand space between you and the curb is another lane. Often filled with cyclists.
EDIT: Got this report
"fuck fuck fuck. cyclist vs. tractor trailer at windsor and main in cambridge. didn't see a bike but saw a silver and green lazer style helmet behind the tape. detectives there"
Tags:
cambridge
,
cyclist
,
hit
Posted in
news
|
6 Comments »
Written by Boston Biker on Jan 24
Getting reports of a fatal incident this morning at 8:10 a.m. near the intersection of Arlington and Tremont streets.
Does anyone have any details?
More details when I get them. Be careful out there people.
Seems it was a male, taken to the hospital then pronounced dead(via).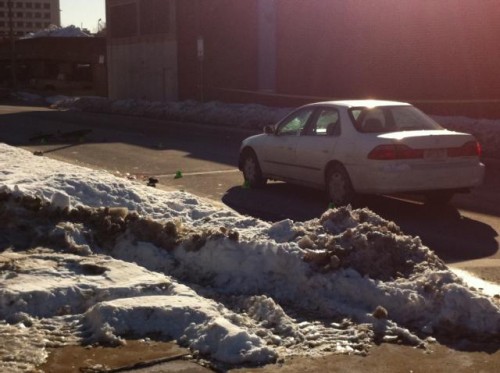 EDIT:
Bicyclist hit in Boston: MyFoxBOSTON.com
EDIT:
Anyone know the owner of this bike? (pics via Boston Patch)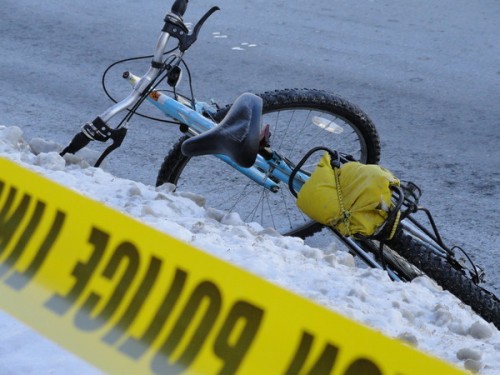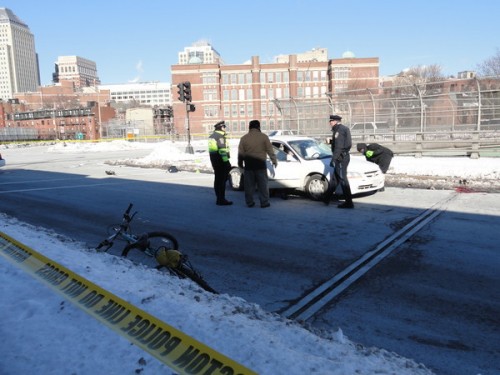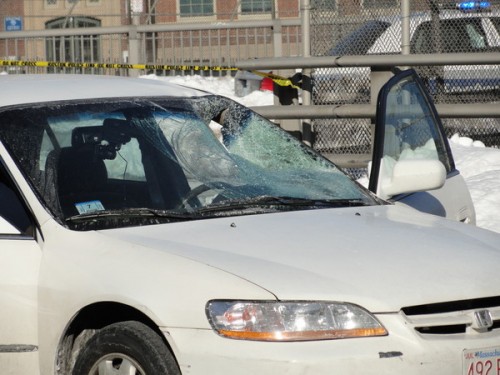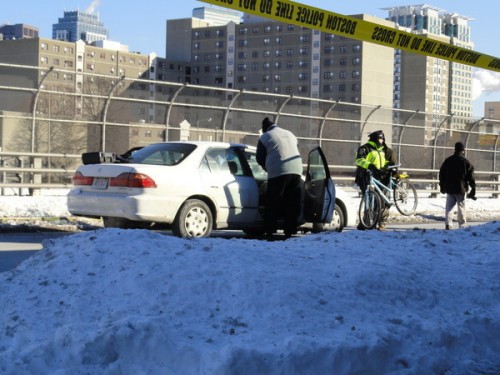 EDIT:
It was a 34 year old male. See below.
EDIT:
Jon pointed out over email that this is just just down the street from the fatal accident that happened in front of community bicycle supply several years ago.
EDIT:
Turns out it was in fact a 74 year old male.
Tags:
cyclist
,
downtown
,
killed
Posted in
news
,
video
|
11 Comments »
Written by Boston Biker on Nov 03
Got this from DotBike.
———————-
Dot Bikers, how do you light up your ride? Are you Dorchester's Brightest Cyclist?
Daylight savings time ends Monday November 8th, which gives many of us even more time riding in the dark. Cyclists use all manner of creatively attached lights and reflectors to stay visible on the road, from the simple and practical to fun and colorful. Show off your strategy to be seen in the dark, and win great prizes (gift certificates to a local restaurant and bike shop!).
Send your photo to [email protected], or stop by the Blarney Stone on Monday night – the first evening ride of the return to Eastern Standard Time, between 6 – 7 pm. The Blarney Stone is at 1505 Dorchester Avenue.
Don't have lights? Dot Bike will be distributing small blinky lights to riders on Dorchester Ave. from about 5:30 pm – 7pm. We'll head into the Blarney Stone at 7 pm. Come see us! And meet Jack Pelletier to hear about his ideas for opening a bike shop in Dorchester.
If you can volunteer to help hand out lights please do contact DotBike ([email protected])
Ride Bright Dorchester!
Tags:
blinky light
,
bright
,
cyclist
,
Dorchester
Posted in
advocacy
,
fun
|
No Comments »
Written by Boston Biker on Aug 11
No this is not an onion article, although if you read the recent article in the globe you might be forgiven for confusing the two. Eric Berger, self appointed grumpy old man, has spent more than $40,000 (holy shit) of his own money. Not to cure cancer, or to plant trees, or to save the children, Mr. Berger wants more car traffic in front of his home, and he is not afraid to spend a lot of money to get it.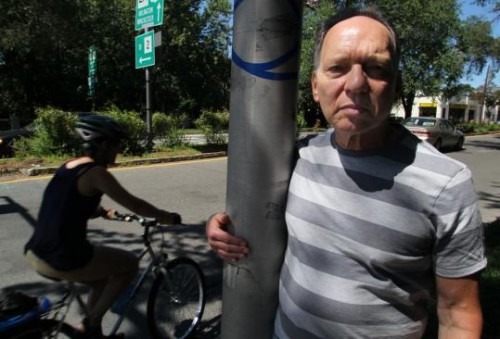 That's right, Eric Berger loves him some car traffic, and he is willing to do anything to get more of it. Bigger, faster, more lanes, cars! Anything that stands in the way of getting the maximum number of cars past his home in a day is going to be dealt with, and dealt with sternly.
What is all the fuss about? A bunch of people in Arlington decided it would be awesome to have better pedestrian and bicycling facilities on that stretch of Mass. Ave. that runs through the town. If you have ever ridden on it you know its super wide, poorly laid out, and would be PERFECT for some bike lanes. Not so fast says Señor Grumpy Pants Berger:
Berger has shelled out $40,000 of his own money to hire an engineer, a law firm, two consultants, and another attorney to stop the town.
Wait, what? Why would anyone do that? Did a bicyclist or pedestrian kill his dog? Does he think that a band of rabid cyclists will descend upon his lawn and tear up his azaleas? Nope, he just feels that cyclists have it too easy already and its about time we do something nice for car drivers.
Berger and some others who oppose the reconfiguration say that Arlington already has enough places for cyclists, including a nearby rail trail. They argue that changing Massachusetts Avenue to accommodate bikes would only encourage more cyclists to use the road, making travel more difficult for cars and emergency vehicles.
Yes cyclists are going to make it harder for emergency, because they take up the whole road, and are impossible to move to the side if an ambulance or fire truck needs to get through. And a bike lane or wider sidewalk would provide absolutely zero space in case an ambulance or fire truck had to find some place to park. Color me dubious Mr. Cranky Berger.
As far as the argument of "well they don't need bike lanes because they have the minuteman trail right over there" by that same argument you could say "well cars don't need Mass. Ave. because Route 2, and 93 are right over there."
And heaven forbid more people ride bikes than drive in their cars, you know that might just help reduce traffic, and then the poor souls that do choose to drive would have a big empty road with a bunch of cyclists on one side. How could they get to work in time under such conditions?!
The best part is Berger McDouche Rocket thinks that he is making some grand stand against tyranny.
"This is a story about citizens fighting to protect their safety against the local government,'' said Berger, who likens his opposition to what the English government faced from Sam and John Adams. "It's a story,'' he continued, "about a group of citizens who refuse to sit quietly.''
Oh you mean the revolution, where we got our freedom from a the tyrant king of England…yes your valiant fight to stop some bike lanes and better sidewalks is just like that. Or maybe you he was talking about Sam Adams valiant fight against bitter bear face? Either way, holy shit, crazy much? I would wager good money this guy has been watching too much Glenn Beck. He probably curls up every night with his stack of gold coins from Gold Line, and checks on his stash of non-hybrid apocalypse seeds every morning to make sure they are still in good condition so he can trade them for stuff when society falls apart.
For 40K he could have sent me to grad school for a year, or purchased enough food to feeds a couple thousand starving people in Africa, or helped clean up the beaches in the Gulf, or purchased almost 100 quality bicycles for people, or you know just kept it and gave it to his children when he kicks. Either way it seems like a lot of money to waste on fighting something that almost everyone agrees is a good thing. Is the noble struggle against the evils of bike lanes really going to be the one you blow your cash on?
If you are going to plant your old man crazy flag on the hill of battle, I am sure there are better causes you could fight. Try global warming, or air pollution, or obesity, or the geo-political consequences of our addiction to oil, ocean acidification, or asthma, or the lack of public transportation in many communities, to name a few. NOOO you had to fight bike lanes and side walks, whataguy!
I am both highly amused by this guy and his ilk, and disgusted. I can't imagine how anyone who has ever ridden a bicycle through this area could think that there are already too many bike facilities. I also can't imagine why they would want MORE car traffic in front of their homes? I mean do you really enjoy seeing cars zipping past your house at high speeds? What if you have dog, or a kid?
Traffic planers have been proving for years that adding more lanes just adds more traffic, and doesn't solve the problem at all. All the studies of this part of Mass. Ave. completely refute Mr. Berger's arguments. He has neither logical nor factual arguments on his side. What he does have is way too much free time, and a surplus of spending cash. Mr Berger is a sad, mistaken old man, who needs to take his wealth and go away.
For more highly amusing and disgusting quotes from these wack-a-moles, see the full article here.
Tags:
Arlington
,
Bike Lanes
,
boston globe
,
cranky old man
,
cyclist
,
Eric Berger
,
loser
Posted in
bostonbiker
,
news
|
21 Comments »
The Word On The Street