The Latest From BostonBiker.org
News, Events, Updates
Written by Boston Biker on May 10
From LivableStreets:
———-
Rush Hour Race: And the winner is…

On Tuesday morning, we hosted the second annual Rush Hour Race sponsored by Plymouth Rock Assurance, with the Somerville Bicycle Committee. Somerville Mayor Joe Curtatone sent the racers off in Davis Square on their routes to the finish line at Dewey Square across from South Station.
"Rush Hour Race is an event to raise awareness about all the ways we get
around our city. More and more people want transportation options and investing in them is critical. By investing in many different ways to get around, such as biking, walking and public transit, everyone's commute can improve," said Jackie Douglas, Executive Director of LivableStreets.
The MBTA proved to be the fastest way to get to work Tuesday at 8 AM. The MBTA rider took 25 minutes; roller blader 28 minutes; cyclist 30 minutes; runner 39 minutes; and the driver 50 minutes.
"At Plymouth Rock we care very deeply for the city of Boston. That's why it's so
important to us that our city has the safest, easiest and most efficient transportation options. Alternate forms of transportation are a great way to reduce traffic congestion, automobile miles driven and automobile crashes, which is why Plymouth Rock offers great rates for people who drive less than their peers. We're proud to work with LivableStreets to promote the growth of all transportation options in Boston through events like the Rush Hour Race," said Chris Olie, President of Plymouth Rock Assurance.
Longfellow Bridge: Imagine if…    
Too good to not share. This photo was captured by one of our members Tuesday morning, coming off of the Longfellow Bridge entering Charles Circle in Boston. Years ago, LivableStreets advocated for you and won a bike lane there (at least sort of), instead of just vehicle lanes.Now, imagine if there was a wider separated bike lane on the bridge. Imagine if this separated bike lane continued to Cambridge and Charles Street. Don't worry, we are working on it!
Become a member
today, and support our Better Bridges campaign.
Excellence in Advocacy for Better Bridges Campaign  
We are excited to share that LivableStreets is one of four 2013 Excellence in Advocacy finalist. We were nominated and chosen because of our Better Bridges Campaign. Massachusetts Nonprofit Network received a record number of nominations, representing 177 organizations and individuals across the state. Award winners will be announced at the Nonprofit Awareness Day celebration at the State House on June 10.
LivableStreets on WGBH "Right of Way" TV series  
LivableStreets Executive Director Jackie Douglas was on Emily Rooney's "Right of Way" show on WGBH Monday, May 6. Also on the show was filmmaker Kris Carter and Harvard University professor Noah Feldman,
to discuss bicycling in Boston.
RSVP for 5th Annual Boston Bike Update event 
with Nicole Freedman, Director of Boston Bikes, City of Boston
Tuesday, May 21, 2013
@ Boston Public Library, Rabb Hall & conference room, 700 Boylston St Boston
5:30 PM Doors Open – bike valet provided
6:00-8:30PM Presentations followed by Q & A
8:30-10:00 PM
LivableStreets Member Social @ Solas Irish Pub
Hosted by LivableStreets Alliance
Free & open to the public.RSVP please.
For the fifth year in a row, LivableStreets Alliance will host the annual Boston Bike Update event with the Director of the Boston Bikes Program, Nicole Freedman. Yes, she left for a little while, but she's back! Find out how Nicole has jumped back in to keep all of the City's goals on track. Hear the latest on the Bike Network Plan, Climate Action Goal, Hubway bike share, parking facilities, youth programs, festivals and more.
Join us at this public forum on bicycle planning in Boston, and get your questions answered.  
> Volunteer at the event – email [email protected] for more details.
Bike4Life ride September 15  
Fundraiser for LivableStreets   
Last year, you helped us raised $40,000 through our Bike4Life fundraising bike ride. Thank you! This year, the ride will take place on Sunday, September 15th. The ride will have 20 and 40 mile routes from Newton, as well as a kid's route. Save the date and more details coming soon!
Street Ambassador Training   
Tuesday, June 11, 12-1pm and 5:30-6:30pm  
@ LivableStreets office, 100 Sidney St, Cambridge
[email protected] to RSVP
  
There's more than one way to think about our streets, use our streets, and to enjoy our streets. As a LivableStreets Street Ambassador, you'll be helping people shift their perceptions about what our communities could be.
Represent LivableStreets in neighborhoods, at festivals and at other public events. Share how our campaigns and programs are helping to improve the quality of life for people in and around metro Boston. Livable streets are achievable, but only when you get involved.
Last year, our 25 Street Ambassadors made national news and helped win short-term improvements in our Remove McGrath Campaign! Help make change this summer. Find out more information here and RSVP for a training today!
Matter of Facts: Parking   
Parking plays a big role in the way streets are designed and how our public space is used. Here are some facts on parking. Weigh in, what do you think about parking? Share your comments on Twitter, Facebook or send to [email protected]   
Did you know? 
Ninety-nine percent of U.S. car trips begin and end in a free parking space.*
The average automobile is parked 95 percent of the time.*
Although many businesses today believe they benefit from free parking, curbside parking meters were actually introduced in 1935 by an Oklahoma City department store owner. He wanted to increase parking turnover so that there would always be spaces available for his customers.*
Boston does not charge for residential parking permits, and issues about 350,000 permits every two years.**
*StreetsBlog.com
**Parking consultant, Mark Chase.
Volunteer Spotlight with Paul Sohn
Where are you from?
I'm from Chicago, IL. I grew up in Hyde Park, a neighborhood on the south side of the city near the University of Chicago, and my family later moved to Wilmette, a suburb on the north side. So I got both the city and suburban experience growing up.
  What is your favorite street in greater Boston?
I love Massachusetts Ave. in Cambridge, especially near Central Square, where I live. It's a good example of how reducing travel lanes on a major street can make it easier for pedestrians and cyclists to navigate.
What do you like about volunteering for LivableStreets Alliance?
Because LivableStreets is so volunteer-driven, there's tons of opportunity to help out should you choose to pursue it. On the advocacy committee, if you have a good idea, more experienced volunteers (who have an incredible wealth of knowledge about transportation issues) will help you take it as far as you can.
What would your bumper sticker say?
"Yeah, my bike is in the shop"
> Watch the Remove McGrath video Paul created and read the full Spotlight here.
> If you are interested in volunteering with LivableStreets, come to our Volunteer Fridays from 12-2pm at our office, 100 Sidney Street, Cambridge! Next one happening tomorrow!
Public Meetings and Events
Bike Week
Saturday, May 11-Saturday May 19
@ all over Massachusetts!
Grounding McGrath: Determining the Future of the Route 28 Corridor
Wednesday, May 15, 6-8pm
@ Albert F. Argenziano School, 290 Washington St, Somerville  
Open Streets on the Avenue of the Arts
Sunday, July 14th, 11am-4pm
@ Huntington Avenue, Boston
Open Streets on Blue Hill Avenue
Sunday, September 29th, 11am-4pm
@ Blue Hill Avenue, Boston
Presented by Circle the City
Tags:
LivableStreets
,
news
,
street life
,
update
Posted in
advocacy
,
news
|
No Comments »
Written by Boston Biker on May 08
With the warmer weather, the bikers are out, and with them the bike news.  Here is a roundup of local bike news.
———–
Harvard gets award for being bike friendly:
As the number of cyclists on Harvard's campuses continues to grow, so too does the infrastructure to support them.  New bike racks and repair stations are being set up, expanded bicycle benefits for commuters have been rolled out, and the University has made a major investment in the Hubway bike-sharing network by supporting the installation of 12 stations in Boston and Cambridge. The national advocacy organization League of American Bicyclists has recognized that progress by naming Harvard a silver-level Bicycle Friendly University.
Bike advocates push for more use, safety in Newton:
An effort is underway to make cycling a more appealing alternative to driving in Newton.

Advocates and city officials, who see cycling as a way to improve the health of the population and reduce road congestion, are working on plans to better enforce existing laws for sharing the road and to extend bike lanes throughout the city.

Building new infrastructure is key to getting more people to get out of their cars, according to Andreae Downs, chair of the Transportation Advisory Group.

"Unless Newton is the outlier, once you start building bike infrastructure you get more cyclists," said Downs.
Boston man to cycle from London to Brussels for children's charity:
THE efforts made by paralympians last summer have inspired a Boston man to take part in a bike ride from London to Brussels.

Paul Maddison was also inspired by his son Nick to take part in the 340-mile cycle challenge for a charity that helps children with disabilities, A Smile for the Child.
Connolly: Let's Talk About Bike Infrastructure and Safety
The mayoral candidate is calling for a public hearing to discuss the future of city cycling:
As the warm weather slowly begins to creep back to Boston, more bikes will begin popping up along the roadways and paths connecting various city points, which makes it a perfect time to start discussing bike safety once again.

City Councilor and mayoral candidate John Connolly has filed a request to convene a public hearing to talk about Boston's bike infrastructure and how it can be improved. According to Connolly, the purpose of the hearing will be to devise a long-term strategy for planning, funding, and implementing projects to expand the current cycling infrastructure. In a statement, he said that the city's budget for bicycle infrastructure is "insufficient to fully implement all essential new projects," including cycle tracks on Malcolm X Boulevard and around the Boston Public Garden.
How to protect cyclists HSPH team stresses data collection in meeting with city councilors:
How do you make Boston bike-safe? First you find out where it's unsafe.

Answers to that and other key questions would provide the foundation for effective policy, a team of four Harvard School of Public Health (HSPH) students told Boston City Councilor Ayanna Pressley on Wednesday.

The four — Aaron Pervin, Temitope Olukowi, Claire Albert, and Marie McIntee — were the winners of an annual spring exercise at HSPH in which student teams examine a health policy issue and devise recommendations on how to address it. Professor of Health Policy David Hemenway and doctoral student Dahianna Lopez advised the team.

In their presentation, the students told Pressley that dealing with Boston's bike-safety problem — made apparent by a string of fatal accidents last year — is especially difficult because information on ridership, common routes, and even accidents is scattered among reports by the Boston Police Department, ambulance teams, emergency rooms, and a variety of city departments.
Justice Breyer Has Shoulder Surgery After Bicycle Accident:
According to Supreme Court spokesperson Kathleen Arberg, Associate Justice Stephen Breyer underwent reverse shoulder replacement surgery for a proximal humerus fracture at MedStar Georgetown University Hospital on the morning of April 27th.

The fracture was sustained in his right shoulder after a fall from his bicycle on the afternoon of April 26th, where he was taken to the hospital by an ambulance.

This is the third biking mishap for Justice Breyer. Two years ago, he fractured his right clavicle (collarbone) after he fell near his home in Cambridge, Mass.
Tags:
bikers
,
news
Posted in
news
|
No Comments »
Written by Boston Biker on Apr 01
Boston Bikes announced today that it will be installing new cycling and pedestrian infrastructure designed to improve bicycling safety, mostly by "slowing cycling and walking to a manageable speed"
From the cities website:
"We think cycling and walking are great ways to see our city, but have been disappointed in the high speed that pedestrians and cyclists are traveling through our city."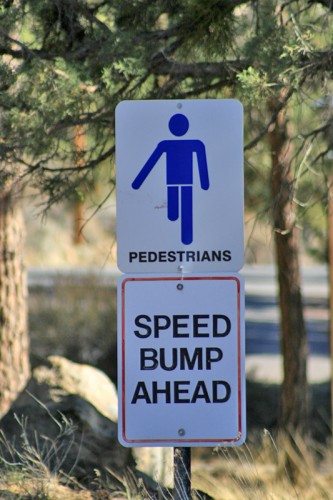 Consisting of a series of "pedestrian speed bumps" and "cycling sand pits" these additions are being installed now as the snow fall we had this winter and spring made it impossible.
Standing 3 feet tall the pedestrian speed bumps must be vaulted over slowing the pedestrian considerably, while the sand pits are 4 foot by 6 foot pits of sand placed near the intersections on streets that have bike lanes.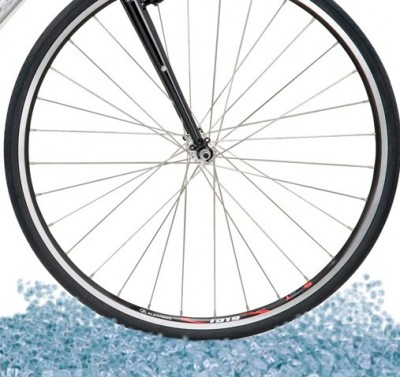 "Our hope is the sand will slow the cyclists enough that they are no longer a danger to cars turning in the intersection." Said one city official.
In an effort to make sure that motorists don't feel left out the city has also hired 32 "cycling ambassadors," highly fit cyclists in spandex to wander the streets encouraging more people to cycle.
"Basically we hang around highly trafficked areas and approach people we see getting out of cars. Then we let them know how much better for the earth and for their health cycling is, and how much nicer they would look in pants, how they could eat more chocolate and not feel guilty, how they wouldn't have to deal with traffic, how parking is always a breeze, how much better they will feel as parents, how it helps reduce air pollution, how it can help stop wars for oil, how it encourages more efficient urban planning, how it decreases outbursts by children in school, how it helps prevent diabetes, did I mention global warming? That sort of thing. I think its working because I followed one guy around for so long yesterday that he told me he wished he had a bicycle right now so he could get away from me."
The ambassadors will be around until mid-summer, when they will be replaced by extra meter attendants and mascots for our local sports teams.
"We are going from Bean Town to Green town" Said outgoing Mayor Menino. He then added "GREEN TOWN" speaking slowly and clearly enunciating each syllable.
Tags:
april
,
awesome
,
GREEN TOWN
,
improvements
,
news
Posted in
advocacy
,
infrastructure
|
3 Comments »
Written by Boston Biker on Feb 20
For the record: first cycling isn't dangerous, getting hit by a car is dangerous. Second, cycling is a lot less wimpy than sitting at your desk and talking out your ass about stuff you don't know anything about (listen again, both people admit to not knowing anything about what they are talking about multiple times). Third, is there no lengths to which these people will go to harp on the president (don't get me wrong, there are a millions things to harp on him about, so why these completely insignificant ones?).
The state of current politics, where the WSJ will spend time talking about the "wimpification" of America, instead of, say an in-depth discussion about the use of drones to kill American citizens, or the approaching extinction danger facing the human species due to global warming saddens me. It doesn't surprise me, but it does sadden me.
Tags:
news
,
sad
,
video
,
WSJ
Posted in
news
,
video
|
4 Comments »
Written by Boston Biker on Feb 15
The globe had a front page article today about the lack of an indictment for Dana McCoomb, the truck driver who killed cyclist Alex Motsenigos last year.
It's a common refrain among local ­cyclists: Want to kill someone and get away with it? Run them over while they're on a bicycle.

Within Boston's growing cycling community, a perceived lack of criminal prosecution of motorists involved in fatal bike crashes has been a regular source of outrage in recent years. That ire came to a ­fever pitch last week, when a grand jury investigation of a Wellesley bike crash with seemingly copious evidence — video footage, witnesses defending the deceased bicyclist, a truck driver who had fled the scene and had an extensive history of driving infractions — came back with no charges.

The grand jury's decision, bicyclists contend, is evidence of a wider problem: Most people do not respect the rights of bike riders.

"The message that we got from this particular case," said David Watson, executive director of the Massachusetts Bicycle Coalition, "is that, clearly, members of the general public still don't care enough about bicyclists' safety."
(VIA)
As if to prove the entire point of the article, the comment section is a wasteland…depressing.
Tags:
cyclist
,
death
,
globe
,
news
Posted in
news
|
8 Comments »
Written by Boston Biker on Jan 11
Here is what is going on around town.
Winter Bike Harvest:
Hello Friends!
Boston Bikes is looking for a few good volunteer bike mechanics to join us for our 

Winter Bike Harvest

. Whether you are professionally trained or just the handy DIY type, we could use your help! 
Volunteers will "harvest" usable parts from busted frames for our community bicycle giveaway program, Roll It Forward. In the last two years, Roll It Forward has collected, repaired, and distributed over 1,600 bikes to Boston residents who might not be able to afford bikes otherwise. Come help us clear out our warehouse space to make room for more bike donations!
When? Wednesday, January 23rd, 6-9pm
Perks! Free pizza, soda, and beer from Harpoon Brewery 
If possible, BYO-Bike Tools. We have a limited number of tools to go around so if you have a travel set of wrenches and allen keys, please make sure to bring them. We can only handle a small group of volunteers, so please RSVP here! We'll send you a confirmation and reminder before the event.
Boston Bikes Staff
For most cyclists, winter is a time to get in some cross-training. When it's well below freezing and the wind-chill makes it feel close to zero, anyone with an ounce of common sense knows not to ride outdoors.

And then there's the 1-percenters, the cyclists who think that snow and sleet and ice and cold make life interesting. For those weirdos on two wheels (I include myself in this category), winter is a perfect time to channel our inner-Shakleton and keep on trucking no matter what Mother Nature throws our way.

Friends ask us how we can pedal through the cold and the snow. When the mercury dips below freezing, layers and Windbloc will keep you warm. Many a winter morning I've had to unzip my jacket to keep from overheating. As to dealing with the snow and the ice, I am grateful for studded tires: they are truly a gift from the Gods of cycling. The 294 tiny studs embedded in my tire keep me glued to the ground. Sure, they look kind of strange (like some sort of Medieval weapon), but they keep me upright.
Harvard Reimburses Employees Who Bike to Work, Paving a Path Other Schools Should Follow:
Harvard is helping curb car use, by rolling out a new initiative that will not only offer University employees tax-free reimbursements for bike-related expenses, but will also entitle the cycling-inclined to Emergency Ride Home (ERH) services.

Reimbursements are now in effect as part of the Bicycle Commuter Benefits Act, according to the Harvard Gazette. To receive a reimbursement, all faculty and staff members need to do is be able to provide proof of bicycle registration through the Harvard University Police Department. The only employees not eligible are those who have been granted a subsidized monthly MBTA pass or parking permit from the University already.
Running the Charles River Paths This Winter? This Boston Company is Footing the Plowing Bill
If you're like me, you have no idea who is responsible for clearing the public pedestrian paths that run from the Museum of Science in Cambridge to the Galen Street Bridge in Watertown, assuming instead that the snow there just clears itself, or, Biblically, never falls at all, as if in homage to those dedicated enough to pound pavement during the bitter winter months.

Like me, of course, you'd also be wrong. There's a phantom force behind the snow removal of the Charles River Paths: While the muscle is provided by the state's Department of Conservation and Recreation, Boston.com reports, the funds are shoveled over by Brighton-based shoe giant New Balance.

2013 marks the fourth consecutive year New Balance has paid for the snow removal, which runs the state $10,000 on average annually. The shoe company gave Massachusetts $10,000 in the first year of the collaboration, and has reportedly forked over $20,000 the past two winters.
Bike Score Website Ranks Boston's Bikeability Good But Not Great
Depending on who you ask, Boston is either a progressive roadmap for bike enthusiasts and amateurs alike, or it's a city that places too-high a premium on two-wheeled commuting only for the well-to-do, urban core. Either way, with the proliferation of Hubway and addition of miles of bike-friendly trails, Boston has earned its ranking as the third-best major biking city in the U.S. But how does Boston rank among all U.S. cities in terms of bikeability? A new website says good, but not great.

Bike Score, offshoot to the popular website Walk Score, seeks to educate riders on how bikeable their city, neighborhood or block is based on a specific set of criteria and an easily digestible scoring system on a scale of 1-t0-100. A score of 90-100 is a "Biker's Paradise," meaning daily errands can be easily done on your bike; 70-89 signifies "Very Bikeable"–a bike can be used for most trips; 50-69 is "Bikeable," or middle of the road in terms of bike infrastructure; finally, a score of 0-49 earns your city the label of "Somewhat Bikeable," a nebulous catch-all for cities with minimal bike infrastructure in place. Boston scored a 68. So our city is about as bikeable as a city can get without being very bikeable.

Bummer.
Tags:
news
,
round up
Posted in
news
|
No Comments »
Written by Boston Biker on Aug 24
From Livable Streets!
———————-
What's happening 
_______________________________________________________________________________ 
Kendall Square – Innovative transportation policy success story
At Rush Hour Race last spring, Cambridge Mayor Henrietta Davis stated proudly that even though development in Kendall Square has steadily increased, car use has steadily decreased. Whoa, hold on, 4.6 million square feet of new space (a 40% increase since 2000) with less car trips?! A recent Globe article dove into the reasons why:   
In Kendall Square, there's a balance of people walking, biking, taking transit and driving  (Photo credit: The Metro)

The City of Cambridge has made it a priority to reduce car use. A 1998 ordinance requires commercial and institutional developers who add parking spaces to active­ly discourage their use.

Kendall Square companies offer financial incentives for employees to leave their cars at home. For example, an Ironwood employee gets $100 a month toward commuting costs, which can be applied to the $220 a month they pay to park, or to the pretax T pass. This is an impressive amount since some companies and institutions in Boston don't provide any transit incentive and $100 per employee is still significantly less than the $65,000-$100,000 price tag to build one underground garage parking spot.
The buildings provide infrastructure and options for their employees who choose to leave their cars at home. One Broadway provides an electronically locked indoor bicycle cage and showers. The Charles River TMA provides free EZ Ride bus service between Cambridgeport, Kendall, Lechmere, and North Station for participating companies (we love it too since it goes right to our office!)
The biggest takeaway is that Kendall Square is not a utopian bubble. Economic development and an increase in car use don't have to come hand-in-hand. "There is a growing movement to employ parking policies that encourage balanced transportation systems and reinforce central cities. More parking reduces the cost of car use, which only leads to more car use and more demand for parking" (U.S Parking Policies Report by Institute for Transportation and Development Policy).
A Globe editorial concludes, "In Cambridge, finding ways to eliminate car trips is seen as a basic city service along with public safety and education." Stephanie Groll, who oversees Cambridge's parking-management efforts, said that she receives few complaints from businesses and institutions. In Cambridge, after all, fewer cars on the streets have become a sign that business is strong and growing."
Kendall Square is a great example of how a city, companies and institutions can work together to achieve our mission for more walkable, bikeable and livable neighborhoods and urban centers, creating better places to live, work and play.
Why?
Kendall Sq example (see article above)
Part 10, on why LivableStreets is working to create safe streets for all. 
Because change is possible, and creating more livable streets will better support neighborhoods and business districts. 
Support the organization working to increase the number of livable communities in metro Boston - become a member today.
Commuter waiting for a bus under the McCarthy Overpass (photo credit: Boston.com)
"Overpasses – get rid of them"
Remove McGrath Campaign in today's Boston Globe
"Of course, the 1950s planners who built the overpass paid little heed to the people who might walk, bike, or reside in its shadow…
Now that the McCarthy is falling apart, even the state Department of Transportation agrees it is an overbuilt vestige and has promised to take it down. But the contractors who mobilized beneath it recently are not there to dismantle it. ­Instead, the state is reinforcing the McCarthy, spending $10.9 million to keep it standing for a decade or more…
'We want to see these projects move to 'shovel ready' and not just shored up and then left behind,' said Jackie Douglas, executive director of the ­LivableStreets Alliance."
"I Bike 4… a healthier city"
By David Maltzan, LivableStreets volunteer, member and Bike4Life fundraiser
"I bike for a healthier city. Car exhaust fumes raise rates of heart disease and asthma in our neighborhoods. Plus, it allows me to get exercise without having to build in an extra  hour or two of 'gym time' every day."
Support David and all Bike4Life riders by donating here to help us reach our goal
of $50,000 to support the creation of more livable streets.
Whether you ride for safer and better streets, in memory of a loved one, for lifelong biking, or just for fun, come join us Sunday, September 30th for this annual event. www.bike4lifeboston.org
LivableStreets in Long Beach, California   
Follow on Twitter @StreetsBoston for live updates  
Long Beach, California is rising on our radar – they have installed more than 130 miles of trails and protected bicycle lanes, and they have established a bike-friendly business district, to name a few. On September 7, Executive Director Jackie Douglas and Program Coordinator Kara Oberg will be headed to Long Beach to check it all out and attend the Alliance for Biking & Walking LeadershipRetreat. The biennial retreat brings together 100 bicycle and pedestrian advocacy leaders from across the country for three days of networking and learning. "We are really excited to spend time
with our colleagues from similar organizations across the country to share lessons learned and then bring best practices back to Boston," says Executive Director Jackie Douglas. Jackie will also be facilitating the Women's Caucus with Executive Director of East Bay Bicycle Coalition Renee Rivera at the retreat.
Right after the retreat, Jackie will attend Pro Walk/Pro Bike; the international conference on walking, bicycling, and creating great communities through placemaking, with more than 1,000 people ranging from government officials to public health professionals working to create livable communities.
Douglas will be wrapping up the week at the National Women's Bicycling Summit hosted by the League of American Bicyclists and the Association for Pedestrian and Bicycle Professionals on September 13. This trip is made possible thanks to a scholarship from the Alliance for Biking & Walking – thank you.
Follow LivableStreets on Twitter and FacebookSeptember 7-13 for live updates, lessons learned, fun facts & stats, photos, and more.
Internship & employment opportunities in the field 
 The City of Cambridge Traffic, Parking and Transportation Department seeks Transportation Intern. An ideal candidate would be interested in a one year internship. Click here for full job description.
Somerville Community Corporation (SCC) seeks a Lead Organizer to join its Community Organizing and Planning team. SCC's organizing campaigns focus primarily on affordable housing and access to good jobs. The Lead Organizer will be charged with leading dynamic organizing campaigns, coordinating the work of colleagues, and building leaders. S/he will work with the current Director of Community Organizing and Planning to reshape the department. Requirements include at least five years of experience leading effective organizing campaigns, and proficient in English and Spanish or Portuguese. Candidates should submit a cover letter, detailing their salary requirements and particular qualifications for this position, along with a resume to [email protected] by September 14, 2012.
Brown Walker Planners, Inc. seeks an experienced planner for a part time-position with potential to expand full-time after trial period. Brown Walker Planners is a small Massachusetts-based consulting firm providing professional planning services to the public sector. Master's degree in planning or closely related field and at least five years of experience related work experience required, AICP certification preferred, strong writing and ArcGIS proficiency desired. For more information and to inquire about the position, email info@brownwalkerplanners.com.
The Central Transportation Planning Staff (CTPS) of the Boston Region Metropolitan Planning Organization (MPO) seeks Transportation Planners, Analysts and Travel Modelers. For full job description and how to apply, click here.
The Public Way: Transportation, health and livable communities
Recent postings on Steve Miller's Blog
"…MassDOT, BRA, and their consulting traffic engineering firms…for nearly six years they've been meeting with people, collecting data, modeling future traffic flows, and making plans for Causeway Street. They've discovered some interesting facts – for example, there are more people walking than vehicles driving through that area! And they have had to adjust to major changes in transportation priorities – six years ago bicycles weren't considered as important, now the Hubway station (shared bicycle system) in that area is the busiest in the entire city…" Read full post here: When Being 'Complete' Is Dangerously Unfinished: From The Gutter To Victory on Causeway Street
Other recent posts:
> A Path Forward For Charles River Underpasses: Separating "Approaches" from "Tunnels" Removes Barriers
> Green Routes to the Future: Combining Regional Vision and Local Initiative to Revitalize Urban Transportation and Well-Being
Tags:
livable streets
,
news
Posted in
advocacy
,
news
|
No Comments »
Written by Boston Biker on Apr 09
Getting several reports that Nicole Freedman the head of cycling programs in Boston has been hired as the head of head of Maine Huts & Trails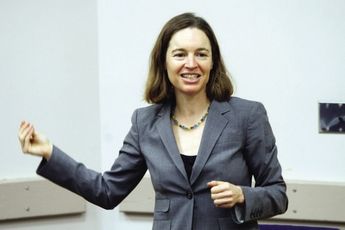 The Associated Press

KINGFIELD — A former Olympic cyclist has been hired as the new executive director of an organization that's developing a backcountry network of huts along 180 miles of trails in Maine's western mountains.

Nicole Freedman begins this month as head of Maine Huts and Trails.

A member of the 2000 Olympic cycling team, Freedman has served as director of bicycle programs for the city of Boston the past five years.

Maine Huts and Trails was formed with the long-term aim of building 12 overnight shelters and non-motorized trails stretching from near the New Hampshire border to the Moosehead Lake region. Each shelter has a main lodge, private rooms with beds, hot showers and home-cooked meals.

So far, the organization has built three huts along 50 miles of trails.
No word yet on if this means she is leaving Boston, more when I get it. Freedman has been a power house of change in Boston these last couple years, and if she is leaving it will be a sad day. More here, and here.
EDIT: got an email from Nicole, she is moving, I wish her the best on her new journey.
Tags:
news
,
Nicole Freeman
Posted in
advocacy
,
news
|
7 Comments »
The Word On The Street