The Latest From BostonBiker.org
News, Events, Updates
Written by Boston Biker on May 05
In a sad story, an unitentified man who was probably a cyclist washed up on the beach last week.  Authorities need our help trying to identify him. (thanks Marcie for the tip)
From the Suffolk District Attorney:
——————-
Authorities Seeking ID of Revere Beach Remains
BOSTON, May 5, 2014—State Police detectives assigned to Suffolk County District Attorney Daniel F. Conley's office are seeking the public's help in identifying a man whose remains washed up on Revere Beach last week.
The conditions of the remains have thus far hindered investigators' efforts to identify the man or determine his ethnicity, but forensic anthropologists consulted by the Suffolk County State Police Detective Unit have opined that he was an adult between 20 and 40 years old – and likely on the younger end of that range.
The jeans themselves were American Eagle brand blue jeans with a 30" waist, suggesting a slim build, cinched with a black, braided leather belt. Inside one of the pockets was the key to a Kryptonite bicycle lock.  The key was not registered.  He was also wearing boxer shorts bearing an image resembling a Volkswagen Bug with a surfboard on its rooftop.
A passerby spotted the remains in shallow water along the shoreline at about 11:30 on April 30 and contacted State Police, who, with Revere Police, are attempting to locate his family or friends. The Office of the Chief Medical Examiner has not yet determined the cause or manner of his death.
"Somewhere, there may be a mother, father, son, or daughter suffering the worst kind of uncertainty," Conley said. "If we can identify this man, we can at least put an end to that waiting and worrying and allow them some closure. Even if members of the public don't have specific information, they can share these details online and, perhaps, help us reach the loved ones who need to know."
State Police detectives have already begun reviewing missing persons reports that may be of assistance and, through the Commonwealth Fusion Center, have notified law enforcement agencies across Massachusetts of their investigation. Members of the public who have specific information may call the Suffolk County State Police Detective Unit at 617-727-8817. Others without information but who wish to help are asked share the following link: http://wp.me/pKHdm-1Vk.
Tags:
cyclist
,
death
,
mystery
Posted in
news
|
No Comments »
Written by Boston Biker on Apr 15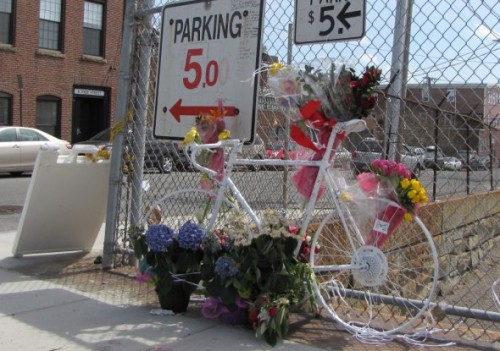 (photo via U-Hub)
On this blustery rainy day lets all take a moment to think about Owen McGrory. Who lost his life when he was struck by a sanitation truck.  One person dying on a bicycle is one person too many.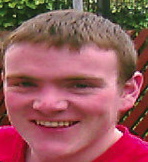 THE heartbroken wife of Northern Ireland man Eoin McGrory killed in a hit and run incident in the US last week, has said she wants justice for her husband.

Eoin died when he was hit by a garbage truck in the Charlestown area of Boston on Thursday afternoon last.

The truck driver, Ricky Prezisoso, a father of three, has been charged with leaving the scene of an accident causing death.

He is denying the charge, claiming he thought he had hit a pothole.

The 41-year-old is on $5,000 bail and is due back in court again 19 May next.

However, Eoin's wife of almost four months, Shanique, is refusing to accept Prezisoso's account and says she wants "justice to be served."

Speaking on Boston television, she said: "I loved my husband. He did not deserve to die this way.

"That's not a good enough answer for me. I'm not agreeing with that."

Rubbish truck driver Ricky Prezisoso denies charges over Mr McGrory's death
She added: "All I need is justice to be served. For my whole entire family, we are all mourning and I just need justice to be done." she said.

Members of Eoin's family are travelling to Boston from Shantallow in Derry to help with the funeral arrangements.

The youngest child of six (three boys and three girls) of John and Theresa, of Earhart Park (originally of Carrabane Walk, Shantallow), Eoin had been living and working in the construction industry in the US for the past 16 years and married Shanique only two days before last Christmas.

A keen cyclist, the former Steelstown Primary School and Carnhill High School pupil had won several prestigious competitions in Boston and was on a training run when the incident occurred.(via)
Galen sent this in and I thought it was valuable.
I definitely think a post is worthy. Some food for thought, what we're fighting for at the Statehouse and City Hall level:
These can be action items that can make a real difference and actually save lives!
Tags:
charlestown
,
cyclist killed
,
death
,
ghost bike
,
Owen McGory
Posted in
advocacy
|
1 Comment »
Written by Boston Biker on Apr 04
Our sincerest thoughts go out to his family.
It seems they have found the garbage truck driver they think was involved in the crash. And charged them.
Update: Police have charged the driver of a sanitation truck who allegedly killed a cyclist and left the scene of the accident Thursday in Charlestown.

Ricky Prezioso, 41, of Swampscott, has been charged with leaving the scene of an accident after causing death.(via)
From the BPD
At about 1:40pm, on Thursday, April 3, 2014, officers from District A-15 (Charlestown) responded to a call for a pedestrian struck in the area of Cambridge & Spice Streets in Charlestown. On arrival, officers located a male victim suffering from what appeared to be life threatening injuries. The victim was pronounced deceased on the scene.

The Boston Police Department is actively investigating the facts and circumstances surrounding this incident and is asking for the public's help in an effort to locate and identify a vehicle seen leaving the area shortly after the accident. The vehicle in question is described as a sanitation truck, white in color with black lettering.

Anyone with information is asked to call the Boston Homicide Unit at (617) 343-4470.

Community members wishing to assist this investigation anonymously can do so by calling the CrimeStoppers Tip Line at 1(800) 494-TIPS or by texting the word 'TIP' to CRIME (27463). The Boston Police Department will stringently guard and protect the identities of all those who wish to help this investigation anonymously.
Charlestown has a history of being less than amenable to cycling safety improvements. And this horrible tragedy comes on the same day that the MassBike and WalkBoston are introducing a cyclist/pedestrian safety bill.
I am deeply saddened that one of our own has been killed. More information when I get it.
EDIT:
Some pictures from the scene, does anyone know this bicycle?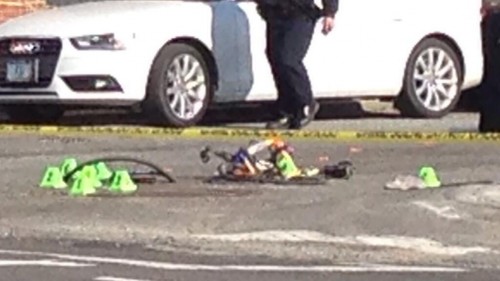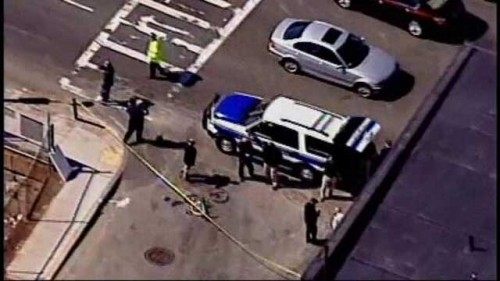 EDIT: Warning this might make you hate all humanity.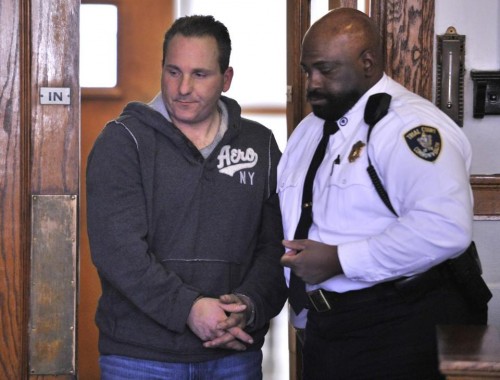 The Swampscott garbage truck driver who fatally struck a bicyclist in Charlestown allegedly told Boston police that he did not know he had struck someone with his vehicle, and completed his trash pickup a few feet from where the bicyclists crumpled body was found.

The name of the bicyclist has not been released.

Ricky Prezioso, 41, today pleaded not guilty to one count of leaving the scene of an accident after causing death in Charlestown Municipal Court where bail was set at $5,000 cash and Judge Lawrence McCormick refused to ban him from driving.

The bicyclist was pronounced dead at the scene. His crumpled bike was found by police on Spice Street close to the Cambridge Street intersection; his body was about 10 feet further down Spice Street and remained there for several hours while police collected forensic information.

….

Prezioso's attorney, William Cintolo, said that his client was not responsible for the fatal incident.

"Instead of the truck hitting the bike, the bike hit the truck,'' Cintolo said. "There is not one scintilla of evidence that there was anything negligent about his operation."

Suffolk Assistant District Attorney Ian Leson asked for $15,000 cash bail and that Prezioso be held without bail for an assault and battery case in Woburn District Court from last year.

Leson also asked the judge to suspend Prezioso's right to drive.

But Cintolo told the judge that Prezioso supports his three children who live in Everett, as well as his fiance's three children who live in Swampscott.

McCormick said he was convinced by Cintolo's argument that Prezioso should be allowed to continue to earn a living behind the wheel.

"If he's dependent upon his position to keep six children fed and clothed, I don't find it necessary to prevent him from doing that,'' the judge said from the bench.
You can read the rest here…its pretty depressing. Like they say, if you want to murder someone wait until they get onto a bicycle.
EDIT:
A better picture of the bike, anyone know who this is?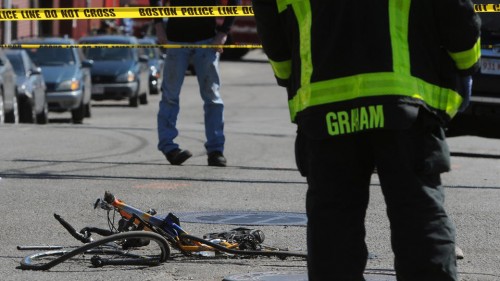 EDIT:
UHub is reporting that the victim was a 30 yar old man from Chelsea, but his name has not been released yet.
EDIT:
UHub is reporting that the victim was Owen McGrory, 30, of Chelsea.
Tags:
charlestown
,
cyclist killed
,
death
,
hit and run
Posted in
news
|
9 Comments »
Written by Boston Biker on Oct 29
Ten months after Christopher Weigl, a 23-year-old graduate student, was killed on his bicycle in Allston, the man's family has sued the truck driver and trucking company involved in the crash, arguing that the company has a responsibility to train drivers to watch for cyclists in dense urban areas.

The lawsuit reflects frustration within Weigl's family and the Boston cycling community at the lack of criminal charges in the case and channels the growing sentiment among bike advocates that the trucking industry should be proactive in preventing bicycle crashes.

In a complaint filed in Suffolk Superior Court, Weigl's family contends that the crash in December was the result of negligence on the part of the driver, John A. Brothers of Uxbridge, and the company that employs him, New Hampshire-based Ross Express.(Via)
Some very interesting things could come from this lawsuit. Having large trucks in an urban center requires that the large truck operators be highly trained. I hope the family gets some justice.
Tags:
Christopher Weigl
,
death
,
lawsuit
Posted in
news
|
6 Comments »
Written by Boston Biker on May 19
(via)
Apparently she was struck by a dump truck.
This afternoon, MIT visiting scientist Dr. Kanako Miura, 36, died in a bicycle accident in Boston's Back Bay neighborhood. Miura was a native of Japan and had been at MIT since the fall of 2012. Within MIT's Computer Science and Artificial Intelligence Laboratory (CSAIL), Miura worked in the laboratory of Russ Tedrake, an associate professor of computer science and engineering. (via)
At about 3:34pm, on Sunday, May 19, 2013, officers from District D-4 (South End) responded to an accident involving a motor vehicle and a female bicyclist. On arrival, officers located a female victim suffering from what appeared to be life threatening injuries. As a result of injuries suffered in the accident, the bicyclist, a female in her early twenties, was pronounced deceased at the scene.
Detectives – assigned to the Boston Police Department's Accident Reconstruction Team – are currently investigating the facts and circumstances surrounding this accident. At present, the cause of the accident is still under investigation and no violations have been issued at this time. (via)
On Sunday afternoon at about 3:30, a 20-year-old woman was either riding her bicycle or walking beside it when she was struck by a truck, police said. The woman was pronounced dead at the scene. There was a mangled bike found about a mile from the crash scene on Bay State Road. "It's really a bad intersection, " one resident said, describing the corner of Beacon Street and Charlesgate West, where the crash occurred. There is a bike lane on Beacon Street, but police said the woman was hit by a truck that did not stop. Investigators are trying to identify the driver of the truck involved in the incident. "People just don't care anymore," another resident said. "They are in such a hurry; they don't care who they hit at all." Police pulled over two trucks after the crash but they would not confirm whether either vehicle was involved in the incident. "It's very scary; I live right next-door. I hope they honor the victim by making the road safer," a resident said. As of Sunday night, police had not made any arrest or issued any violations.(via)
our hearts go out to her family and friends, more information when I get it. Of all the cyclist fatalities in the last two years, nearly all of them have been caused by large trucks. Perhaps its time the city does something about this.
Tags:
cyclist killed
,
death
Posted in
news
|
21 Comments »
Written by Boston Biker on Feb 15
The globe had a front page article today about the lack of an indictment for Dana McCoomb, the truck driver who killed cyclist Alex Motsenigos last year.
It's a common refrain among local ­cyclists: Want to kill someone and get away with it? Run them over while they're on a bicycle.

Within Boston's growing cycling community, a perceived lack of criminal prosecution of motorists involved in fatal bike crashes has been a regular source of outrage in recent years. That ire came to a ­fever pitch last week, when a grand jury investigation of a Wellesley bike crash with seemingly copious evidence — video footage, witnesses defending the deceased bicyclist, a truck driver who had fled the scene and had an extensive history of driving infractions — came back with no charges.

The grand jury's decision, bicyclists contend, is evidence of a wider problem: Most people do not respect the rights of bike riders.

"The message that we got from this particular case," said David Watson, executive director of the Massachusetts Bicycle Coalition, "is that, clearly, members of the general public still don't care enough about bicyclists' safety."
(VIA)
As if to prove the entire point of the article, the comment section is a wasteland…depressing.
Tags:
cyclist
,
death
,
globe
,
news
Posted in
news
|
9 Comments »
Written by Boston Biker on Feb 06
VIA MassBike's Website:
Earlier this week, we learned that a grand jury decided not to indict the driver of the truck that stuck and killed bicyclist Alexander Motsenigos in Wellesley last August. We are outraged at this result, and our hearts go out to the Motsenigos family who must suffer this injustice on top of their loss. We are trying to understand how this happened, in what would appear to be a clear case of motor vehicle homicide. Here is what we know:
The Wellesley Police Department performed a thorough investigation beginning immediately following the crash. They interviewed witnesses, collected evidence at the scene, reviewed traffic camera video, executed a search warrant at the company that owns the truck, impounded the truck, and performed extensive forensic analysis on the truck. Police tracked down the driver and interviewed him at his home the next day, and concluded that he was not being truthful in his account of the incident. They performed a simulation of the crash using the truck, a bicycle, and an officer the same size as the driver to determine what the driver could have seen. You can read the entire report of the investigation here, but be warned that it is graphic and disturbing.
The police filed a variety of charges against the driver, including motor vehicle homicide. The driver was also charged for Unsafe Overtaking of a Bicyclist, a law passed as part of MassBike's 2009 Bicyclist Safety Act.
Prosecutors presented the case to a grand jury, which, in December, declined to indict the driver, effectively bringing an end to the investigation. Grand juries are county-wide, and closed to public view, so we will never know who was on the jury, what evidence was presented, or what was said in jury deliberations. The grand jury would have been composed of citizens from multiple communities in Norfolk County.
The Motsenigos family has filed a civil lawsuit against the driver and the companies that own and operate the truck.
So what went wrong? Based on the information available to us, it appears that the police and prosecutors took this case very seriously, and performed a thorough and professional investigation. Ultimately, the decision was in the hands of the grand jury and we cannot know what was in their minds. We can and should assume that the grand jurors took their job seriously – they are constantly reminded of the gravity of their decisions. But we can assume that many of them, perhaps all of them, are not cyclists – we represent a growing, but still small proportion of the population. We can be certain that most of the jurors, probably all of them, are drivers – most people, including most bicyclists, are.
I will speculate that some, perhaps all, of the jurors put themselves in the place of the truck driver and asked themselves the question "should I face felony criminal charges if I accidentally hit a bicyclist?" And in the world as it exists today, with bicyclists forced to mix with cars and trucks on roads that were not designed to be shared, and inadequate education of both motorists and bicyclists, those jurors might have decided it would not be fair to hold the truck driver accountable. The system did not fail us, but our fellow citizens did.
This is a cultural issue, where most people still view bicyclists (if they think about us at all) as daredevils and people on the fringe of society. They do not yet see us as vulnerable individuals sharing the road, people like them who deserve greater protection and vigilance. We need to get past this cultural divide, get more rapidly to the point where bicyclists are as accepted and respected as any other person on the road. We are working on this culture shift at MassBike, and we are thinking hard about how to accelerate it. We need your help, first with your ideas, and later with your participation as we move forward.
Massbike is a great organization, and you should support them so they can continue their work to make us all safer.
Tags:
death
,
massbike
,
no justice
Posted in
advocacy
,
news
|
18 Comments »
Written by Boston Biker on Nov 16
From The BPD Website:
The victim has been identified as 21 year old Chung-Wei Yang.

The facts and circumstances surrounding the accident are as follows:

On November 12, 2012 at 6:36pm officers from D-14 (Brighton) responded to a motor vehicle accident involving a bicyclist at Brighton Avenue and Harvard Avenues.

Upon arrival officers found a seriously injured male victim. EMS transported the 21 year old victim to Beth Israel Hospital where he was pronounced deceased.

Update: Preliminary investigation suggests an MBTA bus did come in contact with the victim. There is no indication that the driver or any of the passengers on the bus knew anyone was struck. At this time, no charges have been filed

The Boston Police Department is continuing to investigate the facts and circumstances surrounding this incident. Anyone with information is asked to call Homicide Detectives (617) 343-4470.

Community members wishing to assist this investigation anonymously can do so by calling the CrimeStoppers Tip Line at 1(800) 494-TIPS or texting the word 'TIP' to CRIME (27463). The Boston Police Department will stringently guard and protect the identities of those who wish to remain anonymous.
I am going to wait until more information comes out before I pass judgement, but I am very suspicious. I can only hope that these incidents of cyclists being killed by large vehicles leads to some serious change in the way things are done in this town. The killing must stop.
Tags:
Allston
,
Chung-Wei Yang
,
cyclists killed
,
death
Posted in
advocacy
,
news
|
4 Comments »
The Word On The Street