The Latest From BostonBiker.org
News, Events, Updates
Written by Boston Biker on Jul 15
Check out these awesome lanes!  Parked cars on the outside, nice buffer zone, that fresh zing of new thermo plastic.  More of these please.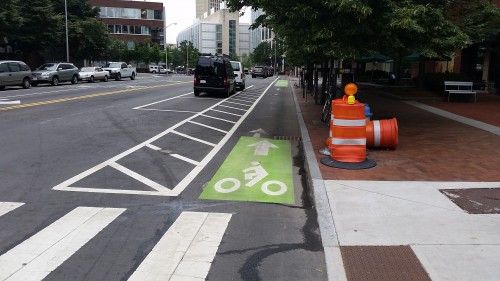 Tags:
buffered bike lanes
,
cambridge
Posted in
infrastructure
|
4 Comments »
Written by Boston Biker on Jun 06
Woo! From the Boston Globe:
The state is planning a two-year, $10-million project to completely rebuild a bridge that carries Cambridge Street over the Massachusetts Turnpike and commuter rail tracks in Allston, officials said.

The bridge currently carries three traffic lanes in each direction. After it is rebuilt, the bridge will carry two traffic lanes in each direction as bike lanes will be added along each side, officials said.

The bridge deck is rated in "poor condition and it is at the end of its serviceable life," said Michael Verseckes, a spokesman for the state's transportation department. Jersey barriers have for months blocked vehicles from driving on a part of the bridge "that is in an advanced stage of deterioration."
This bridge has been slowly falling apart for years, combined with the future plans of Harvard to develop this area, it makes a lot of sense to build up the bicycle infrastructure in the area. If the current rate of growth in cycling continues, combined with more student traffic, you could have thousands of cyclists and pedestrians crossing this bridge every day. The added bike lanes and side walks will turn what was once a crumbling mess of a bridge into a vital pedestrian/cyclist through way.
Keep saying this to yourself "Roads are a public utility for moving people." This doesn't mean just cars. Roads are a public utility for moving people…roads are a public utility…roads are a pu….roads….
Well done state planners, bravo!
Tags:
buffered bike lanes
,
cambridge street
,
overpass
Posted in
infrastructure
,
news
|
4 Comments »
The Word On The Street