The Latest From BostonBiker.org
News, Events, Updates
Written by Boston Biker on Feb 09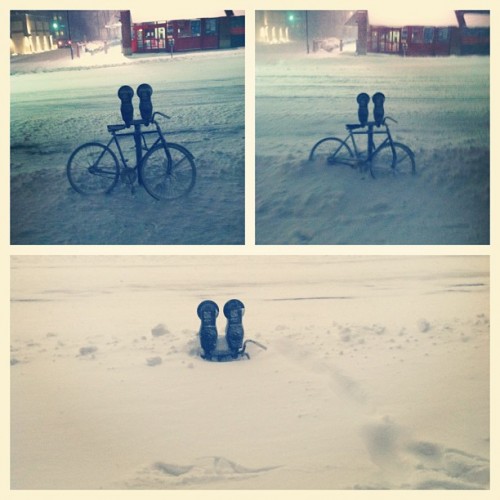 Reddit user Tmaeee took this fun shot sequence.
Best part so far has been the lack of cars on the road, honestly I would love to see it like this all the time. (the no cars, not the 3 feet of blowing snow)
Share your snow pics in the comments. I was out today, and yes I saw some cyclists, hard core Boston, hard core.
Tags:
blizzard
,
fun
Posted in
bostonbiker
|
6 Comments »
Written by Boston Biker on Feb 08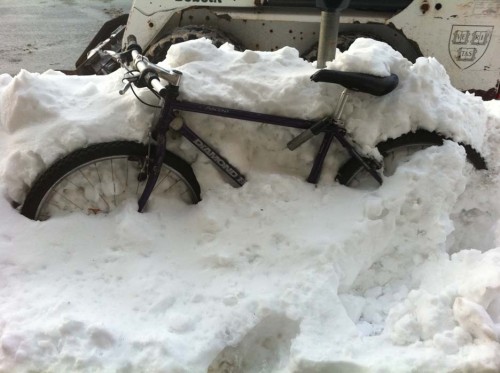 (Get your bike off the street, or it could end up like this poor soul)
Who rode into work today? Who is planning on doing a little snow biking? Any adventure, plans, parties? Want to talk about anything else? Blizzard day snowy open thread below, leave your thoughts in the comments.
I rode in today, and hope to escape before the real bad stuff starts. In case anyone is wondering the secret to riding in a blizzard, its to wait till a truck rolls down the street then ride in the tire track. Go slow, in a straight line, take the lane, and don't lean into the turns.
Tags:
blizzard
,
open thread
,
snow day
Posted in
bostonbiker
|
5 Comments »
The Word On The Street