The Latest From BostonBiker.org
News, Events, Updates
Written by Boston Biker on Mar 27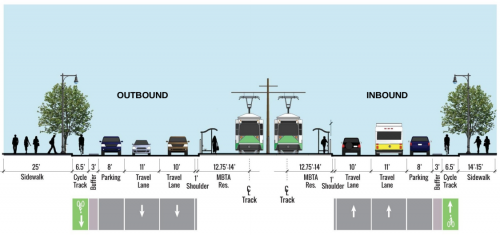 The city wanted a shitty plan, a plan based on old ideas, on the idea that the car would always be the main form of transportation in the city, and the entire bike community stood up and said "Hell no!" and you know what?  It worked!
The new design has smaller travel lanes, which will keep speeding down, BUFFERED cycle tracks!  I can not wait to give this a try when its done!  Congratulations everyone who worked hard on this.  It's not over yet, and we are going to need to keep a close on the plans right up till the cement is poured, but
From livable streets (read more here):
The stretch of Comm. Ave. from the BU bridge to Packard's Corner is about to get an $18 million dollar upgrade, with the project going to bid in fall 2015. The original plan, since 2009 and as of fall 2014, called for wider car lanes that would encourage speeding, narrower sidewalks, and no protected bicycle lanes. The city has since updated its plan to include crucial improvements…
Tags:
Comm. Ave
,
Commonwealth Ave
,
cycle tracks
,
improvements
Posted in
advocacy
,
Commuting
,
infrastructure
|
1 Comment »
Written by Boston Biker on Jan 29
From the Boston Cyclist Union
——-
Since 2011, the Bike Union has helped lead local residents and other orgs to reconnect the Emerald Necklace for bicycles. Over the past 4 years, the coalition has successfully promoted an at-grade solution for the reconstruction for the Casey Overpass, and a buffered bike lane on Morton Street that now reaches halfway to Mattapan. One of the last remaining problems to solve is the connection between the Casey Arborway project and Jamaica Pond. Next week we have an opportunity to bridge one of the last gaps!The Arborway cycletrack discussions were sparked last year shortly after the #WinterBiker campaign created by the many neighborhood groups in the Bike Union's Organizing Group took place. The momentum started by that campaign birthed the new Urban Paths & Parkways Committee at the Department for Conservation and Recreation, and then, due to an internal communication breakdown, the DCR's maintenance crew painted inadequate bike infrastructure on the Arborway. This sparked a Bike Union letter campaign that asked the agency to remove the dangerous new bike facility to make space for a more thorough discussion of how this portion of the Arborway (from Eliot Street to South Street) could be made comfortable for cyclists. Now, the DCR is moving forward with that discussion!
There will be two public meetings for this project within one week. At the first (Feb. 2) the DCR will seek community input on what kind of bike facilities would work along the Arborway. This includes Kelly and Murray traffic circles. At the second (Feb. 5), the DCR will present alternatives and gather more input.
It is extremely important that the DCR hears from people like you who would prefer cycletracks on Mon., Feb. 2, and also that you or your friends or family also show up on Thurs., Feb. 5 to support the cycletrack alternative moving forward.
Show up, speak up for Bikeways for Everybody!
Arborway Bicycle Facilities Public Meeting
Mon., Feb. 2 6:30 to 8:30pm
and
Thurs., Feb. 5, 6:30 to 8:30pm
Arnold Arboretum Visitor Center/Hunnewell Building
125 Arborway, Boston
Tags:
arborway
,
bcu
,
cycle tracks
,
public meeting
,
support
Posted in
advocacy
|
No Comments »
Written by Boston Biker on Nov 19
From the email
———-
Support safer streets: Causeway St public meeting 
LivableStreets Alliance, Boston Cyclists Union, MassBike and WalkBoston invite you to attend and speak up at a meeting presenting a new plan for Causeway Street – a crucial link in the proposed Connect Historic Boston Bike Trail downtown.
Causeway Street redesign public meeting 
Thursday, Nov. 21, 6:00 PM
@ CBT Architects, 110 Canal Street, Boston
LivableStreets, Boston Cyclist Union, MassBike and WalkBoston collectively support the following ideas as foundational themes for Causeway Street:
1) A grand plaza in front of the TD North Garden.
2) When events let out, pedestrians get full priority.
3) Improved sidewalk and crosswalks.
4) Physically separated bike lanes (cycletracks) for people biking.
5) Safe connections to existing and future bikeways.
6) Wayfinding signage and pavement indications to help pedestrians, cyclists, transit users and drivers find their destinations.
Click here for more information on these six key points.
Tags:
Bike Lanes
,
cycle tracks
,
down town
,
the hub
Posted in
advocacy
,
infrastructure
|
No Comments »
Written by Boston Biker on Aug 22
Seems like a pretty awesome proposal, and will create a much more bike friendly Down-Town.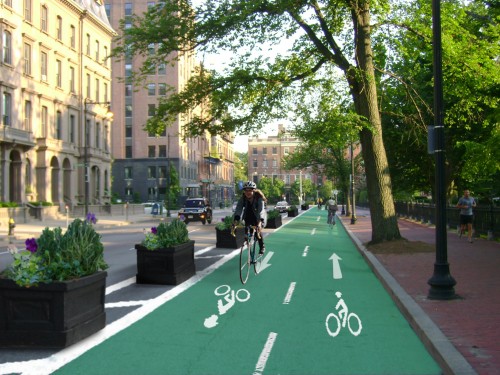 From the cities website:
Click here to view the full public meeting notice.
Relative to a conceptual plan for a cycle track and intersection improvements around the Public Garden on Arlington Street, Beacon Street, Charles Street, and Boylston Street.
Presentation by the City of Boston
Wednesday September 18, 2013
6:00 – 8:00 PM
Firehouse at 127 Mount Vernon Street
The concept plan envisions a two-way cycle track along the streets around the Public Garden including intersection improvements.
What are cycle tracks? Cycle tracks are sections of road designated for exclusive use by cyclists, physically protected from motor vehicle traffic. The cycle tracks will be at street grade, separate from the sidewalk, and marked with paint or thermoplastic.  Parked cars and/or flexible bollards will separate cyclists from the moving vehicles.
Why install cycle tracks? The proposed two-way cycle track is a key component of the City's Bike Network Plan, which seeks to provide safe, protected routes throughout the City, encouraging all residents to bicycle, from children to senior citizens. The proposed two-way cycle track would provide a path-like facility connecting the Charles River Path to existing and proposed on-street facilities in the network. The existing one-way street pattern requires bicyclists to ride significantly out of their way, against traffic, or on the sidewalk to make important connections.
What about safety?  Cycle tracks in other cities have been shown to:
Increase ridership;
Decrease sidewalk riding;
Decrease crashes; and
Reduce speeds.
What are the project limits? The bike facilities being discussed will be on Arlington Street, Beacon Street, Charles Street, and Boylston Street around the Public Garden.
Will parking or traffic be impacted?  Parking and traffic modifications will be discussed at this meeting.
Contact: Nicole Freedman, City of Boston, (617) 918-4456 [email protected]
Tags:
cycle tracks
,
public garden
,
public meeting
Posted in
advocacy
,
infrastructure
|
1 Comment »
The Word On The Street