The Latest From BostonBiker.org
News, Events, Updates
Written by Boston Biker on Mar 27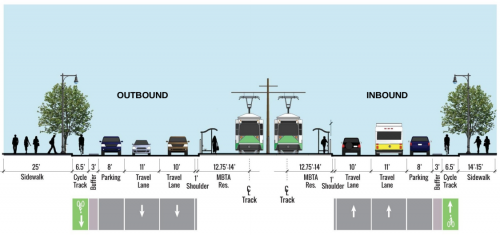 The city wanted a shitty plan, a plan based on old ideas, on the idea that the car would always be the main form of transportation in the city, and the entire bike community stood up and said "Hell no!" and you know what?  It worked!
The new design has smaller travel lanes, which will keep speeding down, BUFFERED cycle tracks!  I can not wait to give this a try when its done!  Congratulations everyone who worked hard on this.  It's not over yet, and we are going to need to keep a close on the plans right up till the cement is poured, but
From livable streets (read more here):
The stretch of Comm. Ave. from the BU bridge to Packard's Corner is about to get an $18 million dollar upgrade, with the project going to bid in fall 2015. The original plan, since 2009 and as of fall 2014, called for wider car lanes that would encourage speeding, narrower sidewalks, and no protected bicycle lanes. The city has since updated its plan to include crucial improvements…
Tags:
Comm. Ave
,
Commonwealth Ave
,
cycle tracks
,
improvements
Posted in
advocacy
,
Commuting
,
infrastructure
|
1 Comment »
Written by Boston Biker on Jan 29
From the Boston Cyclist Union
——-
Since 2011, the Bike Union has helped lead local residents and other orgs to reconnect the Emerald Necklace for bicycles. Over the past 4 years, the coalition has successfully promoted an at-grade solution for the reconstruction for the Casey Overpass, and a buffered bike lane on Morton Street that now reaches halfway to Mattapan. One of the last remaining problems to solve is the connection between the Casey Arborway project and Jamaica Pond. Next week we have an opportunity to bridge one of the last gaps!The Arborway cycletrack discussions were sparked last year shortly after the #WinterBiker campaign created by the many neighborhood groups in the Bike Union's Organizing Group took place. The momentum started by that campaign birthed the new Urban Paths & Parkways Committee at the Department for Conservation and Recreation, and then, due to an internal communication breakdown, the DCR's maintenance crew painted inadequate bike infrastructure on the Arborway. This sparked a Bike Union letter campaign that asked the agency to remove the dangerous new bike facility to make space for a more thorough discussion of how this portion of the Arborway (from Eliot Street to South Street) could be made comfortable for cyclists. Now, the DCR is moving forward with that discussion!
There will be two public meetings for this project within one week. At the first (Feb. 2) the DCR will seek community input on what kind of bike facilities would work along the Arborway. This includes Kelly and Murray traffic circles. At the second (Feb. 5), the DCR will present alternatives and gather more input.
It is extremely important that the DCR hears from people like you who would prefer cycletracks on Mon., Feb. 2, and also that you or your friends or family also show up on Thurs., Feb. 5 to support the cycletrack alternative moving forward.
Show up, speak up for Bikeways for Everybody!
Arborway Bicycle Facilities Public Meeting
Mon., Feb. 2 6:30 to 8:30pm
and
Thurs., Feb. 5, 6:30 to 8:30pm
Arnold Arboretum Visitor Center/Hunnewell Building
125 Arborway, Boston
Tags:
arborway
,
bcu
,
cycle tracks
,
public meeting
,
support
Posted in
advocacy
|
No Comments »
Written by Boston Biker on Nov 19
From the email
———-
Support safer streets: Causeway St public meeting 
LivableStreets Alliance, Boston Cyclists Union, MassBike and WalkBoston invite you to attend and speak up at a meeting presenting a new plan for Causeway Street – a crucial link in the proposed Connect Historic Boston Bike Trail downtown.
Causeway Street redesign public meeting 
Thursday, Nov. 21, 6:00 PM
@ CBT Architects, 110 Canal Street, Boston
LivableStreets, Boston Cyclist Union, MassBike and WalkBoston collectively support the following ideas as foundational themes for Causeway Street:
1) A grand plaza in front of the TD North Garden.
2) When events let out, pedestrians get full priority.
3) Improved sidewalk and crosswalks.
4) Physically separated bike lanes (cycletracks) for people biking.
5) Safe connections to existing and future bikeways.
6) Wayfinding signage and pavement indications to help pedestrians, cyclists, transit users and drivers find their destinations.
Click here for more information on these six key points.
Tags:
Bike Lanes
,
cycle tracks
,
down town
,
the hub
Posted in
advocacy
,
infrastructure
|
No Comments »
Written by Boston Biker on Aug 22
Seems like a pretty awesome proposal, and will create a much more bike friendly Down-Town.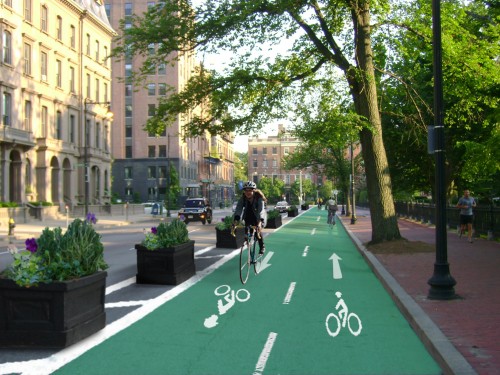 From the cities website:
Click here to view the full public meeting notice.
Relative to a conceptual plan for a cycle track and intersection improvements around the Public Garden on Arlington Street, Beacon Street, Charles Street, and Boylston Street.
Presentation by the City of Boston
Wednesday September 18, 2013
6:00 – 8:00 PM
Firehouse at 127 Mount Vernon Street
The concept plan envisions a two-way cycle track along the streets around the Public Garden including intersection improvements.
What are cycle tracks? Cycle tracks are sections of road designated for exclusive use by cyclists, physically protected from motor vehicle traffic. The cycle tracks will be at street grade, separate from the sidewalk, and marked with paint or thermoplastic.  Parked cars and/or flexible bollards will separate cyclists from the moving vehicles.
Why install cycle tracks? The proposed two-way cycle track is a key component of the City's Bike Network Plan, which seeks to provide safe, protected routes throughout the City, encouraging all residents to bicycle, from children to senior citizens. The proposed two-way cycle track would provide a path-like facility connecting the Charles River Path to existing and proposed on-street facilities in the network. The existing one-way street pattern requires bicyclists to ride significantly out of their way, against traffic, or on the sidewalk to make important connections.
What about safety?  Cycle tracks in other cities have been shown to:
Increase ridership;
Decrease sidewalk riding;
Decrease crashes; and
Reduce speeds.
What are the project limits? The bike facilities being discussed will be on Arlington Street, Beacon Street, Charles Street, and Boylston Street around the Public Garden.
Will parking or traffic be impacted?  Parking and traffic modifications will be discussed at this meeting.
Contact: Nicole Freedman, City of Boston, (617) 918-4456 [email protected]
Tags:
cycle tracks
,
public garden
,
public meeting
Posted in
advocacy
,
infrastructure
|
1 Comment »
Written by Boston Biker on Jun 07
From DotBike:
——————
We just learned of a meeting that the city is holding in 2 weeks to discuss installing a cycle track on Mt. Vernon St.  This street passes Harbor Point Housing and provides access to UMass Boston and the Harbor Walk along the bay.  Here is link to a map if you're not familiar with the street http://bit.ly/17lW56b. Please attend if you can, spread the word and speak up in favor of this cycle track and cycle tracks in general.  More information on the meeting and issues below.
Public Meeting for Proposed Cycletrack on Mt. Vernon Street
Wednesday June 19, 2013 6:30 PM – 8:00 PM
Walter Denny Youth Center
270 Mt. Vernon Street, Dorchester
SUBJECT: DISCUSSION TO UNDERSTAND NEIGHBORHOOD INTEREST IN CYCLE TRACKS ON MT. VERNON STREET
What are cycle tracks? 
Cycle tracks are sections of road designated for exclusive use by cyclists, physically protected from motor vehicle traffic. Paint or thermoplastic lane markings and flexible bollards plus accompanying signage mark the cycle tracks. Green paint is occasionally added for emphasis on select segments.
Why install cycle tracks? 
Mt. Vernon Street's proximity to University of Massachusetts Boston, the Walter Denny Youth Center, UMass/JFK MBTA Station, and elementary and middle schools, makes bicycling a very desirable transportation choice. Currently few people bicycle because of fear of cars and high speeds on Mt. Vernon Street.  Cycle tracks dramatically improve comfort and allow new people to bike.
What about safety?
Cycle tracks are proven to make the roads safer for all users.  All proposed plans would improve safety in the following ways.
Designate a safe riding zone for cyclists;
Encourage cars to drive at slower, safer speeds;
Encourage cyclists to bicycle more respectfully and predictably; and,
Make pedestrians and drivers more aware of cyclists.
What are the project limits? 
The bike facilities being discussed would extend from William T. Morrissey Boulevard to University Drive.
What does the City do for education and enforcement?
The City supports facilities through education and enforcement of the rules of the road for cyclists and drivers.  Boston Police are key partners.
What is involved with installation?  Work typically occurs during the day or at night over 3-5 days.
Will parking be impacted?  Parking is currently not permitted on Mt. Vernon Street.
Will traffic be impacted?  One motor vehicle lane will be removed in each direction with this project.
Boston Bikes is part of Mayor Menino's vision for a vibrant and healthy city that benefits all its citizens. It seeks to make Boston a world-class bicycling city by creating safe and inviting conditions for all residents and visitors.  For more information please call Nicole Freedman, Boston Bikes, <617-918-4456.
Tags:
cycle tracks
,
Dorchester
,
DotBike
Posted in
advocacy
,
infrastructure
|
No Comments »
Written by Boston Biker on Feb 23
The Boston Globe got it slightly wrong with its "Cycle Tracks Vs Parking Spaces" Headline, mostly because there is no reason that both can't coexist. Assuming you reduce lane widths, lower speed limits, and in general design streets for people and not cars. Parking spaces can even be integral parts of cycle tracks. So called parking buffered, or parking separated tracks use parked cars to protect cyclists from traffic.
During peak commuting times, over 300 bicycles travel Somerville's Beacon Street an hour, making it Greater Boston's busiest cycling corridor. It's also considered to be the most dangerous in the state, with 154 bicycle accidents in the Inman Square area between 2002 and 2010, according to a state Department of Transportation report.

The street is riddled with potholes, and in certain areas cyclists are frequently exposed to the danger of being "doored:" struck by an opening door of a parked vehicle. But despite the dangers, it has become increasingly popular as a direct bicycle route from Porter Square to Kendall Square.

Using a combination of federal and state grants, Somerville and state transportation planners have devised a $5.5 million project aimed at addressing safety issues and making the street more bike-oriented. It will reconstruct 1.1 miles of Beacon — from Oxford Street to the Cambridge city line, including creating a cycle track, which separates bicycle traffic with a barrier dividing it from cars — and give cyclists their own traffic signals.

City officials and proponents say the plan will enhance bicycle safety without impacting vehicle traffic. But it has become a divisive issue as some residents and business owners have objected to the sacrifice of parking spaces to make room for the cycle track. As currently drawn up, the plan will eliminate about 100 street parking spaces.
But if you MUST eliminate parking spaces in order to increase the number of cyclists, local business owners should be happy. Increased cycling and pedestrian traffic (a side effect of designing streets for people and not cars) leads to more business.
I know people get upset when there is change, but they should relax. Other cities (in fact many many other cities) have implemented these changes before. In almost every case they found that lessening traffic, reducing parking, and generally making streets more people friendly led to higher property values, less pollution, increased business, and happier residents.
We are not re-inventing the wheel here, we are following the example of decades of European (and to a lesser extent American) city planning research. These designs have been tested in lots of places, they work and Somerville should be commended for installing them.
Tags:
cycle tracks
,
somerville
,
stupid debate
Posted in
advocacy
,
infrastructure
|
38 Comments »
Written by Boston Biker on Nov 26
The city of Boston is eying Roxbury for a cycle track.

Although no money has been dedicated to the project, Boston Bikes, the city's cycling department, has been buzzing about the track, which would be similar to the one installed on Western Avenue in Allston.

"There are a lot of benefits to having people out on the street riding," said Kristopher Carter, interim director of Boston Bikes. "We've been looking for a concept for Malcolm X Boulevard."

Carter said Boston Bikes, as well as the Harvard School of Public Health and Boston Public Health Commission, have been surveying the neighborhood with the goal of creating a track exclusively for bikes, stretching from Dudley Square to Roxbury Crossing.

"We are in the early phases; it's certainly in the work plan for next year, but there are a lot of things to check off internally," Carter said. (read the rest here)
We should have a cry in this city: More infrastructure! Better Infrastructure!
Tags:
cycle tracks
,
malcolm x blvd
Posted in
infrastructure
|
1 Comment »
The Word On The Street