The Latest From BostonBiker.org
News, Events, Updates
Written by Boston Biker on Feb 15
The title of this post comes from the parting lines of a police training video from florida.
Those words have been swimming around in my head for a couple days now. I had always thought something similar but "Public utility designed to move people" really crystallized my ideas. Roads are for people, and those roads work better or worse depending on how those people choose to use those roads.
For instance Latron sent in this lovely picture.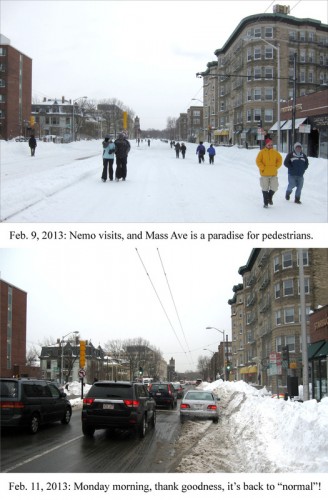 I really noticed this during the storm. People had reclaimed the streets, and were almost universally happy about it. It was only when the cars came back that things started to get nasty.
Being a public utility, roads are a shared but limited resource. We only have so much space, and we have to move everyone around. Like public water infrastructure, the size of our "pipe" is only so big.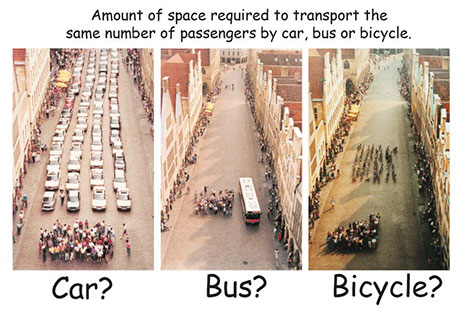 Why is it then that we seem to prioritize the most inefficient user of our roads, single occupancy automobiles? As I have written about before, cars are way too big for the job they do. Using many more square feet of our roads to move the same number of people around that a bicycle or a pair of shoes could do much faster, and cheaper.
It would seem that we have convinced ourselves to do something that is foolish. When you see a lot of people doing something foolish, its often helpful to follow the money. Who makes money from a foolish act, and what is their motivation for having people continue to do said foolish act. In this case you will easily follow the money back to a whole host of very large companies (car/oil/construction).
Then its just a matter of looking at how they have convinced people that this foolish act is a good idea, and before too long you have it pretty much figured out. Some small number of people make a very large amount of money if everyone continues to drive cars, they convince us we need to drive cars with billions of dollars in advertisement, and secure their money flow with lobbying of our elected officials.
This is basically how capitalism works in america. For better or worse we live in a system where often making money for a few outweighs the benefits for the many. Not only would our roads be much more effective at moving people around if they were not clogged with single occupancy motor vehicles, the air would be cleaner, people would be healthier, local economies would have more money in them, it would even be quieter and more pleasant to live in this city.
It is very hard to defend the continued use of cars as a major transportation option for city dwellers. They are expensive, loud, inefficiency, unhealthy, politically dangerous (oil wars, and money spent to protect oil over seas), bad for the environment, dangerous to children, dangerous to the operators, make motorists unhappy, and make our shred public roads operate poorly.
Its time to abandon the single occupancy automobile in favor of better and easier options. We need to move to better and more efficient public transportation, walking, shared car use (zip car), bike share programs, denser and more innovative city planning, and yes cycling.
Cars are killing us in a 100 different ways, and making us miserable in the process. Lets stop this madness, get on your bike, and get out there!
Tags:
cars are big and dumb
,
like seriously why is this so hard to grasp
,
rant
,
ride your goddamn bike people
Posted in
advocacy
|
5 Comments »
The Word On The Street