Written by Boston Biker on Jan 31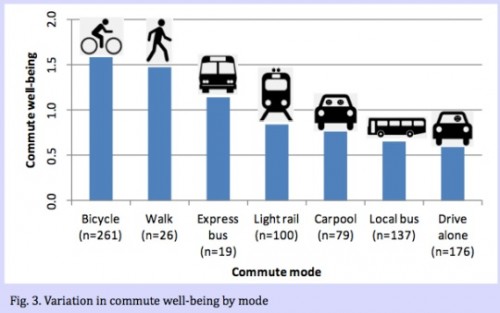 Every day I pass dozens if not hundreds of poor souls trapped in cars, waiting. Waiting to move forward a couple feet, waiting for the red light, waiting for all the cars ahead of them to inch through the light. And you know what, none of them look happy.
On the other hand I have passes dozens of cyclists with the biggest happiest grin's on their faces while riding there bike. Not just on nice sunny days, but even on the most brutal, cold wet nasty days.
It's nice to see some research to back this up.
Oliver Smith, a Ph.D. Candidate in Urban Studies at the Nohad A. Toulan School of Urban Studies and Planning at PSU. Smith recently completed a research project titled, Commute Well-being Among Bicycle, Transit, and Car Users in Portland, Oregon (PDF of presentation poster) Based on surveys from 828 people taken during January through February of 2012, he found that commuting to work under your own power "increases commute well-being." In other words, the happiest commuters are those who walk and bike. Of course I was happy to see that of all modes surveyed, biking made people the happiest (see chart). The lowest measures of commute well-being were recorded by people who drove alone
Read more about this fun research at Bike Portland.
Tags:
commuting
,
cycling
,
happiness
Posted in
advocacy
,
Commuting
,
fun
|
2 Comments »