The Latest From BostonBiker.org
News, Events, Updates
Written by Boston Biker on May 10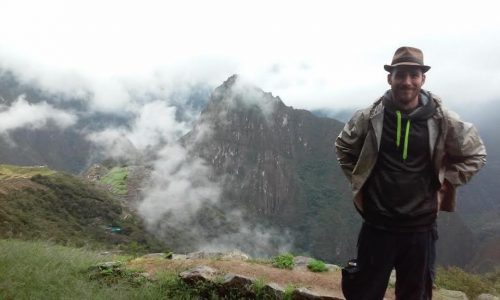 Rick Archer
The man allegedly responsible for a hit-and-run crash that claimed the life of a bicyclist in Back Bay last month is due to appear in Boston Municipal Court Wednesday to face at least one criminal charge.

Bicyclist Rick Archer, 29, was riding his bicycle near Commonwealth Avenue and Clarendon Street at 3:19 a.m. on April 30 when he was hit by a car whose driver then sped away. Archer died two days later in an area hospital.
From the BPD:
UPDATE: BPD Investigators Apprehend Suspect Wanted in Connection to Fatal Hit-and-Run Incident in the Back Bay: Eight days after a cyclist was struck and killed riding his bike in the area of Commonwealth Ave and Clarendon Street, BPD Homicide Detectives have arrested the individual responsible for the accident. After an extensive and comprehensive investigation, officers arrested Malone Kidanemariam, 25, Boston and charged him with Leaving the Scene of an Accident Causing Death. He is scheduled to be arraigned in Boston Municipal Court Court on Wednesday, May 10, 2017.

Said Commissioner William Evans, "I want to commend my investigators for all of their hard work and long hours in making this arrest. I also want to thank all the community members who provided help and made calls to our anonymous tip line. When a motorist strikes a pedestrian or cyclist in the City of Boston, the individual behind the wheel is expected to stop, check on the welfare of the person struck and call 9-1-1 for help. For whatever reason, the suspect in this case chose not to do that, and, given the charges he's now facing, I would imagine he most certainly wishes he had."

The facts and circumstances surrounding the original incident are as follows: At about 3:19 AM, on Sunday, April 30, 2017, officers assigned to District D-4 (South End) responded to a radio call for a cyclist struck in the area of Commonwealth Avenue and Clarendon Street. On arrival, officers located a male victim, approximately 30-years-old, suffering from what appeared to be life threatening injuries. The victim was transported to an area hospital where he later succumbed to his injuries and was pronounced deceased.

The Boston Police Department continues to actively review the facts and circumstances surrounding this incident.  Anyone with information is strongly urged to contact detectives at (617) 343-4470.

Community members wishing to assist this investigation anonymously can do so by calling the CrimeStoppers Tip Line at 1 (800) 494-TIPS or by texting the word 'TIP' to CRIME (27463).  The Boston Police Department will stringently guard and protect the identities of all those who wish to help this investigation in an anonymous manner.
There is a ghost bike going to be installed for Rick tonight.
A Ghost Bike Memorial ceremony will be held for Rick Archer, the cyclist who was killed in a hit and run crash this past weekend. Rick was an activist, both for bike advocacy and humanitarian relief efforts. While he was a talented cyclist, he along with so many other riders have expressed the need for a safer riding environment in the city of Boston.

This event is not only to honor the memory of Rick Archer, but to ride in his name and make a statement. We want to raise awareness and make the drivers of the city as well as city officials know, that cyclists are human beings, and their lives MATTER.

Reverend Laura Everett will be leading a beautiful ghost bike ceremony for Rick, where some of his closest friends will speak about the wonderful individual that he was.

Following the ceremony, we are calling on all cyclists to come out and Ride for Ricky. We will ride from his ghost bike ceremony site to City Hall, and actively disrupt a budget meeting being held by the Transportation Commissioner.

What we want – MORE FUNDING! During the disruption of this meeting we will ask for more funding for projects like vision zero, slower streets, and bike infrastructure:

http://www.visionzeroboston.org/
http://bostoncyclistsunion.org/advocacy-campaigns/bikebudget/

Did you know the city of Boston only spends $5 per person for cyclist safety while cities like San Francisco spend $75 per person! Yea I think it's time we balanced the scales.

Tragedies like this can be avoided, and if you are a cyclist and are able, please come out and show your support. This will be televised and we will get the city to listen.

If you cannot be there and you feel inclined to help, you can donate to:
https://www.gofundme.com/rick-archers-memorial-services-fund

We hope to see you there. Thanks!
Tags:
cyclist death
,
cyclist killed
,
death
,
rick archer
Posted in
advocacy
|
No Comments »
Written by Boston Biker on May 01
From the email:
Together, we're making streets in Cambridge safer for all ages and abilities. As a result of our voices, we have seen some initial wins with pop-up lanes and great community support in favor of the city's plans for Cambridge Street protected bike lanes. We need to continue this momentum this Tuesday, May 2 at the important Inman Square redesign meeting where the city will unveil the results of its months-long internal deliberations.
Cambridge St Update: 150 people showed up for the Cambridge Street protected bike lane meeting, and the tone was overwhelmingly positive, especially for making the street safe for the hundreds of CRLS students that bike or walk to school. Many bicyclists also emphasized the need to support local businesses and how this project can benefit them. The city has promised to begin construction in June, with one more public meeting between then and now, and we'll keep you posted on how we can all make sure this project is a success.
Inman Sq Public Meeting: The other major project happening this Spring is the redesign of Inman Square, which will connect directly to the east end of the Cambridge Street protected bike lane. There is an important public meeting this Tuesday, May 2where city staff will present their preferred design and solicit feedback. All four of the designs presented at the last meeting, particularly the bend options, need significant changes to be as safe for all users as they can be. Thus, it's crucial for as many of us as possible to come out on May 2 in support of safe, protected bicycle infrastructure and traffic calming! We deserve safe streets for all ages and abilities and the final design must reflect this.
When: Tuesday, May 2, 6-8pm (6-7: presentation, 7-8: discussion)
Where: Cambridge Public Library (Main Branch), Lower Level (L2)
Please RSVP so that your friends find out about it too!
Members of Cambridge Bike Safety have spent the last several months talking with local residents, businesses, neighborhood associations, and transportation professionals to understand how best to meet the needs of the community. CBS has put forward criteria for the project reflecting these conversations, based on safety, convenience, and environmental sustainability, and ranked the four proposed designs by the city. Read our full recommendation.
All plans meet the basic goal of providing safer bicycle facilities, in particular through the use of protected bicycle lanes. The Roundabout scores best on our metrics of safety, convenience, and environmental sustainability, with Bend Cambridge scoring second best.
Regardless of the design chosen, we expect that further changes will be needed, and Tuesday is a critical juncture to make these views known to the city.
Read our blog post for our full recommendation and considerations for all designs.
We hope to see you on May 2!
Sincerely,
All of us at Cambridge Bike Safety
Tags:
cambridge
,
inman square
,
public meeting
Posted in
advocacy
,
infrastructure
|
No Comments »
Written by Boston Biker on Apr 17
Ride with us to tell the City of Boston it's time to Make Way for (protected) Bike Lanes!
Join us 

Sunday, April 23rd
 for a bike ride around (& around & around…) the Boston Public Garden
to demonstrate to the City of Boston that we need safe bike facilities connecting our neighborhoods, paths, and parks NOW! 
In 2012 the City of Boston created a plan for protected bike lanes around the Public Garden, and then chose not to implement that plan.
We've been waiting over 5 years for a safe, low-stress bike route around the Public Garden.
Now, the City's recently released Go Boston 2030 Action Plan proposes protected bike lanes around part of the Public Garden within the next 5 years, and the rest being built in the next 12 years.
We can't afford to wait another 5-12 years for a safe, low-stress route connecting our neighborhoods, paths and parks. It's time to tell the City to make way for bike lanes, NOW! Our ride will demonstrate that there is not only enough space to build protected bike lanes, but there is also desire and demand within the community.
Meet us at Copley Square at 
2pm
, and we'll ride to the Public Garden at 
2:30
. We'll do laps around the Garden from 
2:30pm-4:00pm
. Feel free to ride as much or as little as you want, and hang out at the corners of the Garden to cheer on your friends!
This ride is named after the popular children's book "Make Way for Ducklings" because it perfectly illustrates how the roads surrounding the Public Garden feel dangerous and uncomfortable for most people since they encourage high motor vehicle speeds.
Following the ride we'll go to Cheers on Beacon Street.
Make Way for Bike Lanes
Sunday April 23
,
2:00-4:00 PM
Meet at Copley Square at 2, depart Copley at
2:30
Water station at the corner of Beacon Street and Charles Street
Tags:
ride for bike lanes!
Posted in
advocacy
,
events
,
fun
|
1 Comment »
Written by Boston Biker on Apr 17
Ride for social change on June 4th!
Less than 2 months remain before our 30th Annual Bike-A-Thon! We are working hard to make this event better than ever, and hope that YOU will be there with us.
The Bike-A-Thon is our largest event and fundraiser of the year, and helps support all of our programs to operate year-round.
Register online, at our Hub or Shop or try and find us at upcoming events around the city!
May 6th

Apparel Sale
The clothing sale is back! We're clearing out our warehouse and have jerseys, bibs. jackets & more, all priced to sell.
The sale will be Saturday May 6th from 3-5PM at the BNB Hub, bring cash. All clothing priced $5 – $20.
In addition to some brand new and one of a kind clothing items we will have a few parts and accessories, come early!
Thank you Erica!
After almost 5 years our Director of Fundraising, Erica Rotman, is moving on to new adventures. Erica supported BNB through our 4 most successful Bike-A-Thons ever, expanded our major donor program and brought BNB into a new level of financial sustainability.
Erica is off for a West Coast bike tour before returning to Boston. Thank you Erica for your enthusiasm and hard work!
We're looking for someone to take over Erica's role, please spread the word about our Senior Director of Fundraising and Operations job listing!
Attention Boston Globe Subscribers:
We have a favor to ask. Help us earn a free ad in the Globe just by showing your support. Simply go to BostonGlobe.com/GRANT and enter your subscriber information and the name and location of our organization before April 30, 2017. It only takes a minute, and helps us reach more people!
Volunteer of the Month – Gary Shapiro
Gary first found out about Bikes Not Bombs after donating bikes he rescued from the side of the road! Since then, Gary has become a regular Thursday Night Volunteer. He most enjoys flattening bikes as it gives him a chance to see some of the really interesting and unique bikes we receive. When asked why he continues to volunteer Gary said, "I like to picture someone taking that bike and using it, instead of it going into the trash. It makes a difference." Thank you Gary!
Midnight Marathon Bike Ride – It's back! Ride the Boston Marathon route car free starting Sunday April 16th. More details for this 9th Annual Event on Facebook.
People's Climate March – Marches across the country are showing the wold that we will stand up for our communities and climate. We'll be heading to the DC march, but there will also be one in Boston on Saturday April 29th.
Boston Neighborhood Bike Forum – Join with Boston residents on Saturday April 29th to connect, share, learn and envision what biking could be in our neighborhoods.
Tags:
bikes not bombs
Posted in
advocacy
|
No Comments »
Written by Boston Biker on Apr 17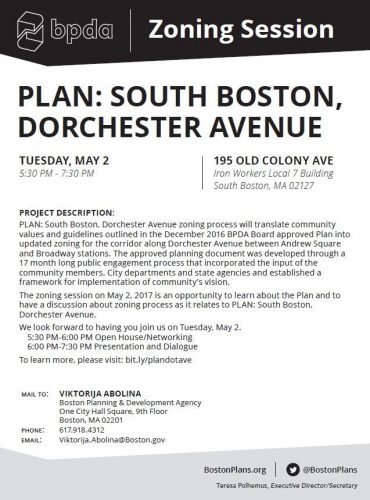 Tuesday May 2nd
195 OLD COLONY AVE
Iron Workers Local 7 Building
South Boston, MA 02127
PROJECT DESCRIPTION: PLAN: South Boston, Dorchester Avenue zoning process will translate community values and guidelines outlined in the December 2016 BPDA Board approved Plan into updated zoning for the corridor along Dorchester Avenue between Andrew Square and Broadway stations. The approved planning document was developed through a 17 month long public engagement process that incorporated the input of the community members, City departments and state agencies and established a framework for implementation of community's vision. The zoning session on May 2, 2017 is an opportunity to learn about the Plan and to have a discussion about zoning process as it relates to PLAN: South Boston, Dorchester Avenue.
We look forward to having you join us on Tuesday, May 2.
5:30 PM-6:00 PM Open House/Networking
6:00 PM-7:30 PM Presentation and Dialogue
To learn more, please visit: bit.ly/plandotave
mail to: VIKTORIJA ABOLINA
Boston Planning & Development Agency
One City Hall Square, 9th Floor
Boston, MA 02201
phone: 617.918.4312
email: [email protected]
Tags:
Dorchester
,
dot ave
,
south boston
,
zonning
Posted in
advocacy
,
Commuting
,
infrastructure
|
No Comments »
The Word On The Street