Written by Boston Biker on Aug 08
This is pretty awesome, most research shows that when less "risk adverse" groups feel safe doing something it means that it is starting to be perceived as a more mainstream activity.  Hurray for everyone riding bikes!
—————-
From the City: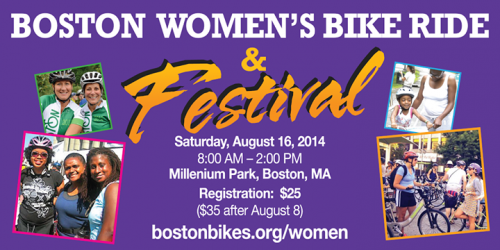 Register now for our hallmark women's event of the season, the Boston Women's Bike Ride & Festival, Saturday August 16th. Save $10 by registering before 11:59 pm on 8/8. Use code EARLYBIKE.
This celebration of women on bikes will be New England's largest all-women's ride and festival, and will feature scenic 10, 30, and 50 mile rides, skills clinics, family activities, music, an expo with bike-friendly companies, and more! Seasoned commuters, occasional cyclists, new riders, and kids are all welcome to participate in the event.
Join for just the ride or take part in a workshop taught by some of the best pro cyclists in the area to get tips on mountain biking, commuting, mechanics and more.
Adult learn-to-ride clinics will be offered for new riders or those who can't remember the last time they were on a bike.
Discounted registration is available to low-income Boston residents.
And men on bikes – we love you too! Please join the festival as volunteers, or to cheer on the women in your lives as they take part in the ride.
Please email [email protected] or call 617-918-4343 for more information on discounted registration or to volunteer.
Tags:
bike festival
,
smash the patriarchy!
,
Women
Posted in
advocacy
,
education
,
fun
|
No Comments »