Written by Boston Biker on Apr 01
There were some big announcements at last nights 6th Annual Boston Bikes update.  I was impressed with the growth in the bike lane network, and the expansion of the bike share.  But what really floored me was the surprise appearance by Marty Walsh himself announcing that Boston would follow the lead of cities like Paris, and ban all motor traffic (except cabs and delivery trucks) in the down town region.  Siting reasons from lack of space for parking, to old fashion road layouts, and the looming threat of global warming to a city at sea level, the Mayor made a very strong argument for banning cars from the downtown metro area.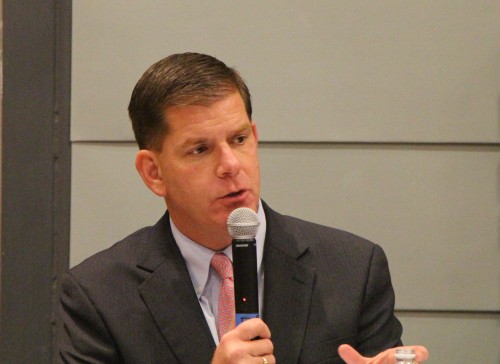 We are one of the top ranked  accessible cities in North America for public transportation, and yet we have one of the least conducive road systems for cars.    At the same time we are wasting potential billions in economic potential by devoting a majority of space downtown to car infrastructure.  As if that wasn't enough, our great city is only feet above a sea that is rising year after year due to the disastrous effects of global warming.  Mayor Menino famously said 'the car is no longer king in Boston' well my friends I am here to tell you, the king is dead.  We will no longer waste hundreds of millions of dollars supporting a technology that is killing us, wasting our money, and destroying the future for our children.
At which point I have to tell you the room went a little nuts. After people calmed down Walsh went on to detail a sensible plan of restrictions on car travel in the down town area. Starting with a congestion charge of 75$ a day to drive into the city. At the same time parking will be raised to 20$ an hour, and most on street parking will be eliminated in favor of wider sidewalks, bike lanes, dedicated bus/cab lanes, and green space.
The money raised will go to improvements in the T and bus infrastructure. There will still be access for people with disabilities who rely on cars for travel, including better placement of handicap parking spaces closer to entrances to buildings, and better curb treatment for people in wheel chairs, and pedestrians.
Walsh also detailed plans to return many of the side streets to "people powered" boulevards, where only pedestrians and cyclists are allowed. He showed images of the popular people only areas that NYC has recently installed.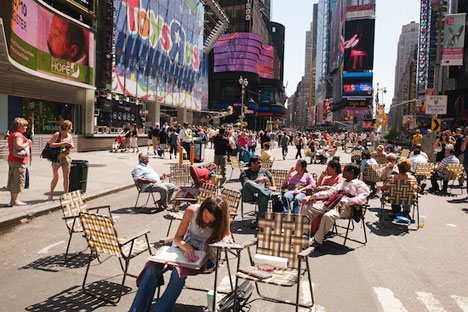 Special delivery depots will be developed for centralized delivery of goods to businesses, and electrically assisted delivery bikes will be hired to take items to their final destination.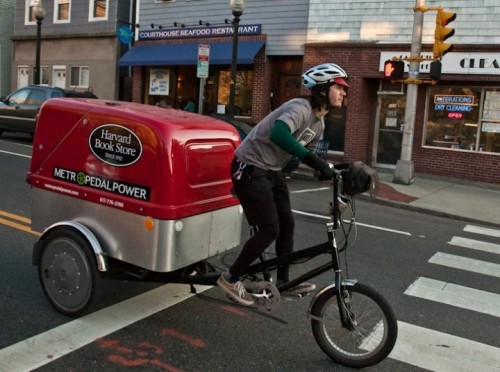 It was a real tour-de-force of fact based planning. Citing study after study that showed that cars were dangerous, bad for the economy, and bad for the people driving them, and directly leading to the death of dozens of people every year. He went on to say:
As April approaches you would have to be a fool to continue to believe that we can continue with business as usual and avert the catastrophic results of relying on internal combustion fueled automobiles. We must change to a human based model of planning, for our own health, for the health of our economy, and for the health of our planet. As such I plan to remove cars from our downtown, replace them with vibrant public transportation, bike lanes, better walking infrastructure, and to reclaim the wasted space dedicated to cars to fuel economic development. Thank you.
Copenhagen's Car-free streets & Slow-speed zones from Streetfilms on Vimeo.
The crowd was on their feet, cheering. I stuck around after trying to get to talk to Mayor Walsh, but he had ducked out surrounded by cyclists wanting to shake his hand. It was a good night, and I left feeling hopeful about the future.
Tags:
ditch your car
,
don't be a fool
,
the future
Posted in
advocacy
,
Bike Business
|
3 Comments »