Written by Boston Biker on Dec 03
Something has been bothering me for a couple years now. Why is there on street parking in major cities? The answer might seem obvious. "because people need some place to park their car if they want to drive into the city." Duh, right? Think about that statement a little more and you can see there is a lot wrong with it.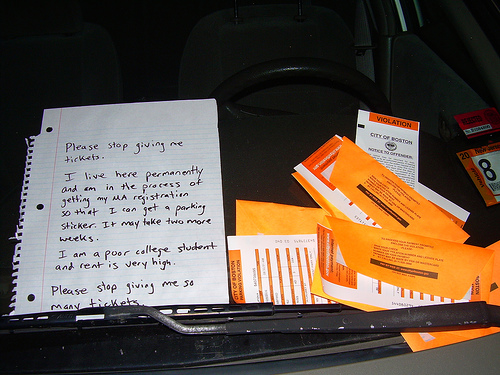 For instance why are people "driving into the city"? Shouldn't they live in the city? If you have a majority of your people driving in from the burbs to work in the city, your city is probably a hollowed out husk that no one wants to live in. Perhaps your city has failed to address crime, or poverty, or drugs, or gentrification, or some other problem. On street parking is just the fever, the cause of the illness is something else.
"My customers need to park if they want to use my store."
We have already seen in Boston (see here and here) that having high density bike parking can fit far more potential customers into a small space than car parking (with better conditions for people using those business's to boot). Having your store near a bus or T stop would also dramatically increase the number of potential customers, far far more than you could ever get from on street parking.
"Residents of these homes need parking."
Most city based housing is either high density or high end. There simply isn't enough room in a big city for suburb style houses with lawns, and where there is these neighborhoods are often very compacted and close to public transit (or should be). In either case, reserving that much room for the parking of cars doesn't make sense. Imaging how much more green space, or bike lanes, or heck more housing could be built if we took all the space we are using to store cars and used it for something else. Having a park, or green space, or a public meeting location, or anything but empty space to park cars also increases property value and adds to the quality of life for residents. With a vibrant public transportation system, and bicycles the rest is handled. Having high density populations on bike/transit/foot also means that local business will have a loyal customer base, which in turn keeps the money local and the local economy healthy.
"But if we built more parking, the city would have more business and the city would thrive!"
That's not what Hartford Connecticut found. (note that they give a shout out to Cambridge for its efforts to reduce on street parking!)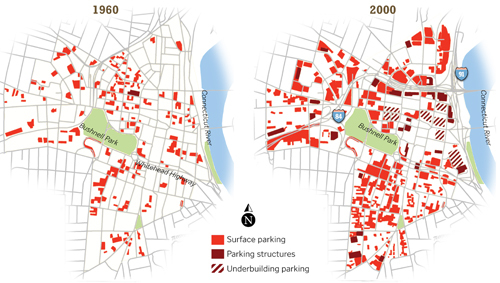 For the past half-century, city leaders in Hartford have worked hard to satisfy what they deemed to be a critical need — the need for more parking, so that downtown Hartford could compete with suburban office parks and shopping centers.

This summer the Center for Transportation and Urban Planning at the University of Connecticut conducted a detailed study of the cumulative effect on the city of 50 years of providing parking. What we found was startling: Since 1960, the number of parking spaces in downtown Hartford increased by more that 300 percent — from 15,000 to 46,000 spaces. This change has had a profound and devastating effect on the structure and function of the city as one historic building after another was demolished.

And what did the city gain from this assiduous drive to provide sufficient parking? Was it able to grow more prosperous by providing more jobs and housing for more people? If this was the desired outcome, we can consider the past 50 years to have been an abysmal failure. Over the period that parking was being increased by more than 300 percent, downtown was losing more than 60 percent of its residential population, and the city as a whole lost 40,000 people and 7,000 jobs.

Yet the perception of Hartford as a city perennially short of parking and in need of more parking has never slackened. How could this be?

Well, the simple answer is that parking and transportation policy in Hartford has had the perverse effect of inducing an unending cycle of more demand for parking. Like a dog chasing its tail, the city is constantly playing catch-up — the more parking provided, the more parking is needed.

…

In 1978 the city council went further in expressing its strong support for a moratorium on construction of parking garages in the central business district. But we were able to find no evidence that any such forward-looking idea was ever actually implemented in Hartford. Fortunately, there are some clear lessons from a handful of cities nationwide that did understand the price of destroying value to accommodate parking. These cities embraced ideas to curb the voracious appetite of the automobile for space. Cities including Cambridge, Mass., Portland, Ore., Washington, D.C., and Seattle developed policies to limit the amount of parking, to re-convert parking land to productive use, and to increase walking, biking and transit use for people going to work.

The contrast between, Say, Portland and Hartford is stark in terms of economic vibrancy and social vitality. Hartford looks more like the hundreds of other American cities that have hollowed out their core to accommodate automobiles.

With more that 700 parking spaces for every 1,000 employees, Hartford has the dubious distinction of being near the top of the list for parking — up there with cities such as Detroit and Buffalo.

In contrast, more vibrant cities like Washington get by with much less parking (250 parking spaces for every 1,000 employees). The need for so much more parking for each job in Hartford compared with more competitive cities is a significant physical and financial drag, limiting the potential for growth in the city.

…

state government provides parking for more than 90 percent of its employees in Hartford. The result is that less than 10 percent of state employees in the city travel to work by transit, walking or biking.

Thus, the state ties up some of what is potentially the most valuable land in the city in parking, costing the city and the state millions of dollars in tax revenue.
(read the rest of this fascinating article here)
(hat tip to Andres for the heads up on this article)
On street parking also makes it harder to put in bicycle infrastructure, puts us in danger of getting doored, gives pedestrians a place to hide while they jay walk (making it harder to avoid them), and covers our streets with oil and other dangerous chemicals that leak out of cars parked there. They obstruct the view of patrons at street level cafe's, introduce air pollution when the cars idle, and in general make a city feel cramped and closed in. They hinder snow removal, and street sweeping, and create a nuisance as people try to get into and out of tight spaces.
So to recap, on street parking:
Wastes space, hinders economy growth, creates pollution, is dangerous, is ugly, lowers property values, depletes the tax base, hinders municipal functions, hinders the installation of bicycle infrastructure, makes people fat by facilitating driving, is inefficient, facilitates the removal of money from the local economy, and is dangerous to cyclists…
So why exactly do we put up with it? What are we getting? I thought hard about this, here is what I came up with:
On street parking allows handicapped access to places, is good if you need to pick up something huge and drive it off, provides a spot for delivery trucks to drop off stuff…and that's about it. All of which could be provided with a special spot or two in front of certain stores. A shared loading unloading zone that several businesses could share, along with a couple handicapped parking spots.
In my opinion the benefit of on street parking is far outweighed by it's draw backs. It's time we start taking back the space in our cities. Almost every single street in Boston could have a bike lane if the on street parking was taken out. We could build amazing linear green parks, grow urban gardens, have high density bicycle parking, reduce pollution, increase livability, and in general make a healthier population, all while encouraging dense urban living that results in healthy local economies.
If you own a business, call up the city and tell them you want to take out one of the parking spots in front of your business for on street bike parking. If you are a member of a condo association, lobby to remove all the on street parking. If you own a cafe, perhaps you can ask the city to remove one or two spots to improve the view of the people sitting on patio (maybe you could replace them with some nice plants). Ask the city to begin a long term policy of slow gradual reduction on on street parking (perhaps 2% reduction a year for the next decade). Perhaps we lobby for new building codes that mean that all new construction must provide on site parking if they want it, this would force the builders to choose between houses/business or parking, instead of making the city streets take the burden. These are just a couple ideas of how we can rid ourselves of this scourge. If you have more ideas put them in the comments.
I guess what I am trying to do here is plant an idea in your head. A city without on street parking would be a vibrant and healthy place to live, good for the quality of life, good for business, good for bikers. Boston would be the perfect city to manifest this vision. Our narrow streets and dense layout lends itself perfectly to on street parking removal. In a very real sense this would be a returning to our roots, no one had to figure out how to parallel a hummer when Paul Revere road off to warn of the British.
Now it the time, let's kill on street parking, the enemy of a healthy city.
Tags:
bike infrastructure
,
enemy
,
healthy city
,
on street parking
Posted in
advocacy
,
infrastructure
,
video
|
8 Comments »