The Latest From BostonBiker.org
News, Events, Updates
Written by Boston Biker on Oct 07
A while ago I wrote about how to use door zone bike lanes. In which I posited the following argument: Bike lanes are good because they draw out more cyclists, and if you are against door zone bike lanes you can either use them properly (as outlined in the article), use streets without bike lanes, or lobby for the removal of on street parking. For the most part no one disagreed with my arguments.
However, some of you responded, "But what about Columbus Ave!" The Columbus Ave. bike lanes are completely door zone (!!), or so some of you said. Being the person of science that I am, I decided to go investigate for myself.
First off I want to set the scene: Wednesday, mid-day. Slightly overcast, with a threat of rain, your typical October day in Boston. I rode down most of the bike lane on one side and did a bit of track back on the other, overall I covered most of the new bike lane.
I have to say that I was pretty shocked by how poor the enforcement was of parking the bike lane, I saw dozens (literally) of cars parked in the bike lane.
The other thing that seemed strange to me was that the bike lane came and went, replaced in portions with sharrows. For those not "in the know" sharrows, are street markings to indicate that cars are supposed to share the road with bikers (share arrows). These also seemed to be, umm lets say, poorly placed…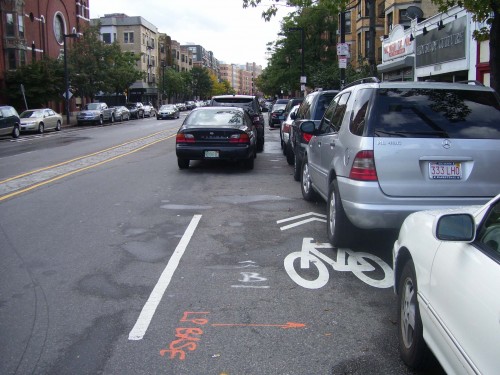 Frankly I was appalled with just how much a disaster the sharrow placement seems to be…how is allowing parking OVER the sharrows (not to mention the rampant double parking) supposed to help bikers? I mean…why waist the paint? I think something must have gone wrong someplace because these don't look like they are placed correctly, or the parking ordinance hasn't been updated to remove on street parking in these locations…right? This couldn't have been planed this way? Please someone tell me this was not the plan.
Ok but what about the first question. Is the entire bike lane on Columbus Ave. "in the door zone" as so many have claimed. Lets see.
It did look pretty narrow, I would estimate from the picture above that the door zone would be something like this.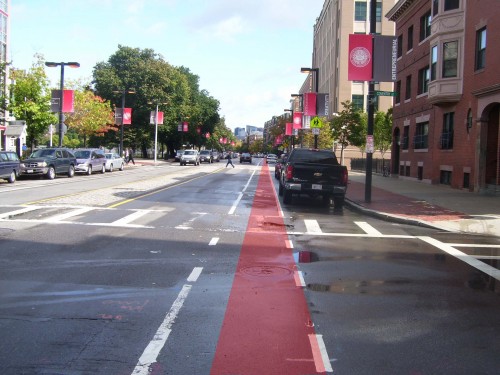 But that wasn't enough for me, I didn't want "probably door zone" I was hunting for "actual door zone." I needed some hard science, so I started asking people "hey can I take a picture of you with your door open?" A normal enough thing to ask people, right? And they were more than happy to help out. I want to make it clear, each of these people opened their door for me, at my request, they are all helpful nice people and were not trying to kill me. (I have highlighted "actual door zone" on each of these in red, the green would thus be the "non-door zone")
But "that's a car" you say, but "he is pulled way over" you say. What about a truck? Well I was lucky enough to run into this guy, who was very helpful and actually really nice.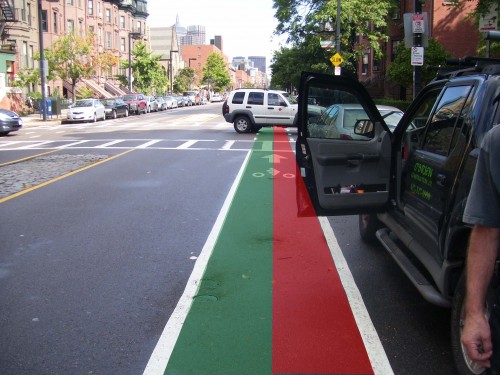 As you can see even with a truck door there is still space on the left hand side for a biker. When I explained to this guy what I was doing he did something that really made me happy.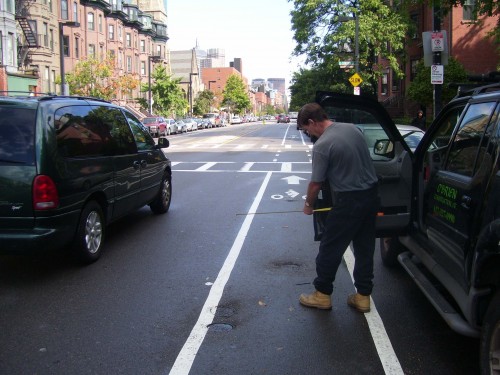 He got out his freaking measuring tape, seriously this is my kind of guy. Here is what he found.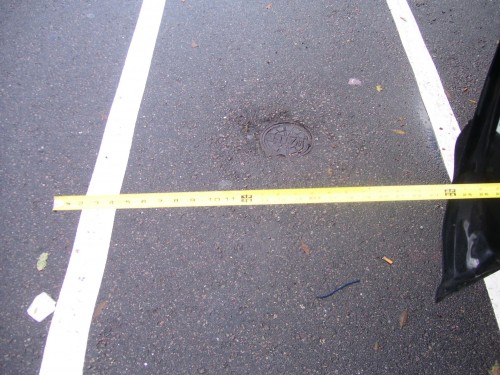 It's kind of hard to see, but there was 26 inches of clearance from the end of his door to the left of the white line.
So what does all this mean? Basically there are some serious problems with double parking and sharrow design on Columbus Ave. But the Columbus Ave. bike lane is NOT all door zone. It is narrow, but it most certainly is not all door zone. If you use the same strategy I suggest in my first post about door zone bike lanes you should be just fine. I would recommend you ride on the left white line when using this bike lane, if used in this way you will easily avoid opening doors.
I have talked to a lot of people and a large majority (almost all of them) want more bike lanes. The bike lanes might make them safer, they might not (I honestly don't know) but what I do know is that painting bike lanes makes more people feel comfortable riding. And that is a very good thing. Clearly however poorly designed infrastructure (sharrows with parking on them?!) can lead to confusion and injury, but a "door zone" bike lane, even a narrow one like Columbus Ave. can be safely used if the people are educated. In a perfect world, all bike lanes would be wide as the street and no cars would be allowed to park near them. We of course do not live in a perfect world, so we deal with what we have. It is embarrassing how poorly laid out the sharrows are and how bad the double parking is on Columbus Ave. But that in no way makes the bike lane "all door zone" or unusable.
Because education is needed to use these facilities safely (you had to get educated to drive your car safely as well) and not everyone is going to read this blog, I suggest that for all door zone bike lanes a sign like this be posted.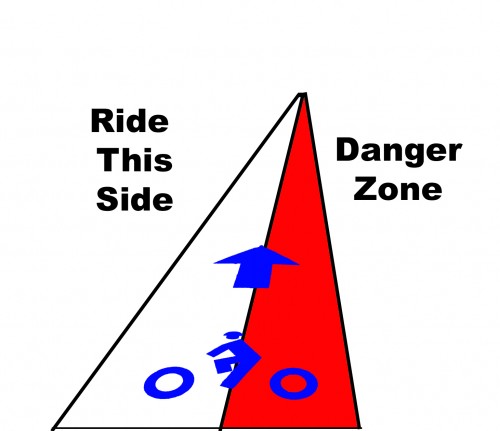 Ride to the left people, stay out of the door zone!
Tags:
bike lane
,
car in bike lane
,
cop in bike lane
,
door zone
,
dooring
,
how to
,
sharrows
Posted in
education
|
34 Comments »
Written by Boston Biker on Sep 29
Many times when people start talking about bike lanes, some cyclist in the back pipes up and says "yea but they are no good cause you are in the door zone!!!!11!1!" These people area almost allways confident experienced cyclists. They have no problem ridding down any road. But to a brand new rider, or to people thinking about riding (you know the people currently in cars that we would love to see on a bike) the bike lane offers the promise of "safer" biking. Bike lanes on the street might be just that little extra that gets them riding.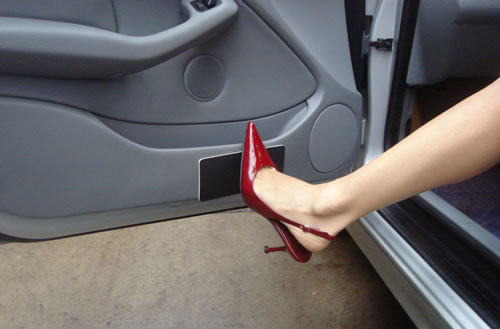 We could argue all day and night (and a lot of people do) about bike lanes, and if they make you safer, but really that isn't the point. The point is people don't "feel safe", you can argue all day and night about that, but no amount of logic or well thought out study is going to make people "feel" different. Many people need an actual physical "something" to make them feel safer, if a little stripe of white paint will do that, well then by god paint some white stripes on the ground! If hanging waffles around their neck made them feel safer I would do it…I want to see more people out on the streets on bicycles, and less people in cars.
Experienced cyclists fail to realize that they would be driving down the same exact street even if there was no bike lane on it. They also fail to realize that bike lanes are to keep cars OUT not to keep bikes IN. Let me say that again…bike lanes are to keep cars out, not to keep bikes in.
You are allowed to leave a bike lane whenever you want. In fact you are encouraged to leave the bike lane for safety, or if you want to make a left hand turn, or if you see some debris in the bike lane, or if you want to pass a slower rider, or some jerk pulled half into the bike lane, or if someone is getting out of their car, or if someone looks like they might be getting out of their car, or if a pedestrian is walking out, or…well you get the idea.
Boston and surrounding towns are absolutely in love with on street parking, and it is very unlikely that they will fall out of love anytime soon, so here is how you use a "door zone" bike lane. By door zone I mean, "the area by which an opening car door would cause a biker to be struck by said opening door." An easy way to find out if you are in the door zone is to ask yourself the following question "if that car door opened would I run into it?" If the answer is "yes" you are in the door zone.
Here is an example of a typical bike lane in this area.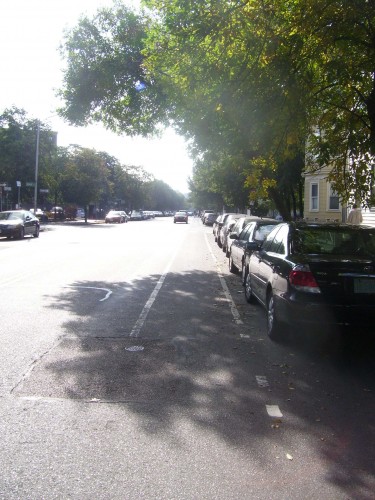 So let me clarify where the door zone is.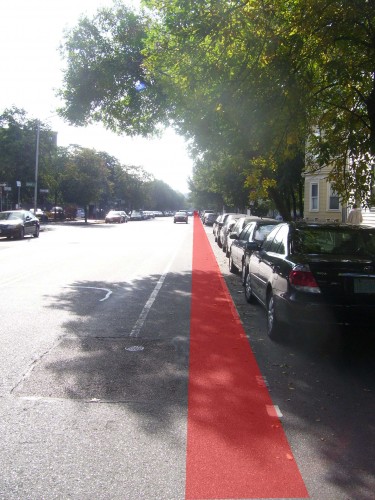 and here is where I personally would ride in this bike lane.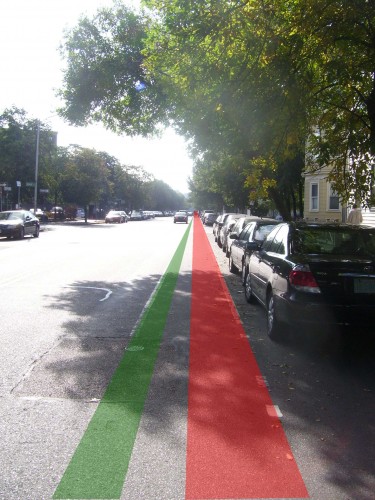 Right away new cyclists are going to balk at this suggestion, stating something like
"But how can being over on the left hand side with the moving cars be safer than over on the right near the parked cars, surely moving cars are more dangerous than parked ones!"
I would respond them by saying that while this might seem true, it isn't. Parked cars have a nasty habit of sprouting doors, and pedestrians like to sneak out between them. If you ride in a nice straight line (this is actually really important), and are predictable (signal your turns, stop at red lights etc), being on the left hand side of the bike lane allows cars to plan for what you are going to do. They will move over a bit, go past you, then continue on there way. It might seem loud, as cars often give it some gas to get past you faster, but they are not being malicious they are just trying to get by.
You are going to have to trust me on this, but having two predictable vehicles (car and bike) interacting in a predictable and planned way (bike stays in a straight line, car moves over slightly passes then resumes position) is MUCH MUCH safer, than a car door randomly opening and breaking your face, collar bone, or worse. People get tossed into traffic and run over by doors opening, people swerve into cars and are run over when doors open. There is no easy way to predict when a car door will open, and getting doored is horrific (even at low speed) so the best method of dealing with it is to STAY OUT OF THE DOOR ZONE.
Imagine would would happen to this person if the car in front of them opened the door…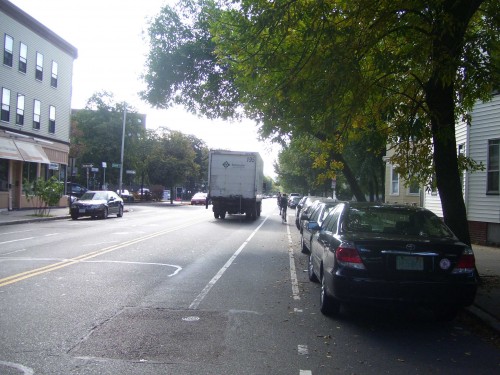 Would they end up under the wheels of that truck?
You can see that the truck has moved over to go past the cyclist ahead of the one closed to me (click the image for the bigger version). The person in the foreground is smack in the door zone. You will also notice that they would be just fine (even with this wide truck) and have plenty of space if they were on the left hand side of the lane. It would take some getting used to but by moving over to the left they would avoid the door zone, and still have plenty of space to use the bike lane. Giving them the best of both worlds the safety (perceived or actual) of the bike lane, without the danger (real) of the door zone.
It took me a couple of weeks of riding to get comfortable with the feeling of being on the left hand side of the lane. But in that couple of weeks more than a few people opened their doors in front of me and I never had to swerve into traffic, or even really make any avoidance maneuver at all. Being on the far left of the bike lane has saved my skin more times than I can count.
So the next time you hear someone complaining about bike lanes because they have parked cars next to them simply explain to them that they are allowed to leave the bike lane, and that the far left of the bike lane is the safest place for them to be. If they are not happy with that tell them to lobby for the removal of on street parking, or perhaps ride down streets without bike lanes on them.
Tags:
Bike Lanes
,
door zone
,
dooring
,
getting doored
,
safety
Posted in
education
|
32 Comments »
The Word On The Street