The Latest From BostonBiker.org
News, Events, Updates
Written by Boston Biker on May 15
Looks like fun:
From the email
———————-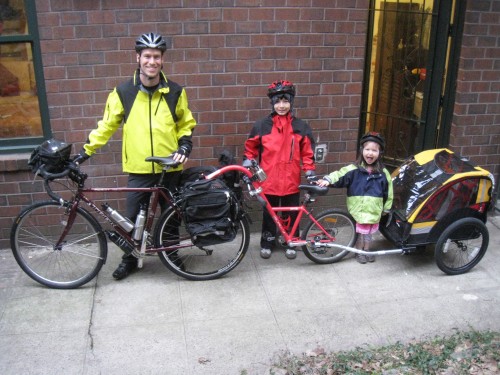 There's plenty of wild adventure at the 5th Annual Ciclismo Classico Bike Travel Film Festival. The Festival, a benefit for Massbike, presents 11 short films featuring two-wheeled travels around the globe – and this year's journeys are the most exotic yet. From lava-fields in Iceland to abandoned wilderness roads in Kyrgystan, 2014 takes viewers further than ever before.
However – for many bicycle lovers, sooner or later kids come into the picture. How do children fit in with the fancy-free life of a bicycle tourist? In two of this year's featured films, we are introduced to the world of family bike travel.
One of these filmmakers, Charles R. Scott (the "Family Adventure Guy"), circumnavigated Iceland with his 10 year old son and 4 year old daughter. Charles will be present at the event for an informal Q&A during intermission – learn about making those family adventure dreams a reality!
This year's Grand Jury Prize goes to a phenomenal film called The Road From Karakol. It's just about the opposite to the family films in every way – here, Kyle Dempster sets out on a solo journey across Kyrgystan, heading so deep into the wilderness that the roads grind to a halt.
In addition to the films, a festive atmosphere is on tap at this most-anticipated Bike Month event. A social hour begins at 
6 PM
 and features a Cookie Showcase highlighting the delicious offering of local bakeries. Also included is the "Great Jersey Giveaway" raffle, which will outfit winning guests with bike clothing for their next adventure. One lucky attendee will win a free Ciclismo Classico bicycle vacation valued at over $3,500.
Ciclismo Classico Bike Travel Film Festival
Wednesday, May 28th, 2014
The Regent Theatre, 7 Medford St., Arlington, MA
Social Hour 
6-7 PM
; films 
7-10 PM
Tickets $10 in advance, $15 at the door
Raffle: Win a trip to ITALY!
Tags:
bike month
,
bike travel film festival
Posted in
advocacy
,
fun
|
No Comments »
Written by Boston Biker on Dec 26
via email:
————-
It's that time of year again: professional and aspiring filmmakers are invited to enter the 4th Annual Ciclismo Classico Bike Travel Film Festival.
The Festival is a highlight of Bike Month 2013, and is the ONLY film festival in the USA that focuses specifically on bicycle travel.
Even if you aren't a filmmaker, please save the date for a fantastic evening of inspiring films at the Regent Theatre.  The Festival will take place on Tuesday, May 21st, and is a benefit for MassBike. This year's festival will also feature the winning entries from the first-ever Bicycle Travel Film Contest, which is sponsored by Adventure Cycling and World Cycle Videos. As we have done in the past, the festival will include a wide array of cookies, the Great Jersey Giveaway, and the chance to win a Ciclismo Classico bicycle tour.
CALL FOR ENTRIES INFORMATION
The 4th Annual Ciclismo Classico Bike Travel Film Festival invites professional and amateur filmmakers to submit for consideration films ranging from 3 to 60 minutes.
Films must feature bicycle travel of any type: organized tour or informal travel, domestic or international.
SUBMISSION DEADLINE is March 1, 2013
Submission regulations, where to send and more info is available at http://www.ciclismoclassico.com/filmfest
Filmmakers will be notified of Selection Committee's decision by April 1st.
About The 4th Annual Ciclismo Classico Bike Travel Film Festival
Tuesday, May 21st, 2013
The Regent Theatre, Arlington, MA
Social Hour 6-7 PM; films 7-10 PM
A benefit for MassBike
http://www.ciclismoclassico.com/filmfest
Whether across the globe or a few towns away, there's nothing that recharges and expands horizons like bicycle travel.  The Festival will increase awareness and appreciation for bicycle travel by showcasing independent films that depict the adventure, humor, and growth that happens on a two-wheeled journey.  We seek films that portray a broad range of experiences ˆ destinations ranging from small Italian hamlets to a campground 30 miles from home; solo travel or a family reunion on bicycles; an organized tour from inn to inn or a shoestring jaunt with tent and sleeping bag.
Want to see our 2012 Film Festival winners?
Grand Jury Prize: Asiemut
Audience Prize: Cyclo Diaries
Tags:
bike travel film festival
,
seeks videos
Posted in
fun
|
No Comments »
The Word On The Street