Written by Boston Biker on Dec 28
While I know its technically their summer down there right now…its all relative. But this lady rode her bike TO THE SOUTH POLE!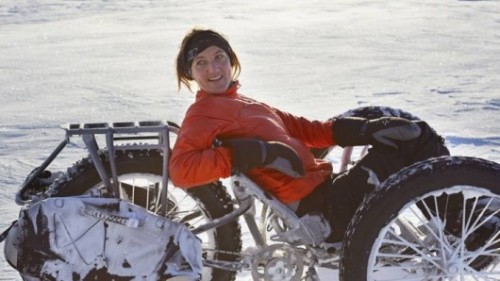 Shortly before Christmas, we heard about 35 year-old British adventurer Maria Leijerstam's planned attempt to ride to the South Pole on a recumbent fat-tired tricycle. On December 27th at 1am GMT, she achieved that goal, becoming the first person to ever successfully cycle from the edge of the Antarctic continent to the Pole.

ICE used its Sprint trike as the basis for the extreme build, including standard component…
ICE upgraded the design from a US$3,000 stock trike to a ~$33,000 extreme polar-cycle
Maria's route took her approximately 400 miles (644 km) long, stretching from the edge of …

Leijerstam used a modified version of the commercially-available Sprint trike, made by recumbent tricycle manufacturer Inspired Cycle Engineering (ICE). She chose to go with a recumbent trike because it would allow her to maintain stability in the often very-high winds. This allowed her to concentrate simply on moving forward, instead of having to waste time and effort keeping her balance.

The strategy paid off, as she not only made it, but also beat two other cyclists who had set out for the Pole on two-wheelers, days before her Dec. 17th start date. Her victory wasn't just due to the fact that she could move faster, but also because the stability of her trike allowed her to take a different route that was shorter but technically more challenging.

British adventurer Maria Leijerstam has braved savage conditions to become the first person to cycle to the South Pole from the edge of the Antarctic continent.
Maria, aged 35 from Wales, raced two men for the title and arrived at the pole hundreds of miles ahead of her nearest rival.

After 9 days cycling Maria completed the 400 mile expedition at approximately 1am GMT on the 27th December 2013.

Despite starting days later than her competitors Maria made quick progress on a recumbent trike designed specifically for the challenge by Inspired Cycle Engineering. The custom-made trike is stable and aerodynamic, which has allowed Maria to focus her energy on progressing through the gale-force winds and hazardous terrain.
Amazing, proving once again that there is no such thing as bad weather, only bad clothing. More here, and here.
Thanks Charlie for the tip.
Tags:
amazing
,
south pole
,
winter riding
Posted in
news
|
2 Comments »