Written by Boston Biker on Dec 28
Channel 4 reports the following happened last night.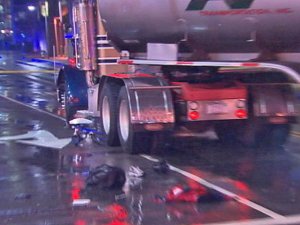 CAMBRIDGE (CBS) – A bicyclist was hit and killed on the corner of Mass Ave. and Vassar in Cambridge Tuesday night.

The eighteen wheeler was making a right hand turn when it happened. The bicycle was stuck under the wheel of the truck after the accident.

The male victim was transported to the hospital where he was pronounced dead. Police are not releasing his name.
More info when I get it…this is horrible.
Edit: more here
EDIT: photo, not graphic, but still sad. from this tweet
"Bicyclist struck and killed by a tanker truck in Cambridge by MIT. Truck was making a left onto Vassar St"
(Note, I think this tweet is wrong, it clearly looks like a right turn…but who knows)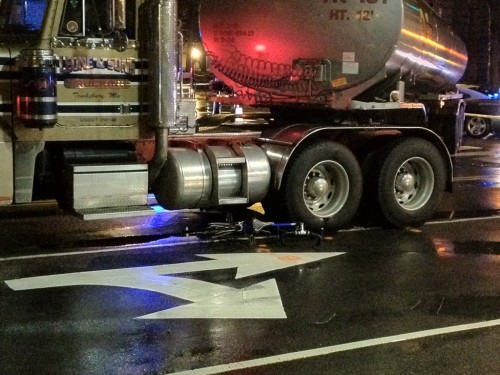 EDIT: video from fox
Bicyclist struck and killed while riding in Cambridge: MyFoxBOSTON.com
EDIT:and more from fox
EDIT: Cyclist has been identified
The bicyclist who was struck and killed in a collision with a truck Tuesday evening was a 23-year-old man from Myanmar who graduated from the Massachusetts Institute of Technology last year, school and law enforcement authorities said today.

Phyo N. Kyaw, who lived in Cambridge, was cut down off his bicycle around 7:40 p.m. at the corner of Massachusetts Avenue and Vassar Street, a busy intersection teeming with bikers, pedestrians, and motorists near MIT, said Jessica Venezia Pastore, spokeswoman for the Middlesex District Attorney's Office.

Kyaw was taken to Massachusetts General Hospital, where he was pronounced dead.

State Police accident investigators are trying to reconstruct whether there was criminal negligence in Kyaw's death. The driver of the truck has not been charged.

Cambridge police said that since January 2010 there have been 27 accidents at the Massachusetts Avenue and Vassar Street intersection.

Kyaw received his degree in chemical-biological engineering from MIT in 2010. A native of Yangon, Myanmar, he was a member of Sigma Nu fraternity and was involved at MIT in Camp Kesem, an overnight summer camp for children with a parent who has died of cancer, according to the university.

"This death, so tragic and so close to home, touches and concerns our entire community," said MIT chancellor Eric Grimson. "Our thoughts go out to Phyo Kyaw's family, friends, and classmates. We share their sense of loss and grief."

State Police and Cambridge police are investigating the accident, with assistance from the MIT police.

MIT officials said student support and mental health services are being made available to all members of the campus community. Those affected by this death are encouraged to contact MIT's mental health services at 617-253-2916.

At the scene of the fatality today, students and commuters described the intersection as busy, but generally safe.

"This is terrible,'' said MIT graduate student Xin Zhao. "I'm shocked, actually. I don't think this area is extremely dangerous."

Joel Dashnaw, a Jamaica Plain resident who rides his bike regularly to work in Cambridge, said bicyclists in urban areas have to be vigilant about obeying the rules of the road and be aware of what is happening in front of and behind them.

"I am surprised and a little horrified,'' said Dashnaw.

Bikers making the rounds today said they are used to the heavy traffic and do their best to follow the rules of the road. But accidents between bikers and vehicles, do happen, they conceded.

One pedestrian said he's come close to being hit a few times while crossing the street.

"The cars won't let me pass,'' said the man, who would not give his full name.
Tags:
18 wheeler
,
cambridge
,
crash
,
cyclist killed
,
tragic
Posted in
news
|
32 Comments »