Written by Boston Biker on Apr 09
If you would like to send flowers to Eric's funeral the information is below. I think it might be nice if the cycling community could send its best wishes to this family in this hard time.
St. Mary's Catholic Church
783 Dartmouth St
South Dartmouth, MA 02748
(508) 992-7163
[email protected]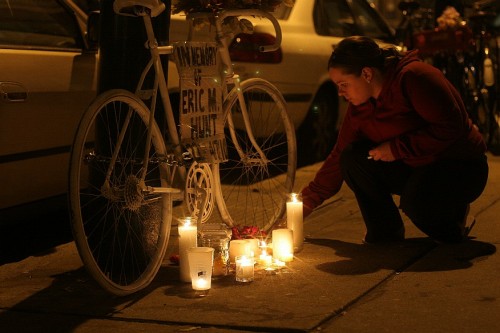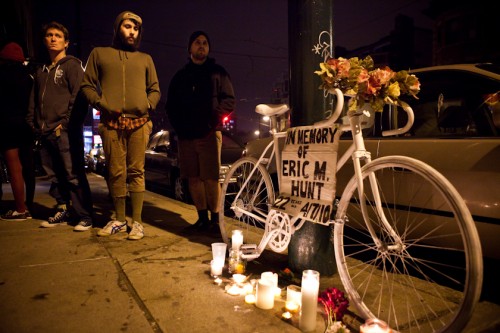 Also I read this in the globe today:
"MBTA officials said cyclists have not complained to them about the trolley tracks in that area."
Lets let them know we don't like those tracks, anyone who has ever crashed on these tracks please contact the MBTA today and let them know they are dangerous.
And Call this number 617-635-4500 and let the city know you think they are dangerous.
Lets make sure they know we think these tracks are a menace.
EDIT:
The Funeral home that is handling Eric's funeral has an obituary page up where you can leave messages (here the page is a little strange, click on new bedford, then Eric's name) Lets leave some nice messages.
Eric Michael Hunt, 22, of Dartmouth died Wednesday April 7, 2010 unexpectedly at Brigham and Women's Hospital.

Born in New Bedford, the son of Atty. Thomas R. Hunt of Dartmouth and the late Diane M. (Giasson) Hunt, he lived in New Bedford and Dartmouth for most of his life.

Eric was a student at Wentworth Institute of Technology, currently in his final year.

He was a graduate of Bishop Stang High School, where he played soccer and was a member of the Drama Club. He was President of the Wentworth Sailing Club. He was a former camp counselor at Camp Massasoit. He enjoyed sailing, skiing, bicycling, and computers.

Survivors include his father, Thomas and stepmother, Annmarie; his brother, Kevin R. Hunt of New Bedford; two stepbrothers, Daniel Harren of Melrose and Owen Harren of Norton; an aunt, Kathy Townley of Dartmouth; three uncles, Eric Giasson of Somerset, Gregg Giasson of Cumberland, RI, and Michael Hunt of North Attleboro; and several cousins.

His Funeral Mass will be celebrated on Monday at 10 AM at St. Mary's Church, South Dartmouth. Burial will follow in St. Mary's Cemetery. Visiting hours will be on Sunday from 4-8 PM at the Saunders-Dwyer Home for Funerals, 495 Park St., New Bedford. For directions and guestbook, please visit www.saundersdwyer.com
You can leave a message here
EDIT: I talked to a witness today that told me that Eric had crashed on the tracks and was then struck by a bus while trying to stand back up, this is in direct conflict with what the police are saying…I still don't know what happened, but it sounds like it might not have been as simple as passing a bus and falling under the wheels.
EDIT: Got this email today. Seems like a good idea.
Hey everyone as most of you had already heard weve lost another member of
our community this wednesday due to a questionable collision with an MBTA
bus in Boston, and though the circumstances of this tragedy are still under
investigation it doesent really matter who was at fault. Every one of us
faces the risk every time we go out riding in this city and I believe it
would be very appropriate to dedicate this months Critical Mass to his
memory. Perhaps a moment of silence or some home made signs and t shirts,
Im not sure but we are a close knit community and should pay our respect in
the best way we can. You can feel free to email me with any suggestions I
will be personally taking that friday of work to join everyone else in the
ride to raise awareness of our presence on the road and will be riding a
neon green dual shock mountain bike, dont be shy and say whats up. And
remember to be extra cautious when commuting around town.
Tags:
Eric Hunt
,
ghost bike
,
Take Action
Posted in
advocacy
,
news
|
15 Comments »