Written by Boston Biker on Jul 08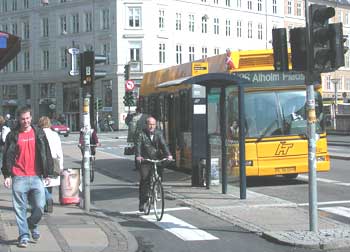 I know this is in New York City, but come on a $6,000 prize to create the post-automobile streets! Thats real money. Lets show them that we here in Boston got some smahts as well.
Transportation Alternatives yesterday announced the launch of "Designing the 21st Century Street," an open design competition that will challenge New Yorkers to safely accommodate pedestrians, bicyclists, transit, trucks and cars on the same "complete street" – something that still eludes New York City street design. Those interested in entering must register by July 18th and submit their entries by August 18th.
"Cities in the 21st Century are competing to be the greenest, most livable, most sustainable places possible, and we can't do that until we have better streets," says Paul Steely White, Executive Director of Transportation Alternatives. "This design competition is about unleashing the talent of New Yorkers and developing those streets today."
The competition focuses on the intersection of 4th Avenue and 9th Street in Brooklyn, a dangerous crossing that divides surrounding neighborhoods and inhibits street life. Competitors must re-imagine this intersection as a healthy, safe and sustainable street that serves pedestrians and bicyclists first, while functioning as a transit hub and truck route.
The jury includes artists, architects, City commissioners and local residents with a fierce interest in seeing their neighborhood streets become safer and more vital. In particular, the expertise of Danish planner, Jan Gehl, and former NYC Department of Transportation Commissioner "Gridlock" Sam Schwartz will ensure the viability of finalists as a potential template for New York City's unique streets.
The competition is open to the entire public. Entrants ranging from local students to career city planners are encouraged to submit designs. Prizes range from $2,000 to $6,000, thanks to the generous support of a Brooklyn business owner, who wishes to remain anonymous.
Entrants can learn more about the competition and submit entries at www.21stCenturyStreet.org.
Tags:
contest
,
money
,
new york city
Posted in
advocacy
,
news
|
2 Comments »