The Latest From BostonBiker.org
News, Events, Updates
Written by Boston Biker on Nov 16
More awesome light awareness campaigns from A Better City, and Bikeyface: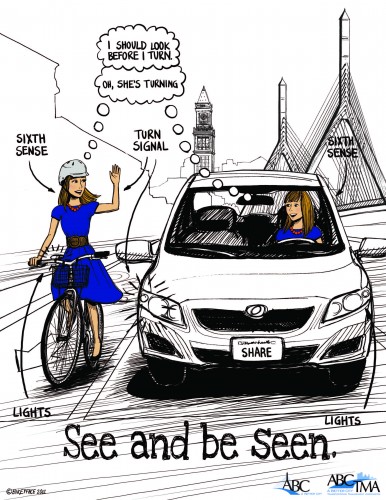 Read more about this awesome campaign here (excerpt below):
People Who Bike

As bikes increasingly share the roads with motorists and pedestrians, awareness and visibility become all the more important. These tips will help:

Be predictable. "Be predictable and visible" is the mantra for preventing a bike accident.
Install lights.  A white light in front and a red light in back is the law, and highly effective at night and in stormy weather.
Use turn signals. Use your arms to indicate your intention to turn left or right, or if you plan to stop.
Stop at all stop signs and red lights.
Wear eye-catching clothing.  This is why I like biking in skirts!
Hone your Sixth Sense. Over time, cyclists develop an almost zen-like awareness of what's going on around them. BikeyFace has a great post illustrating this.

People Who Drive

As Mayor Menino is fond of saying, the car is no longer king in Boston.  Here are some basic guidelines to help you be aware and stay visible in your vehicle. You can also try this fun awareness test video.

Use turn signals. Signals are imperative to communicate your intention to all road users.

Avoid cell phone use. Studies have found that talking on the phone while driving can have a negative effect "as profound as those associated with driving while drunk." Texting while driving is illegal in Massachusetts.

Don't stop in a bike lane. It's illegal (unless you are parallel parking) and causes people who bike to veer around you into car traffic that may not expect them coming.

Check for oncoming bike traffic after parking.  The Dutch are taught from an early age to reach across their bodies to open the car door, which forces them to look back for oncoming bikes. It's a good habit to get into! And remember: cyclists are allowed to bike outside of the bike lane.

People Who Walk

We're all pedestrians after we've parked our bikes and cars – and when we're taking the T. Be aware of your surroundings and make it easy to stay visible while you walk around town.

Be predictable. Follow pedestrian traffic signals. If you choose to jaywalk, make sure that there is zero approaching traffic in the form of motorists or people on bikes.
Avoid cell phone use. Cell phones can be as distracting on foot as behind the wheel, so why not sit at a park bench or wait until you're not navigating precarious city streets to have a phone call?

People Who Lead

In a perfect safety world, our elected officials and city planners would enjoy multi-modal lifestyles to better understand the needs of our fellow road users. The Commonwealth has a premier example of this in our Secretary of Transportation Rich Davey, who lives car-free and routinely takes the T to work.

Under Davey, MassDOT recently announced a first-in-the-nation mode shift goal to triple the share of trips taken by bike, walking and transit by 2030. Government can play perhaps the largest role in creating safe road conditions by investing in infrastructure that supports safe interactions among people who walk, drive, and bike. Changing our streets will be well worth the time, investment, and continued advocacy.
Tags:
a better city
,
bikeyface
,
lights
Posted in
advocacy
|
2 Comments »
The Word On The Street