Written by Bikeyface on Aug 31
You may already know me from my blog, Another Bike. Or perhaps this is the first you've heard from me. I will be contributing to the main Boston Biker page from time to time and I wanted to give a little introduction. My blog approach is a bit different: I like to draw pictures, be funny, offer very little in the way of useful information. Biking is fun and I want my posts to reflect that. But it's all about ultimately making Boston a better biking city which is an uphill battle. Because, as we all know, the streets here were clearly made for cars… especially SUV's with seating for 70 but, on a typical day, only carry a single driver and her Venti Decaf Mocha Nonfat, No Whip, No Foam, Latte.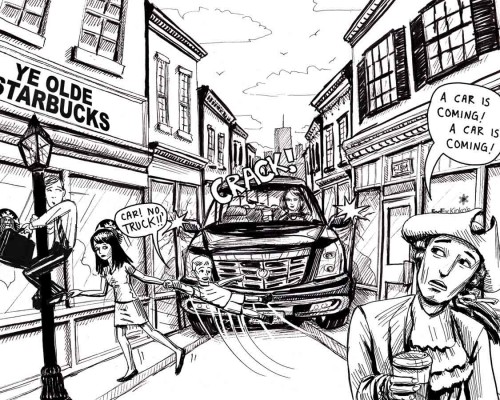 So I hope you'll enjoy indulging in the sillier side of our chosen mode of transportation from time to time. In the meantime catch up on the drawings to date. Be safe and have fun out there!
Tags:
drawings
Posted in
fun
|
2 Comments »