Written by Boston Biker on Aug 16
I honestly can't say what exactly would be done to solve this problem, but holy shit people are too attached to their cars. From the Brookline Patch.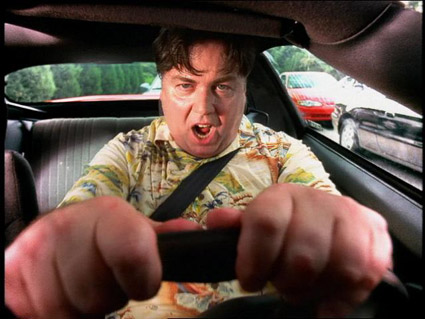 Police say Robert Nicosia, 66, sped through the park from the Jamiacaway to Pond Avenue, driving over grass and flower beds and weaving through trees at a time when the park was filled with people enjoying the warm Saturday afternoon.

The first officer on the scene reportedly tried to stop Nicosia as he sped along a paved walking path, but Nicosia reportedly pulled onto the grass and wove through several trees before going over the curb and driving down the wrong side of Pond Avenue. The officer reported that Nicosia appeared to be trying to strike a bicyclist that was fleeing him, but the cyclist was apparently able to stop short of the vehicle and turn around. (Read the rest here)
Seems that old man crazy driver got his mirror knocked off by a cyclists when they had a spat about the right of way. Now lets just assume for a while that the guy in a Lexus wasn't being a total dangerous asshole and actually had the right of way, lets also assume that the cyclists was totally nuts and out of line and did smash his mirror off. No amount of smashing of property justifies driving your car up onto the sidewalk and potentially into large groups of pedestrians.
Can someone help to explain to me this puzzle. Some small subset of drivers seem to have no problem with hitting you with their car, but get really really really upset when you smack their car to let them know how close they are to smashing into you. Its like "I hit you that's fine, you tap my car to avoid having me run you over…CRAZY!!!" If they were really worried about getting dents in their car wouldn't they want to avoid running into you in the first place? Hitting me with your car will put a significantly larger dent in your car than my hand giving your window a gentle rap to let you know you are about to run me over, so chill the fuck out.
I think we can say several things about this situation. One, be polite. Two, don't get in fights. Three, don't damage each other or each others property. Four, don't freak the fuck out and try to kill a bunch innocent bystanders with your Lexus. Five, you aren't going to catch cyclists, they are fast.
What Mr. Nicosia did catch was a whole lot of trouble from the law.
He was charged with assault and battery with a dangerous weapon, operating to endanger, disorderly conduct, trespassing, restricted way violation and marked lane violation.
Wow….just wow…
Tags:
crazy
,
dangerous
,
lexus
,
man
,
old
,
park
,
watch out
Posted in
news
|
19 Comments »