Written by Boston Biker on Apr 08
Sad news, today I read the following.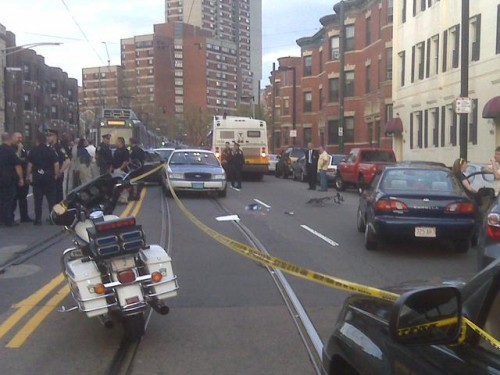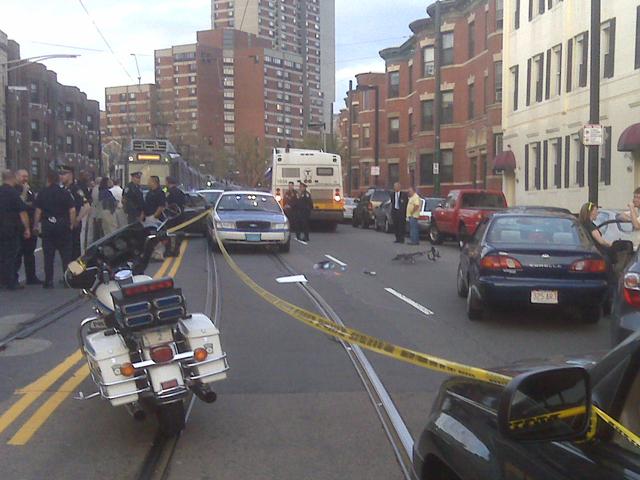 BOSTON (AP) – Authorities say a cyclist has died after losing control of his bike as he tried to pass a bus in Boston.

A spokesman for the MBTA says the 22-year-old man lost control as he tried to pass the bus on the left at the intersection of Huntington and South Huntington at about 6 p.m. on Wednesday. He fell under the moving bus.

Police say he was taken to Brigham & Women's Hospital, where he was pronounced dead. His name was not immediately released.

The MBTA says the bus driver is a two-year employee of the agency with a clean driving record. The driver was also treated at a hospital for stress related to the incident. (via)
I can only hope this sparks a constructive effort to make the streets safer for everyone, I will have more details as they emerge.
EDIT: Got this email from a witness.
as i left school at brookline village heading towards huntington ave i saw the whole street blocked off by cop cars and a mbta bus. huge pool of blood
and a cream colored track bike on the ground. a couple officers confirmed it to be a fatal hit. im not sure what hit the rider but the cops were examining the bus so my guess is that. horrible thing really.
EDIT: It now seems like he was struck because his bike was stuck in the tracks…
The bicyclist was identified as a 23-year-old man, who was trying to pry his bicycle wheels from the trolley tracks. T police said the bicyclist was struck after he made contact with the rear of the bus.

"As a result, the male was pronounced dead not long after arriving at the hospital," Boston police Superintendent Rafael Ruiz said.

Several witnesses said the victim's bike got stuck on the Green Line train tracks moments before the bus hit him. They said the bicyclist didn't have a chance.

"I was coming off the 66 bus, coming down here, and I saw this person get stuck on the tracks. (He) didn't have a lot of time to react," said Joe Leary, a witness.

Witnesses said the man was struggling to free his bike when the bus came around the corner heading east. The driver had about 150 feet to react.(via)
From what is written in that article it seems to me like his bike was stuck in the tracks and the bus just came around the corner and hit him…150 feet is a long time to slow down if you are going a reasonable speed. This might indicate that something needs to be done on that very heavily bikes part of that street in order to make it safer for bicyclists. I know many many people who have crashed on those tracks, and now sadly someone has been killed because of them. It might also mean that bus was going way way too fast.
EDIT: I have no idea if he was stuck in the tracks, or tried to pass on the left, but we now know the following:
"Eric Michael Hunt, 22, of Mission Hill, died at Brigham & Women's Hospital after being struck at about 6 p.m. at the intersection of Huntington and South Huntington, said T spokesman Joe Pesaturo."
EDIT: Some people are working on getting a ghost bike up tonight/tomorrow, feel free to stop by and leave flowers, and remembrances.
EDIT: Got this:
to anyone who commutes through that intersection, here is a tip. I do that route every single day. Something Ive found to be really helpful is that there's a parking lot that runs behind the apartment buildings on the last block of Huntington. If you're coming down South Huntington, make the last turn before the intersection and it will take you behind the buildings and dump you closer to Parker hill ave. When its super busy traffic, or there's a bus unloading people at the stop, its very helpful and much safer.
EDIT:
Authorities have said Hunt was killed after he tried to pass a bus and lost control of his bike. The accident happened as Hunt was riding east on Huntington Avenue near the South Huntington Avenue split at about 6 p.m. (via)
Passing a bus on the left is NOT illegal for a cyclist, in fact is often much safer than passing on the right. I wonder if the tracks led to the accident? More details when they become available.
EDIT:
More information about Eric Hunt
Hunt's father said his son was set to graduate next fall from the Wentworth Institute of Technology, where he studied computer engineering technology. He said Hunt has three uncles and a step-brother who are engineers and his son wanted to follow in their footsteps.

Hunt was an organ donor and tissue from his legs is being donated to help children with cleft palates, his father said. A funeral Mass will be held for him on Saturday or Monday at St. Mary's Church in South Dartmouth, where Hunt grew up. He was a 2005 graduate of Bishop Stang High School.(via)
EDIT:
More ghost bike info. 11pm tonight if interested. (here)
Tags:
cyclist killed
,
mbta bus
Posted in
news
|
24 Comments »