Written by Boston Biker on Apr 08
I just got another tip that there might have been a serious crash near the common today around noon? Anyone have info about this?
Be safe out there people.
EDIT:
Got this
This is so sad. I just passed by the aftermath of what looked like a pretty bad crash. At the intersection of Charles st. And beacon st. At the corner of the common there. Police lines around a car with it's windshield smashed in. Cannondale road Bike on the side of the road with it's front fork and wheel snapped off entirely. Looked like it was maybe a head on collision. Anyone have any more info? Thoughts are with them, hope they're alright. Stay safe everyone.
EDIT:
Picture from FLICKR with the caption: "Boston Common: A bicyclist got completely destroyed by a car. Blood on the streets. Police cordon off the area"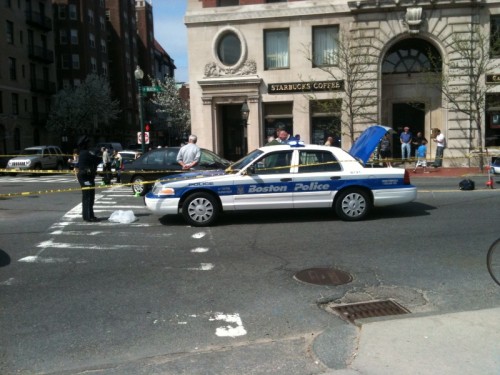 And this tweet seems to indicate the person was killed, we don't know though.
"Please be careful on your bicycles. There was another cyclist hit and killed today next to the common. The scene is horrific!"
More Tweets on this here:
http://twitter.com/sexcin6/statuses/11835449815
http://twitter.com/bostoncitygirl/statuses/11835787668
http://twitter.com/SuperUber7/statuses/11836436686
EDIT:
From the picture above it looks like a car was turning left to go up the hill and someone smashed into it head on. What I don't understand is why the car is on that side of the street pointing up the hill? That intersection is light controlled, and it looks like he made the turn really sharply…hill+speed+car going the wrong way could have resulted in this crash. More details as I get them.
EDIT:
Got some picture of the crash, warning some are kind of gruesome.
Image credits:
C. Van Arnam (so biker can find witness if needed).
From the witness
"would you believe 6 mos + 1 day ago i was hit in a crosswalk (pedestrian) ?! so hoping the guy made it too."
The captions are from the witness.
Bloody puddle on street.
(warning graphic image click to view)
EDIT:
Just got this
"Just went near here ~10 minutes ago, further up Beacon St. towards the state house. The westbound lane from Park St. down to Charles St. is closed off, traffic is still going up the hill eastbound. Asked two officers if there was a fatality and they both said they weren't sure. Either way. having things closed off for this long can't be a good sign. "
EDIT:
It would seem from the pictures and reports that this may have been car driver error, and I really hope this guy is ok.
EDIT:
Just got a report that the cyclist struck has died…This is horrible.
EDIT: FU Fox news…Seems now they are saying that the cyclist didn't die….I will wait till I know for sure till I report something new.
EDIT:
"The 37-year-old unidentified man had life-threatening injuries" Hopefully this means that the cyclist is still alive. I also like this article because it does lay out how rare these kind of horrible crashes are, but still urges safety. (via)
EDIT:
Herald has this image of the crash (don't read the comments, it will make your head explode)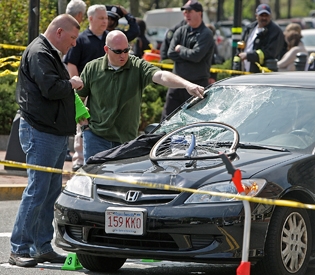 This picture continues to make me think that that car has no business being at the angle that it is…I find it impossible that a person could make that kind of dent in the front of the car without the car being pointed up the lane the wrong way.
Tags:
common
,
crash
,
rumor
Posted in
news
|
40 Comments »