Written by Boston Biker on Mar 19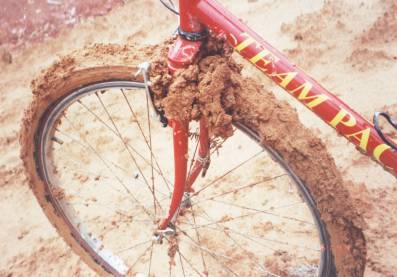 It's racing for people who think that their clothes should be a whole lot dirtier after the race than they were before.
Saturday 4/12 – Sludgement Day: The Day of Wreckoning – Randall's Island Cyclocrossterium Circuit Races. Rat Pack Hustle sprint competition. Side events like skid-hockey, mudsprints, grasstrackstands.
Tuesday 4/22 – Randall's Island Tracklocross. Grasstrack racing.
Tuesday 4/29 – Randall's Island Tracklocross. Grasstrack racing. Maybe your bruises have healed by now. Maybe not.
Saturday, 5/10 – Harlemegeddon Cyclocross Alleycatastrophe – The Uptown Beatdown. A full-length NYC alleycat featuring offroad checkpoints in Northern Manhattan. Come get tired.
more details and some bad words below the fold (you have been warned)
Hello folks. This is mattio from New York City, and I am right now standing on top of the Empire State Building with a big goddamn bullhorn aimed in your general direction, yelling at the top of my lungs about a race series that me and some ruffian motherfuckers known as Team Wreck Stuff are throwing this spring.
Prizes and points will be awarded for each event. The prizes are for you to take home and email your parents about. The points count toward an overall classification, and the people with the biggest numbers when we're done will get more things to take home and email your disapproving parents about.
Sponsors include: Continuum Cycles, Affinity Cycles, Mer Bags, Fabric Horse, Laek House, Visitor Design, Mishka NYC, Profile Racing, Ghostship Clothing, Keirin Culture… with many more to come!
We'll keep up-to-date information on this piece of technology.
Invite your friends and those enemies who you spend too much time smiling at and wish to destroy on the racing grounds of Randall's Island. Carpool. Take the Chinatown Bus. Come to NYC and race at one of the last places that's still quiet enough to cause trouble at night.
Tags:
alleycat
,
cyclocross
,
new york
,
track racing
Posted in
fun
|
3 Comments »