Written by Boston Biker on Mar 17
One of the secret perks of starting a blog about cycling is that every once in a while you get free to stuff to review.
A couple weeks ago I got my hands on a Clean Bottle.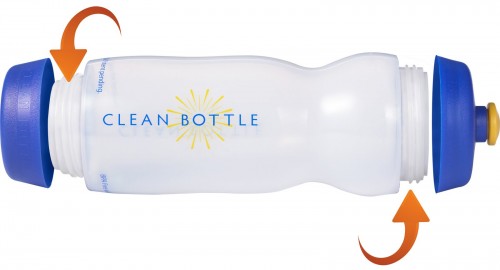 The Clean Bottle's claim to originality (because lets face it we all have a million water bottles) is it's unique second "lid" on the bottom. This allows for super easy cleaning out of all that nasty goop that seems to form in the bottom of your water bottle (especially if like me you never clean your water bottles ).
I was a little skeptical when I got the bottle. I mean really does anyone need another water bottle, even one with a fancy removable bottom? So I determined to give it a good testing, I threw it in my bag (with and without liquid in it), tossed it in the bottle cage, drank from it at my desk, drank from it while riding, tossed it on the ground, etc.
I was pleasantly surprised by its rugged nature, and was also pleased that it didn't seem to have any trouble with leaking. The mouth bit is nice and rubbery so you can open it with your teeth while riding without chipping a tooth. The top seals well so there is no dripping when you drink from the bottle (something I hate about cheap water bottles). The bottom part provides a nice seal on the bottle even when you squeeze the life out of to get that last drop of water out. And yes its a breeze to clean.
The only thing I found wrong with this bottle is that it might be a little too solid for some. I think they had to make the body plastic a little tougher than a normal water bottle so that the threading of the bottom cap would provide a watertight seal, this means you have to squeeze it a little harder to get the water to come out.
I also found that just sucking on the mouth part didn't get enough water out because my mouth wasn't able to get enough suction to bend the tougher plastic. Both of these are very minor issues, that got better as the plastic got a little worked in from me using the bottle.
Overall I would recommend this product. Especially if you regularly drink non-water (Gatorade, Cytomax, etc) in your water bottle, as these tend to cause the most nasty to form.
Tags:
clean bottle
,
review
Posted in
reviews
|
3 Comments »