Written by Boston Biker on Oct 31
Got this in the email today, looks like a cool movie. Plus BNB rocks my freaking socks off, so you should support them.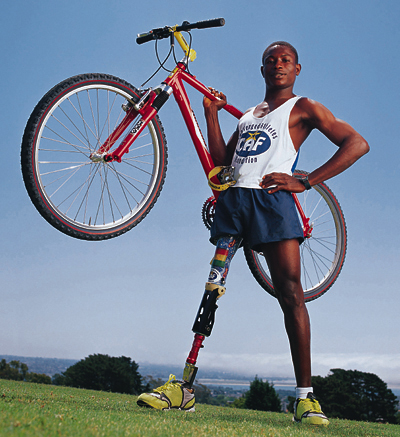 —-
GHANA FILM: EMMANUEL'S GIFT, with BIKES NOT BOMBS Thursday November 6 6:30-8:30

Screening at the City Year Headquarters
287 Columbus Ave
Boston, MA 02116

Full info and a map at http://www.bikesnotbombs.org/node/419

With donated bicycles from Boston and the support of hundreds of local volunteers and donors, Bikes Not Bombs is co-sponsoring the development of a retail shop to be collectively managed by physically challenged people in Koforidua, Ghana. Join us for an inspiring film and discussion about this endeavor.

BNB is undertaking this project in partnership with a foundation in Ghana created by an extraordinary man, Emmanuel Yeboah. The First Look Pictures documentary, Emmanuel's Gift (trailer and photos here:
www.emmanuelsgift.com) by Lisa Lax and Nancy Stern, is narrated by Oprah Winfrey. Following Emmanuel's struggles and achievements, it gives a background for this new project.

For insightful updates and beautiful photos, please check out the blog of David Branigan, BNB staff in Ghana: http://bikesnotbombs-eefsa.blogspot.com/ and his photos page at http://www.flickr.com/photos/bnbghana

A five minute documentary on BNB, One Peace at a Time by Allegra Anderson, will open the evening, and a discussion with Carl Kurz, BNB's founder and International Programs Director, will follow the screening of Emmanuel's Gift.

Special thanks to City Year for generously allowing BNB to take advantage of their hi-tech, new, green media space.

Please spread the word. Please contact [email protected] or
617-522-0222 x100 if you are available to help distribute flyers!

Tickets are $7-$15, sliding scale and available for purchase online at http://www.bikesnotbombs.org/node/419, or by phone: 617-522-0222, or at the door.

MORE INFO:
Bikes Not Bombs is working with Emmanuel's Education Foundation and Sports Academy for the Physically Challenged (EEFSA) to establish a bicycle workshop that will employ physically-challenged people in the city of Koforidua. Our trainer/mechanic David Branigan has been in Koforidua since May 2008 getting the shop setup and training the new mechanics. The micro-enterprise model plans for the eventual cooperative ownership of the business by the mechanics. We sent our first container of aid on April 26th 2008 with the tools, parts and bikes necessary for the establishment of the workshop. Included were workbenches custom-built by volunteer Paul Martin to be accessible from wheelchair height.

The film Emmanuel's Gift tell the story of Emmanuel Ofosu Yeboah, a physically challenged athlete who rode a bicycle across Ghana with one leg in his campaign advocating for the rights and abilities of the physically disabled in Ghana. Emmanuel's campaign influenced the Government of Ghana to pass a Disability Rights Law that protects the rights of the physically disabled. Emmanuel went on to establish the Emmanuel Education Foundation and Sports Academy for the Physically Challenged with the financial support he received from the international community. He has been the winner of numerous awards including the Arthur Ashe Courage Award and the prestigious Casey Martin Award offered each year by Nike corporation. His leadership in bringing dignity and inspiration to the growing international movement for the rights of the disabled has led his people on to a new paradigm in Africa, one that challenges the stigma of poverty and self-deprecation that has pushed disabled individuals into the destitution of begging and marginalization on the fringes of society.
Posted in
events
|
No Comments »