Written by Boston Biker on Apr 30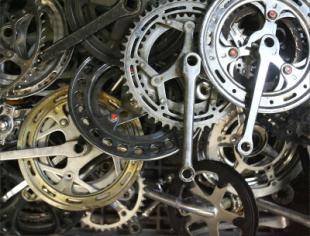 Get rid of that old frame you have been meaning to build up for years (you know you aint gonna do it!), or pick up an old frame to build up. Hell just come check out this cool event. On Saturday, May 3, from 10am-2pm, there will be a bike swap fundraiser held at MIT to benefit Bike & Build (www.bikeandbuild.org). Bike & Build is a non-profit dedicated to raising money for affordable housing causes. This summer, they will be leading seven cross-country cycling trips, and along the way, riders will stop to build homes with local affordable housing. The swap organizers will be riders on the Boston to Santa Barbara route.
Bike Swap Details:
What: Come buy, sell, or trade new and used bike gear (and bikes)
Where: Walker Memorial – Morss Hall, MIT
142 Memorial Drive, Cambridge
(click here for more details)
When: Saturday, May 3, 10am-2pm
$5 general admission
$15 to sell (tables provided, setup from 9-10am)
Parking: There is limited street parking on Memorial Drive and Ames St. Your best bet would be to park in the Hayward Lot or in the Cambridge Center garages on Ames St. & Broadway (see here).
Email [email protected] to reserve vendor space, or for more information
Posted in
events
|
No Comments »