The Latest From BostonBiker.org
News, Events, Updates
Written by Boston Biker on Jan 26
Sometimes people are nice enough to send me products to review.  So just know I got this for free, and that might bias me in ways I can't consciously know about.
I was sent this pump a while ago, and have been playing around with it for a couple of weeks.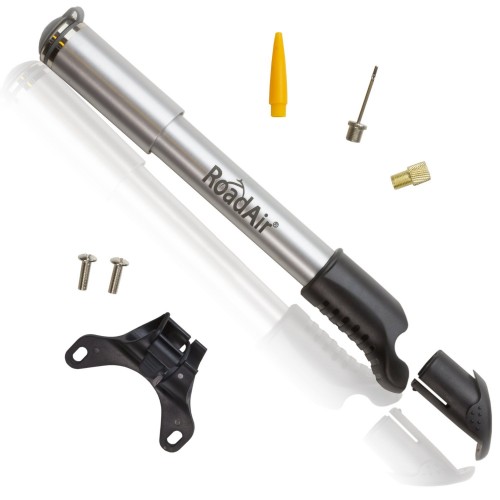 Mini-pumps are the ones you toss in your bag, and rely on when you get a flat out in the middle of nowhere and need to push enough air into your tire to get you home.  It obviously is never going to work as well as a floor pump, but you need them to get enough air into your tire to roll home gingerly.
The RoadAir mini-pump is certainly small enough and light enough to carry around with you, and if you want  you can even mount it to your bike (I just tossed it in my bag).  It feels sturdy when you grab it, and doesn't bend of flex in strange ways when you use it.  The all metal frame helps with strength, and the plastic grip isn't too bad (my hand didn't slip off when pumping).
The metal body does get crazy cold in the winter, but if you are unlucky enough to get a flat in the snow I would suggest going into a store with your tire and waiting until the whole works warm up…or put a glove on to grab the aluminum part.  This isn't really a problem I think a lot of people will run into.
The pump has a clever way to get around the number one problem with mini-pumps, the pressure put on the valve stem when filling.  Most mini-pumps attach right to the valve stem, and because they offer little to no mechanical advantage when pumping a tire, putting 100 psi of air into a tire, requires a herculean amount of force to be applied to your tiny little valve stem.
If you have long valve stems the force from the pumping can easily bend or break them.  You end up putting your leg up against them, or trying to figure out a way to brace it on something, this pump comes with a long rubber tube that pulls out of the end allowing you to bend and flex the body of the pump without putting too much pressure on the valve stem.  The longer hose also allows you access those hard to reach valve stems on strollers, and other non-bike inflated tires.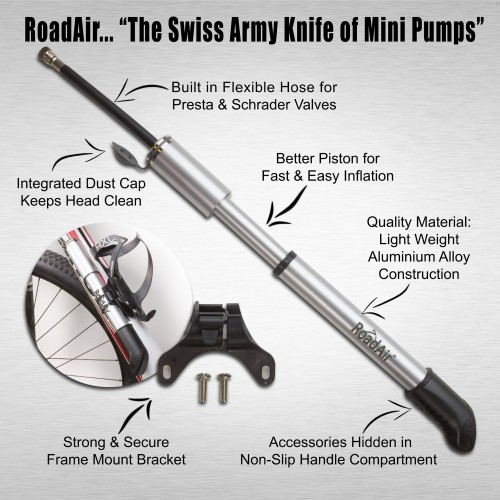 The rubber of the tube is very "aromatic" (it absolutely stunk of vulcanized rubber) when you first get it, so I recommend letting it hang out open in a well ventilated area for a day or two to let the rubber smell wear off before putting it in your bag.  The contents of my bag had a lovely rubber smell until I let the pump "air out" (bike pump pun!) for about 12 hours.  After which the smell was gone.
All the accessories tuck into the back of the pump, and are easy to loose if you don't carefully remove the back when emptying them out (they flew all over the room), but really the only thing you will probably want is the presta-schrader valve adapter, which is small and easy to loose, so I just leave it permanently attached to the end of the tube, even though it keeps the dust cap from closing.  It would haven been nicer to have a more elegant way to switch from presta to schrader, or perhaps just a bigger dust cap, but this is not a deal breaker for me.
The pump puts air in your tire, it does it without weighing too much, or damaging your valve stems.  It doesn't feel like a cheap plastic piece of crap, and I feel like it could take a beating before it broke.  All in all not a bad little pump.  I would recommend this pump if you are in the market for one.  The price put's it above the average for these sorts of things, but its a quality product that isn't too pricey.
Verdict: good pump, buy one if you want a good mini-pump that wont break your valve stems off.
Tags:
free stuff
,
mini-pump
,
review
,
road air
Posted in
Merch
,
reviews
|
1 Comment »
The Word On The Street