The Latest From BostonBiker.org
News, Events, Updates
Written by Boston Biker on May 26
Hubway will add more than 70 bike-rental stations over the next two years to the 127 it already operates in Boston, under a new contract with the city of Boston, Mayor Walsh's office said today.

Currently unserved areas in Roslindale, Dorchester and Mattapan will get new Hubway stations under the terms of a new contract negotiated by Boston with Motivate International, the system's parent company. Hubway will also add additional stations in existing service areas to better handle demand – and add new stations in Cambridge, Somerville and Brookline.

Work to come up with specific new locations will begin with public meetings this summer, the mayor's office said.
Tags:
expanding
,
great!
,
hubway
Posted in
advocacy
,
Commuting
,
infrastructure
|
No Comments »
Written by Boston Biker on Apr 06
Got a tip from Ron about this in the email, looks good, except that one up on highland is going to need to be constantly restocked, because people will want to ride downhill…but not up.
——————————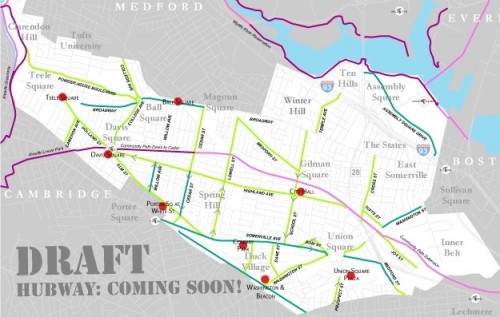 City officials released a first-look map of possible locations for eight Hubway bicycle rental stations in Somerville.

The stations, sprinkled throughout the city's myriad squares, are expected to open by about July.

Before the end of the summer, Hubway locations are expected to sprout in Brookline and Cambridge, expanding the network's reach beyond Boston city limits.(via)
Tags:
expanding
,
hubway
,
somerville
Posted in
bostonbiker
,
Commuting
,
infrastructure
|
2 Comments »
The Word On The Street