The Latest From BostonBiker.org
News, Events, Updates
Written by Boston Biker on Dec 07
First, Weigl wasn't in his multi-media class Thursday morning. Then, a fellow classmate reported seeing a horrible accident on the way in.

"She said, 'I accidentally looked over and I saw what happened and it was terrible and I didn't mean to see it — I really didn't want to see what happened. And she saw the bicyclist under the truck," said Weigl's professor, Peter Smith.

Minutes later, Professor Peter Smith told students the cyclist was their classmate.

"Everyone went into tears. Chris is one of the most loved students, one of the most brilliant grad students to come through here," Smith said.

Weigl was a soft-spoken, talented photographer whom others admired.

"He was just a terrific person. He was so motivated and he really went out of his way to help anyone," said Michael Cummo, a classmate.

Four weeks ago another BU student was killed when he was hit by an MBTA bus at Harvard Street and Brighton Street.

Read more: http://www1.whdh.com/news/articles/local/12009250109885/bu-student-on-bike-killed-in-collision-with-truck/#ixzz2EOAaCPq6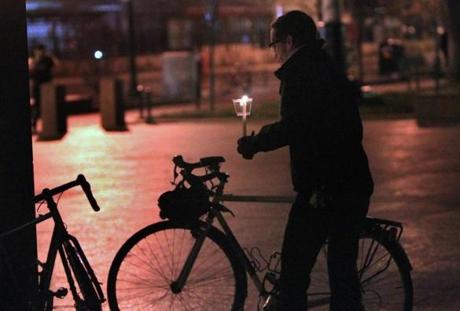 Christopher Weigl was ready to submit his ­final project of the semester Wednesday for a multimedia class at Boston University when a technical glitch stole all his editing work.

It was the kind of thing that makes the average first-year graduate student crumble. Not Weigl.

He stayed up late Wednesday, finished the project, and sent it electronically to his professor, whose class he was scheduled to attend at 9 a.m. Thursday, said Peter Southwick, director of photojournalism at BU's College of Communication.

Weigl never made that class. The 23-year-old photojournalism grad student was killed on Commonwealth Avenue at 8:36 a.m. Thursday after his bicycle collided with a tractor-trailer turning onto St. Paul Street.

…

Boston police said Weigl, who was riding in a marked bike lane, was wearing a helmet Thursday.
A bicyclist joined in the vigil for Christopher Weigl.

Barry Chin/Globe Staff

A bicyclist joined in the vigil for Christopher Weigl.

"He was a calm hand on the wheel, had tons of common sense, very aware of the risks of riding a bike," said Charlie ­Maher, one of his three roommates. "He was smart. He wasn't some reckless kid on a bike without a helmet. That's not the way he is at all."

The professor in Weigl's multimedia class, Peter Smith, canceled regular class affairs Thursday, opting to honor Weigl's memory by showing his final project and another student's project, which happened to be a video profile of Weigl.

Dan Herard, Weigl's roommate and friend since grade school, said Weigl was the glue that kept friendships together. A "goofy" guy who always had a smile on his face, Weigl enjoyed the outdoors, dancing to techno music, and seemed to befriend everyone he met, Herard said.

"He always kept a positive attitude," Herard said. "He was one of those people. Drove some people nuts because he was always happy. He was just Chris; there's so much that ­encapsulates that."

Kuan Liu was aboard the Green Line's B train Thursday morning when she came upon the chaotic scene on Commonwealth Avenue: a body covered in a white sheet under a tractor-trailer. A devastated Liu later learned the person under that sheet was the very first friend she made at BU, where she is enrolled as an international student. He was her assigned ambassador at the school, helping her navigate a new school and country.

Weigl would invite Liu to his Brighton apartment, as he did all his friends, to watch television. When Liu could not under­stand what was being said, Weigl would patiently ­explain it all.

"He would always help me. He would walk me home when I was by myself to make sure I'm safe," Liu said. "I can't imagine this person in my life is the person under the white cloth."(via)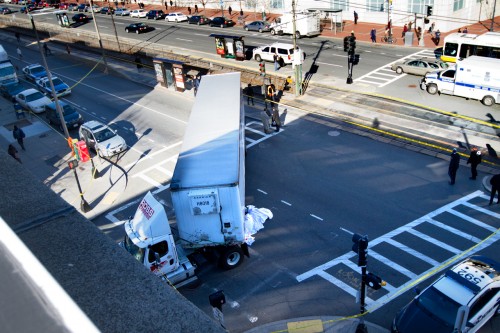 "He was one of the best graduate students I've had here; he took responsibility for all of his work and met every deadline," senior lecturer Peter Smith told BU Today. "He was the kind of student you hope for."(via)
Several years ago I was on a ride of silence (a memorial ride for people killed on bicycle). I came across the father of Mike Hunt. He was there giving out little cards with his sons picture on it, looking us each in the eye, hugging us, and telling each of us thank you for remembering his son.
Tears still come into my eyes when I remember this poor mans face. The natural order of the world had been revoked, and a father was morning the death of his son. I still have that little card, and on days like today, when another young cyclists life has been taken I sometimes look at it and think hard about all the times I have almost been killed while riding my bicycle.
There is something profoundly wrong with the way our transportation system is set up. It doesn't work for pedestrians, cyclists, or motorists. Car driving is a dead end activity for urban areas. There is nothing good about owning a car in a major city that can't be supplanted or surpassed by good public transportation, walking and cycling. Our cars are literally going to be the death of us, either through crashes, health problems, or global warming.
The death toll from crashes, asthma, obesity, global warming, and heart attacks must stop. It's time we stop planning our infrastructure around how best to accommodate current conditions, and start planning our infrastructure around what we want our cities to look like. We need to set goals, and work our way towards them.
Its time we take a hard look at when and how we let large vehicles use our streets. Its time we start decreasing the number of cars that use our streets. Its time we dramatically improve the cyclist and pedestrian infrastructure in our city. Its time we get creative with how we fund public transportation.
We shouldn't accept a single death from driving a car, walking, or cycling. Its simply unacceptable that people die while just trying to move from point A to point B.
My heart breaks for the family of Chris Wiegl. I think about him and and I worry about what my own mother would have to go through had I been the victim of such a senseless act of carelessness. We must find a way to end this.
Tags:
chris weigle
,
cyclist killed
,
heart ache
Posted in
bostonbiker
,
news
|
9 Comments »
The Word On The Street