The Latest From BostonBiker.org
News, Events, Updates
Written by Boston Biker on Dec 18
This from the people over at The Chorus Gallery, looks like a lot of fun, if you are of the art persuasion submit something.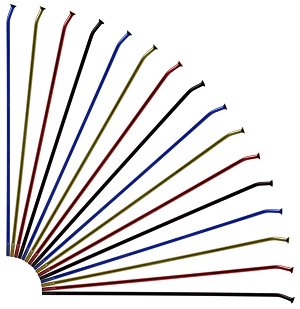 —–
We now interrupt our regularly scheduled program to bring you a fun bike art event for the whole family.
Spoke Count is a collaborative installation featuring 100+ small works about bikes by various artists. It is estimated that there currently exist over one billion bicycles in the world- this show will attempt to visualize this (growing) mass of our favorite revolutionary transport. We are inviting you, the art and cycling community, to provide us with 100 8 inch x 8 inch drawings of bicycles which we will exhibit during January 2010. Our reception will be on Sat Jan 9th, between 7-10 in the evening at Chorus Gallery in Union Sq.
We will not be picky on media or image. Your submission can be, but is not limited to, a print, photograph, digital image, made out of cut vinyl, or even a drawing. It can be your little sister on a bike, a lug, or painfully accurate drawing of 365 spokes in a pile. All that we ask is that it is of some part of a bicycle and we can mount it to the wall by two map pins.
Spoke count will be a open show for 100 lucky participants. So RSVP ASAP here, and deliver your art work by Thursday January 7th by 5pm (feel free to drop off earlier than that during Open Bicycle's normal hours).
Simply:
– Unframed– able to be punctured and supported on a wall by a map pin.
– 8 inches x 8 inches.
– Bicycle content.
All works will be for sale and priced at $40. Doesn't matter if you never draw or have been a finalist for the Venice Biennale, the work will be for sale at $40. Full disclosure, we will be splitting all sold work 30% gallery and 70% artist, as is our standard. But feel free to trade drawings with friends, we don't mind.
Expect another of our exceptional receptions on the 9th– drinks, dancing, music, and lots of art to look at.
See you soon
Signed,
The management.
Tags:
art
,
bicycles
,
Chorus Gallery
,
Open bicycle
Posted in
fun
|
No Comments »
Written by Boston Biker on May 13
Go get some culture you dirty biker! Open Bicycle will be hosting this great event, go check it out.
Chorus Gallery Presents:
Friday May 15, 8p – 11p
Four Flights
Featuring the work of:
Fionn McCabe
Joe Keinberger
Brian Hart
Arthur Henderson
Show Curated by Michael Dacey
Chorus Gallery is located at approximately 285 Washington Street,
On the corner of Washington & Hawkins Streets in Union Square, Somerville, 02413
Please call 617.666.6736 with questions or email [email protected]
There will be free drinks all night long, so ride/drive safe.
Tags:
art
,
Chorus Gallery
,
Open Bicycke
Posted in
fun
|
No Comments »
The Word On The Street