The Latest From BostonBiker.org
News, Events, Updates
Written by Boston Biker on Jun 02
From the email:
You're invited!
Join us, the Boston Transportation Department, for a public meeting about Beacon St


Monday, June 12

|

6:00 pm


Main Branch of the Boston Public Library
700 Boylston St | Commonwealth SalonWe have developed a concept design based on the feedback that we received from you and other community members last year. We collected input via a public meeting that was held in June, and a community survey that was conducted after that meeting.

At the meeting, we will
share information about the four design alternatives that we considered
review the proposed redesign, and give you the opportunity to see the details
We hope that you will
share the meeting information with your neighbors, download a flyer here
join us to discuss the plan with your neighbors
give us your feedback so that we can incorporate it into the design; if you can't attend, be on the lookout for information on how to give feedback after the meeting
Tags:
beacon st
,
boston
,
vision zero
Posted in
advocacy
,
Commuting
,
infrastructure
|
No Comments »
Written by Boston Biker on Aug 07
Check in with your friends.  Does anyone know who this is.  This is horrible, and marks yet another instance of large trucks having fatal interactions with cyclists.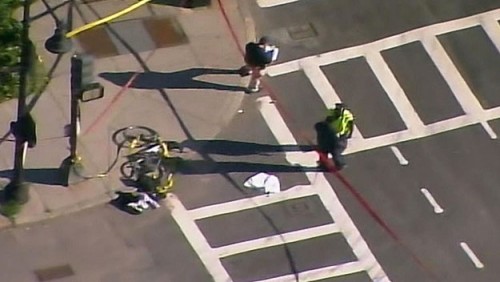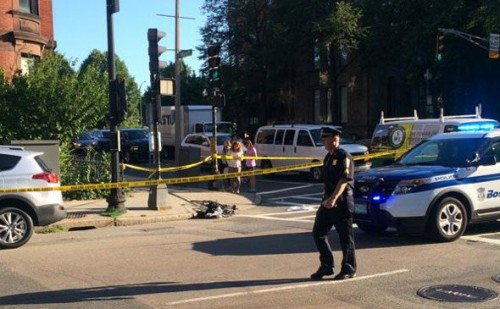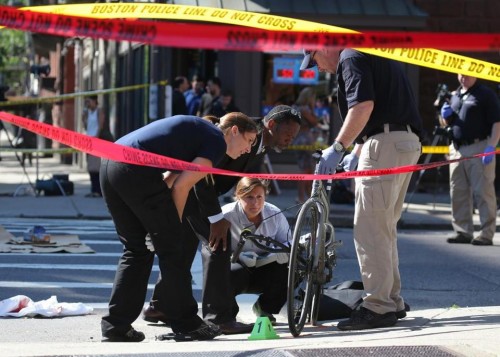 ——
A woman riding a bike was struck and killed by a truck in an apparent hit-and-run in the Back Bay Friday morning.

The cyclist was hit by the rear wheel of a flatbed truck as it turned off Massachusetts Avenue onto Beacon Street around 7 a.m.

The woman was rushed to Massachusetts General Hospital where she died a short time later, according to police.

Her name has not been released, but investigators said she was in her 20's. (via)
If you see a truck matching the following description let police know right away.
Police said it is possible the truck driver was not aware the cyclist had been hit.

They're looking for a flatbed truck with a red sleeper cab and a damaged chrome grill.

A city traffic camera has video of crash, according to police, and authorities plan to release images of the truck soon.

No other information is available at this point in the investigation.
Does anyone know who owns this bike?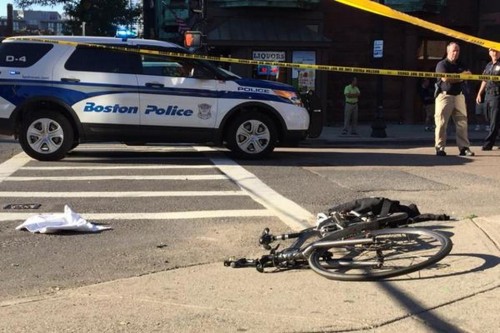 More info from the globe:
She was struck by a tractor-trailer unit pulling a flatbed trailer loaded with steel, said Boston Police Superintendent Bernard O'Rourke. Police were called to the scene at 7:05 a.m.

He described the tractor-trailer as having a red sleeper cab with chrome air horns on top of it, and some damage to the grill. He said the truck driver may not have seen the bicyclist, but stressed the investigation is just starting.

He said surveillance cameras in the neighborhood captured the incident and some of that footage may be released to the public later Friday.

"It's a very, very tragic situation,'' O'Rouke said.

The search for the vehicle is underway. "We are checking everything we can. We are looking at every single surveillance camera we can check," he said. "We're doing whatever we can to find the truck."

Zach Cloyd, 31, who lives next door to the scene, said he stopped biking home from work because this particular intersection is dangerous.

"That exact corner, waiting at that corner, I've had someone almost hit me as they were turning right," he said.

In the aftermath of the crash, there was a bike with a crushed handlebar laying at the intersection and nearby a helmet laying next to the bike.(via)
EDIT:
This is the truck they are looking for: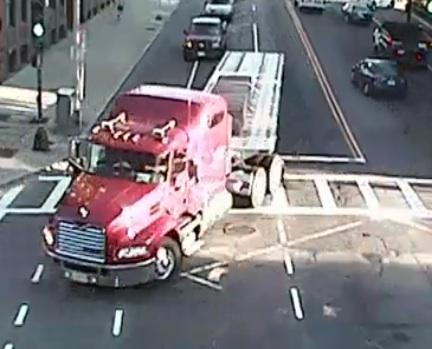 (via)
EDIT:
See a periscope of the officer at the scene talking about the crash.
EDIT:
UHub reports this is a very dangerous intersection, which we figured out in 2013.  Lets hope we do something with that data now. (via)
The Back Bay intersection where a bicyclist was hit and killed this morning was identified in a city report two years ago as the most dangerous in the city for bicyclists.

A 2013 report on bicycle safety commissioned by then Mayor Menino found the intersection of Beacon Street and Massachusetts Avenue had more bicycle crashes than any other – and noted it was just two blocks away from the second riskiest intersection for bicyclists:

We found that nearly 60% of all bicycle collisions occurred at street intersections. Of the 7 locations with 5 or more geographically identical collision locations, the top two intersections with the highest number of crashes were in the Back Bay/Beacon Hill neighborhood, with 14 collisions at Beacon St and Massachusetts Ave and 12 collisions at Massachusetts Avenue and Commonwealth Ave (Westbound).

H/t Penny Cherubino.
EDIT:
BPS has released more pictures of the truck.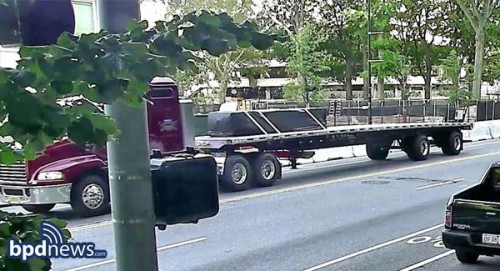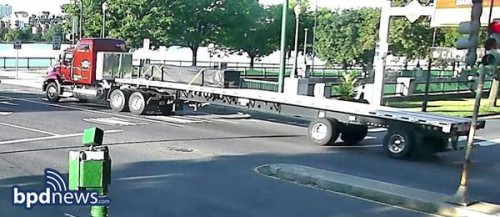 They have also said that the woman was in her early 30's not her 20's.
EDIT:
They found the driver and the truck.  No charges filed yet.
Tags:
beacon st
,
boston
,
cyclist killed
,
mass ave.
,
senseless
,
tragedy
,
woman
Posted in
news
|
7 Comments »
The Word On The Street