The Latest From BostonBiker.org
News, Events, Updates
Written by Boston Biker on Dec 03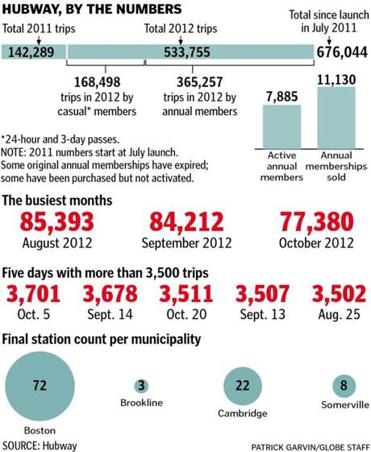 The Hubway bike sharing system had a record breaking year, and is going to continue its steady expansion next year. With trips over 50% higher than expected, year round operation and steady expansion are in the works for 2013.
Hubway recorded 533,755 rides before shutting down for the season Wednesday night, pushing the cumulative total to 676,044 since its July 2011 launch, roughly 50 percent better than planners had hoped.

Now, officials are envisioning a future with Hubway running year-round and fanning out across all Boston neighborhoods and many surrounding communities, beyond the current 105 stations — 72 in Boston, 22 in Cambridge, eight in Somerville, and three in Brookline — and 1,003 bicycles.

"Everybody's been calling," said Jessica Robertson, transportation coordinator for the Metropolitan Area Planning Council, which helped Boston launch Hubway and expand across municipal borders for its second season. Cities as far off as Pittsfield and Portland, Maine, have inquired about starting satellites, while local communities, starting with Newton, want to tie into the existing map.

A typical station with bikes costs about $50,000 and requires $10,000 in annual subsidies, though operations are expected to be covered fully by user fees and advertising as Hubway matures. Those costs make expansion contingent on grants, private sponsorship, and local taxes, and the outward march is incremental — far-flung stations do not succeed in a system designed for short trips and rapid transit.

But a winterized Hubway could happen by December 2013. Current contracts and permits call for a nearly four-month closure, but the two-thirds of Hubway stations located on plazas and sidewalks could remain in place without posing an obstacle for street plowing.(via)
More information about the first Hubway rider to reach 1000 miles here. Kid is pretty nice.
Tags:
all hail hubway
,
awesome
,
hubway
Posted in
Commuting
,
infrastructure
|
9 Comments »
The Word On The Street