The Latest From BostonBiker.org
News, Events, Updates
Written by Boston Biker on Oct 05
A male cyclist was killed after a crash with an 18-wheeler truck in Porter Square during rush hour this morning, according to police. The incident happened around 8:08 a.m. on Massachusetts Avenue near Christopher's restaurant, at 1920 Mass. Ave., in the direction of Harvard Square. He was pronounced dead at the scene.

Both sides of Mass. Ave. near the crash will be closed for some time as investigators reconstruct the crash, according to Jeremy Warnick, communications director for the Cambridge Police Department.
1st vids fatal bike Ax investigation underway #Portersquare. Avoid area #CambMA pic.twitter.com/eLqJEddbsC

— Scott Tetreault (@BostonNewsMan) October 5, 2016
My heart goes out to his friends and family. It is very sad to see another fatality with a large truck, perhaps its time to think about banning them from the city during certain hours, or making it mandatory that they have more safety equipment, or in any way addressing this problem.
We can't keep fixing problems AFTER someone dies.  We have to fix them before it happens.
Personally I would love to ban large trucks from the city, either during certain hours, or totally.  This is a problem that is solvable, we just currently value money over human life, so we have not fixed it yet.
More info when I get it.
EDIT:
The cyclists has been identified as 60 year old Bernard Lavins of Lexington.
There are also details emerging about the gruesome nature of the accident.
Richard Fries of the advocacy group MassBike came upon the scene during his commute to downtown Boston.

"Suddenly I saw the aprons where they tried to conceal where the victim was, and then the moment you see that," he said, speaking later in the day. "So many bike riders go through there."

Fries estimates three out of 10 commuters in Porter Square are cyclists — and the intersection can be treacherous.

"This truck hit this cyclist square on … the body was 60 feet behind and the bike was wedged under this guy's truck," Fries said.
We must take proactive action on improving intersections and policies BEFORE these deaths occur. We can not allow cyclists to die in dangerous intersections before we take action.
Every time we hear about these things we learn that EVERYONE knew how dangerous a specific intersection was, and yet we did nothing until someone was killed.
Cycling is the future of transportation in this city, not single occupancy cars, and large trucks have no place in the city during most of the day (or ever). We must develop our policies and intersections accordingly.
EDIT:
Seems the safety record of the trucking company involved in this crash is pretty bad.
Porter Square cyclist death: Boston Globe whitewashes 4 Mitlitsky Eggs, mentions 2012 review not 60% inspection fail rate pic.twitter.com/fkj6tsTdz3

— Brett (@bikewazowski) October 6, 2016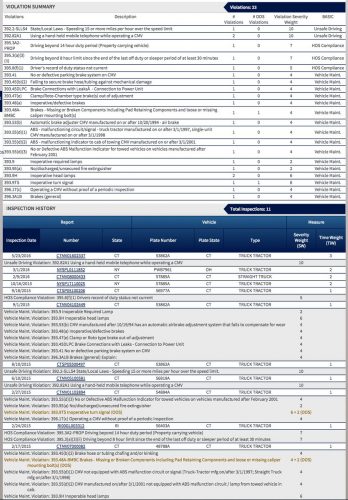 An awful lot of violations for speeding, bad brakes, and driving while looking at your phone.
These things have real life consequences as we have tragically observed. I am really starting to think that large trucks should be banned from the city except during certain hours, and perhaps with an escort.
Tags:
Bernard Lavins
,
cyclist killed
,
death
,
Porter square
Posted in
news
|
2 Comments »
Written by Boston Biker on Sep 29
Have you seen this guy?  He apparently shoved a woman off her bike while she was riding through Inman on the 22nd.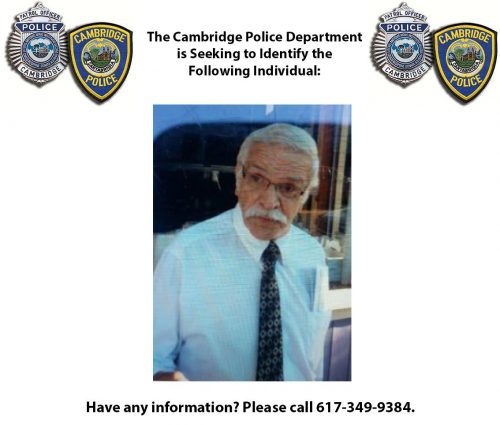 Tags:
cambridge
,
help find
,
inman
,
what a jerk
Posted in
news
|
No Comments »
Written by Boston Biker on Sep 28
From Livable Streets:
---
The program will start at 6pm sharp with City Council President Michelle Wu and Chief of Streets Chris Osgood. Show up early to meet with Councilor Wu and share your street safety concerns!
Streets are For People Rally
Thursday, September 29, 2016, 6-7pm
@ City Hall Plaza, Boston
**rally will go on rain or shine
Many of you have been helping us to spread the word via social media, thank you! Keep the momentum going so we can get the biggest crowd possible!
Together we can urge our leaders to prioritize safer options for people who walk, bike, and take transit. 
What you can do:
Share this email with your friends and neighbors and encourage them to join you on September 29th!

Invite 5 friends to the event:  https://www.facebook.com/events/1590398451256994/

Wear yellow to the rally. Yellow is a color of solidarity for those killed or seriously injured in crashes.

Spread the word via social media before and during the rally using #visionzero and #crashnotaccident
By participating in this rally you can show your continued support for Vision Zero efforts and making Boston's streets safer to navigate — no matter how people get around.
We know that Vision Zero can save lives. We hope to see you at City Hall Plaza this Thursday!
Massachusetts Vision Zero Coalition
Event Co-Hosts: WalkBoston, T4MA, TransitMatters, USPIRG, Safe Roads Alliance, MassBike, LivableStreets Alliance, DotBike, Boston Cyclists Union, StreetsPAC Boston, Walk UP Rozzie, Green Streets Initiative, Cambridge Bicycle Safety, Mattapan Food and Fitness Coalition
---
Dear Boston City Council,
Yesterday, the Massachusetts Vision Zero Coalition invited Mayor Walsh to speak at a Vision Zero rally taking place on September 29th at 6pm at City Hall Plaza. (We've included the invite below). We would like to invite City Council President Wu to speak at the rally, and invite all of you to be there to show your continued support for Vision Zero efforts and making Boston's streets safer to navigate — no matter how people are getting around.
Sincerely,
Massachusetts Vision Zero Coalition
WalkBoston, T4MA, TransitMatters, USPIRG, Safe Roads Alliance, MassBike, LivableStreets Alliance, DotBike, Boston Cyclists Union, StreetsPAC Boston
---
September 14, 2016
Mayor Martin J. Walsh
1 City Hall Square, Suite 500
Boston, MA 02201-2013
Dear Mayor Walsh,
On behalf of the Massachusetts Vision Zero Coalition we would like to invite you to speak at a rally on September 29th at 6pm at City Hall Plaza, where we will gather with our friends and neighbors in solidarity with those who have been killed in traffic crashes to call for swifter action to prevent these tragedies in the future.
Specifically, we hope you will recommit to Vision Zero, the pledge to eliminate fatal and serious traffic crashes in the city by 2030, and share what actions the City will take before the end of the year to achieve the goals it set forth in the Vision Zero Action Plan released in December of 2015. Additionally, we hope that you will commit more financial resources for additional staff and capital projects to ensure that the Transportation Department has the support it needs to reach these important goals.
Committing to Vision Zero was an important first step in improving safety on our streets. Unfortunately, in the wake of a series of tragic and preventable crashes, injuries, and fatalities, including 13 pedestrians who have died so far this year in the City of Boston, it is more important than ever to focus the priority of transportation policies and projects on safety.
The status quo is not working. We desperately need to invest in the infrastructure of Boston's streets and sidewalks — and we need your leadership to show it is the mandate of city government to prioritize safer options for people to walk, bike, take transit and drive.
Thank you for considering this invitation. We hope to see you on September 29th and look forward to working with you to accelerate progress toward achieving Vision Zero in the City of Boston.
Sincerely,
Massachusetts Vision Zero Coalition
WalkBoston, T4MA, TransitMatters, USPIRG, Safe Roads Alliance, MassBike, LivableStreets Alliance, DotBike, Boston Cyclists Union, StreetsPAC Boston
The Massachusetts Vision Zero Coalition advocates for the implementation of Vision Zero in Boston and for the adoption of Vision Zero throughout the metro area and state of Massachusetts. The growing coalition includes community-based organizations, nonprofits, businesses, civic groups and individuals representing communities across the state.
Tags:
livable streets
,
rally
,
vision zero
Posted in
advocacy
,
events
,
news
|
No Comments »
Written by Boston Biker on Sep 25
The City of Cambridge is handing out a copy of the bike laws to all the residents (including incoming Harvard students).  Education is a key component in preventing bike accidents, and I am glad they are passing it out to ALL new residents, because the vast majority of people in Cambridge are not riding their bike daily, and they need to know the laws just as much as the cyclists (if not more).
Perhaps this could be expanded to EVERY resident in Cambridge, as they could use a refresher on the laws as well.
From The Crimson:
New residents of Cambridge, including incoming Harvard students, will receive information on local bicycle regulations, the Cambridge City Council ordered at its weekly Monday night meeting.

A trio of resolutions, all focused on increasing knowledge about bike laws in Cambridge, passed unanimously. The resolutions, sponsored by Mayor E. Denise Simmons, requested that the City Manager's office work with the city and local colleges to provide new residents and students with relevant bicycle safety information.

"There's a good deal of volume of bicycles in the area, and people may be coming from areas where there aren't as many," said Sandra Clarke, Cambridge's deputy director of community development. "[The resolutions are] intended to reach out to folks who may be new to the community."
Tags:
cambridge
,
education
,
laws
Posted in
advocacy
,
news
|
No Comments »
Written by Boston Biker on Sep 08
DotBike has been busy!
From the email:
---
Dear Dot Bikers,
As we move from sweaty- to sweater-weather biking I hope you're enjoying your riding! Thanks to many of you who have joined us for #DorchestertoDowntown Bike Friday group commutes and our new ongoing Bike Repair Saturdays at home.stead cafe.
There were several key legislative wins for biking in MA this session, including the bill which will allow Boston to drop from 30 to 25 mph in thickly settled areas. Read more at MassBike.
Help us build our local bike community via social media–  follow DotBike on Facebook and Twitter (@BikeDorchester)!
7 ways to get involved in your bike community this month:
ADVOCACY OPPORTUNITIES
SEPT (date TBA) – Morrisey Blvd Redesign for Reconstruction
From DCR's website: "At a public meeting anticipated to be held in September 2016, DCR will present an introduction to, and obtain feedback on, conceptual designs focused on reconfiguration of roadway lanes, intersections, crosswalks, and adjoining sidewalks and paths used by pedestrians and bicycles.  DCR aims to present final design plans in December 2016, and construction is pending the availability of funding."
SEPT 27 – Vision Zero Boston: Neighborhood Slow Streets TNT Community Meeting
@ Prayer Tower Apostolic Church | 151 Norfolk St, Dorchester, 6:30pm
Join the Boston Transportation Department project team to learn about the proposed transportation safety project for the Talbot-Norfolk Triangle neighborhood and give us your feedback.
________________________________________
UPCOMING EVENTS
SEPT 15 –  Dorchester Bike + Brew Festival
@ Ashmont/Peabody Square, 5-8PM
Join Greater Ashmont Main Street, DotBike, Boston Cyclists' Union  and MassBike for this family friendly community festival showcasing the growing cycling community in Dorchester and the burgeoning Boston brewery scene, along with food trucks, live music, DIY bike repair presentations, giveaways, etc.
SEPT 17 – Bike Repair Saturdays
@home.stead cafe, 10-12pm
Need help fixing a flat? Can't figure out where that squeaking noise is coming from? Starting this September, volunteers from DotBike will be available for simple bike repairs in front of home.stead café.
We intend to make this a recurring event every 1st and 3rd Saturday of the month, weather permitting (above 50 F, and no rain). Due to our limited tools and tubes we will only be able to perform small repairs. If you are willing to participate, work on your own bike, and share your knowledge with others, even better!
SEPT 20 –  DotBike General Meeting
@ Codman Academy, 6:30-8pm
All are welcome! We meet bi-monthly at Codman Academy Black Box Theater in Codman Square (14 Epping St.) from 6:30-8:00pm. Contact: [email protected].
SEPT 23 – #DorchestertoDowntown Bike Friday Group Commute
@Ashmont Cycles, 7:15am
Convoy will meet at 7:15am (7:20am departure) in front of Ashmont Cycles and ride down Dorchester Ave picking people up along the way.  We will have a brief stop at home.stead cafe for coffee and pastries.  We will then continue downtown with other Dorchester residents and meet up with other city cyclists at City Hall.  RSVP to Bryan ([email protected]).
SEPT 24 – Inter-neighborhood Ride Series: DORCHESTER
@ home.stead cafe, 11am
Join DotBike for the 3rd installment of the Inter-neighborhood Ride Series!  "Dorchester Heights and Highlights" – a little history, a little hill-climbing, but plenty of good views and good company! Play "Dot Bingo" as you ride and you could win a gift certificate to the delicious home.stead cafe! Ride starts and finishes in Fields Corner @ home.stead café (1448 Dorchester Ave).
__________________________________________
GET INVOLVED!
Seeking volunteers to help with set-up (Thurs. Sept 15th, 3-5pm) at the Bike + Brew Festival: Love beer, bikes, and your community? Many hands will make light work to set up for this fun, local event! Attend this pre-event meeting on Sept. 8th or contact Jenn Cartee at [email protected].

Seeking volunteers for Bike Repair Saturdays (10-12pm) @ home.stead cafe: Hang out and chat with neighbors about DotBike or get your hands dirty doing simple bike repairs! Free treats for volunteers! Contact Vivian Girard: [email protected].
Join us for our next general meeting on Tuesday, September 20th, 6:30 – 8:00pm at the Black Box Theater @ Codman Academy (14 Epping Street).
Tags:
DotBike
,
update
Posted in
advocacy
,
news
|
No Comments »
The Word On The Street