The Latest From BostonBiker.org
News, Events, Updates
Written by Boston Biker on Apr 06
April 13, 2009 3:30 pm
to
April 17, 2009 6:30 pm
April 20, 2009
3:30 pm
to
6:30 pm
May 18, 2009 3:30 pm
to
May 22, 2009 6:30 pm
May 25, 2009 3:30 pm
to
May 29, 2009 6:30 pm
June 1, 2009 3:30 pm
to
June 5, 2009 6:30 pm
June 8, 2009 3:30 pm
to
June 12, 2009 6:30 pm
GIRLS IN ACTION! bike program
May 18th – June 22nd
Monday through Friday, 3:30 – 6:30pm each day
Girls ages 12-18 have the opportunity to engage in an interactive bicycle mechanics, bicycle riding safety, and gender equity social justice curriculum. This course is an excellent way for girls to gain skills and make friends in the rich community of female cyclists and mechanics at Bikes Not Bombs. Program graduates ride away on their very own refurbished bicycles! Just like Earn-A-Bike, graduates of this class may eventually qualify for a part-time teaching and leadership job in our youth programs. For girls only. Classes run Mon-Thurs, 3:30 – 6:30. Program cost is $25-$50 sliding scale for the whole session (scholarships available).
To download flyers and applications, see http://www.bikesnotbombs.org/node/472

Contact Elijah Evans at 617-522-0222 or [email protected]
Posted in
events
|
No Comments »
Written by Boston Biker on May 15
June 8, 2009
5:00 pm
to
9:00 pm
I went to this last year and it rained a little and was cold as hell, but you know what I had a fantastic time. This is a do not miss party, be sure to make it out to this party. This year it is in June so I bet that will help with the cold a bit.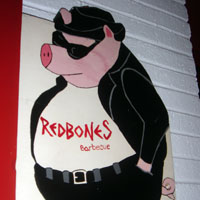 ——
REDBONES 13th ANNUAL BIKE PARTY AND BENEFIT
Gearing up for a new date!
This year the party moves to June – so clear your calendars, get a group together & ride by for Redbones freewheeling annual block party.
Date: Monday, June 8 (rain date: June 15)
Time: 5 – 9 pm, raffle drawing @ 7:30 pm
Place: Redbones, 55 Chester Street, Somerville, 617.628.2200
Tickets: $15.00 includes bicycle valet parking, a Redbones sandwich, drink & a raffle ticket.
Additional raffle tickets: 1 for $2.00 & 3 for $5.00.
Our generous sponsors donate awesome prizes for the raffle including the Grand Prize, a Basket Bike from Alternative Needs Transportation. There'll be other amazing bikes, gear & lots of swag.
A list of sponsors & other info @ www.redbones.com.
Proceeds go to:
Massachusetts Bicycle Coalition (MassBike)
New England Mountain Bike Association (NEMBA)
Posted in
events
|
No Comments »
The Word On The Street