The Latest From BostonBiker.org
News, Events, Updates
Written by Boston Biker on Nov 12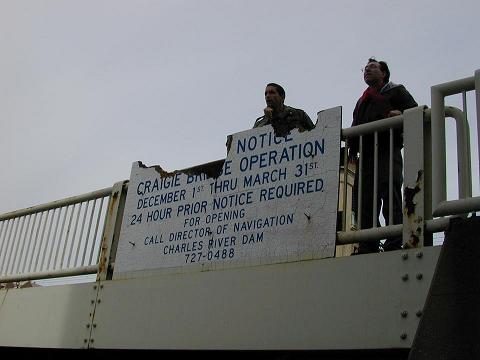 The Department of Conservation and Recreation (DCR) has scheduled a public meeting at 6 p.m. on Monday, November 17, at the Museum of Science to discuss the planned rehabilitation of the Craigie Dam Bridge and Craigie Drawbridge.
The Craigie bridges carry Route 28 between Cambridge and Boston. The Dam Bridge lies directly under the roadway in Cambridge, adjacent to the Museum of Science parking garage, and carries Cambridge traffic that is heading to or from the Drawbridge. Structural elements on the Dam Bridge, which was built in 1908, will be extensively repaired, and the leaves and mechanisms on the Drawbridge, which was built in 1958, will be replaced. The pedestrian walkway on the southwest side of the bridge (adjacent to the Museum of Science) will be widened to accommodate pedestrians and bicycles.
DCR's design consultant, Hardesty & Hanover LLP, estimates construction will take about two years. The project is still in the design stage; bids are expected to be solicited for the project in January 2009. Work is expected to begin in spring 2009 and be completed in spring 2011.
"The Craigie Dam and Drawbridge together make up one of DCR's most critical infrastructure links, maintaining traffic flow throughout the Charles River Basin," said DCR Commissioner Richard K. Sullivan Jr. "Thanks to funds allocated by the Legislature to fund Governor Patrick's Accelerated Bridge Program, DCR will be able to repair both these bridges and ensure they last for many years to come."
Approximately 116,000 vehicles cross the Craigie bridges each day. During the work, which will be done in phases, the bridges will remain open to vehicular traffic. Also, work on the Drawbridge will be done during winter, so as not to impede seasonal boating traffic.
"The Craigie Dam Bridge and the Craigie Drawbridge are important not just to the people of Cambridge and Boston, but also to the thousands of commuters who depend on their structural integrity on a daily basis," said State Representative Timothy Toomey Jr. "I'm pleased that DCR recognizes their significance and has shown a commitment to their maintenance and repair."
"I encourage people to attend this meeting to learn about DCR's plans for the Craigie Drawbridge and Craigie Dam Bridge," said Rep. Marty Walz. "It is important for residents of Boston's West End and Cambridge to know about the rehabilitation and share any concerns they may have with DCR."
Posted in
events
|
No Comments »
Written by Boston Biker on Oct 20
October 20, 2008
7:00 pm
October 27, 2008
7:00 pm
November 3, 2008
7:00 pm
November 10, 2008
7:00 pm
November 17, 2008
7:00 pm
November 24, 2008
7:00 pm
These look like some nice classes, and are cheap too!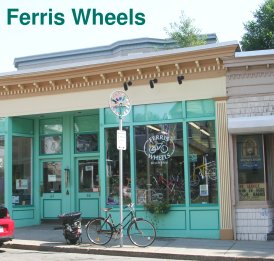 Ferris Wheels Bike Shop in Jamaica Plain is offering classes in fall 2008 for bicyclists. Mondays nights at 7 pm. Oct. 20: Flats (hands-on); Oct. 27: Brakes; Nov. 3: Winter Riding tips (basic); Nov. 10: Bearings; Nov. 17: Quick and Dirty talk on flats (basic); and Nov. 24: Spoke replacement and wheel truing. Basic classes are: $5; hands-on are $30. Classes will be held at Ferris Wheels, 66 South St., JP. Register by calling Ferris Wheels at 617 524-BIKE.
Posted in
events
|
No Comments »
The Word On The Street