Written by Boston Biker on Jun 13
From the Charles River TMA: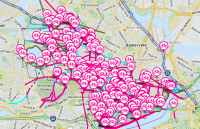 For the past month, the City of Cambridge has been soliciting comments for its bicycle master plan. If you stopped by a CRTMA bike breakfast, you may have seen a table-sized map (except the day we were at Alewife, where it blew away) where you could write in your comments. We got lots of great feedback, and the city is going to distill this in to a broad plan.
If you missed out on commenting on paper, fear not! You can do so on the World Wide Web as well. Click on over the Master Plan website and find the "wikimap" tool. There, you can go in and add lines and points and give comments, good and bad. You can also vote for other people's comments, and add comments to what others have already put on the plan.
There's a lot of information added already, but more is better, as we build a safer, easier-to-bicycle Cambridge.
You can also take a quick (5 to 10 minute) survey about your level of comfort using various bicycling facilitieshere. You can win free stuff (including a Hubway membership) if you do!
Tags:
cambridge bike plan
,
charles river tma
Posted in
advocacy
|
1 Comment »