Written by Boston Biker on Apr 04
Our sincerest thoughts go out to his family.
It seems they have found the garbage truck driver they think was involved in the crash. And charged them.
Update: Police have charged the driver of a sanitation truck who allegedly killed a cyclist and left the scene of the accident Thursday in Charlestown.

Ricky Prezioso, 41, of Swampscott, has been charged with leaving the scene of an accident after causing death.(via)
From the BPD
At about 1:40pm, on Thursday, April 3, 2014, officers from District A-15 (Charlestown) responded to a call for a pedestrian struck in the area of Cambridge & Spice Streets in Charlestown. On arrival, officers located a male victim suffering from what appeared to be life threatening injuries. The victim was pronounced deceased on the scene.

The Boston Police Department is actively investigating the facts and circumstances surrounding this incident and is asking for the public's help in an effort to locate and identify a vehicle seen leaving the area shortly after the accident. The vehicle in question is described as a sanitation truck, white in color with black lettering.

Anyone with information is asked to call the Boston Homicide Unit at (617) 343-4470.

Community members wishing to assist this investigation anonymously can do so by calling the CrimeStoppers Tip Line at 1(800) 494-TIPS or by texting the word 'TIP' to CRIME (27463). The Boston Police Department will stringently guard and protect the identities of all those who wish to help this investigation anonymously.
Charlestown has a history of being less than amenable to cycling safety improvements. And this horrible tragedy comes on the same day that the MassBike and WalkBoston are introducing a cyclist/pedestrian safety bill.
I am deeply saddened that one of our own has been killed. More information when I get it.
EDIT:
Some pictures from the scene, does anyone know this bicycle?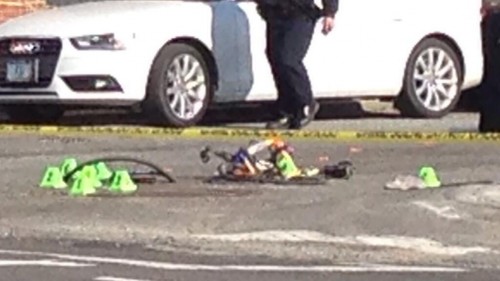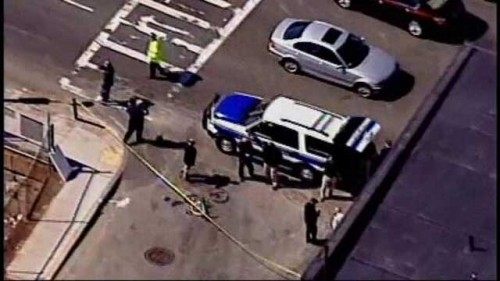 EDIT: Warning this might make you hate all humanity.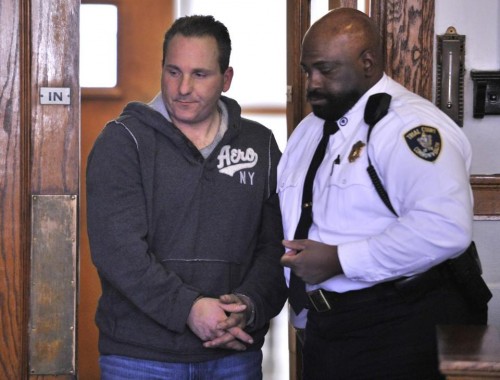 The Swampscott garbage truck driver who fatally struck a bicyclist in Charlestown allegedly told Boston police that he did not know he had struck someone with his vehicle, and completed his trash pickup a few feet from where the bicyclists crumpled body was found.

The name of the bicyclist has not been released.

Ricky Prezioso, 41, today pleaded not guilty to one count of leaving the scene of an accident after causing death in Charlestown Municipal Court where bail was set at $5,000 cash and Judge Lawrence McCormick refused to ban him from driving.

The bicyclist was pronounced dead at the scene. His crumpled bike was found by police on Spice Street close to the Cambridge Street intersection; his body was about 10 feet further down Spice Street and remained there for several hours while police collected forensic information.

….

Prezioso's attorney, William Cintolo, said that his client was not responsible for the fatal incident.

"Instead of the truck hitting the bike, the bike hit the truck,'' Cintolo said. "There is not one scintilla of evidence that there was anything negligent about his operation."

Suffolk Assistant District Attorney Ian Leson asked for $15,000 cash bail and that Prezioso be held without bail for an assault and battery case in Woburn District Court from last year.

Leson also asked the judge to suspend Prezioso's right to drive.

But Cintolo told the judge that Prezioso supports his three children who live in Everett, as well as his fiance's three children who live in Swampscott.

McCormick said he was convinced by Cintolo's argument that Prezioso should be allowed to continue to earn a living behind the wheel.

"If he's dependent upon his position to keep six children fed and clothed, I don't find it necessary to prevent him from doing that,'' the judge said from the bench.
You can read the rest here…its pretty depressing. Like they say, if you want to murder someone wait until they get onto a bicycle.
EDIT:
A better picture of the bike, anyone know who this is?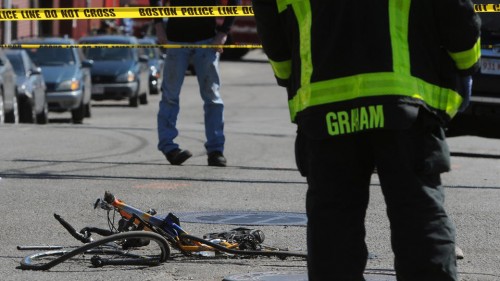 EDIT:
UHub is reporting that the victim was a 30 yar old man from Chelsea, but his name has not been released yet.
EDIT:
UHub is reporting that the victim was Owen McGrory, 30, of Chelsea.
Tags:
charlestown
,
cyclist killed
,
death
,
hit and run
Posted in
news
|
9 Comments »