Written by Boston Biker on Mar 04
Edit: More info here and here.  This ride is still going to happen!
In a head scrathing decison the MBTA has announced it wont provide a train for this years Midnight Marathon Ride.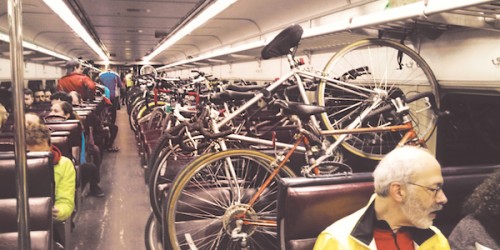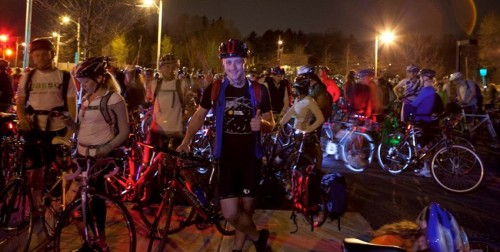 Cyclists who rely on a special Commuter Rail train to travel between Boston and Hopkinton for the annual Midnight Marathon Bike Ride will have to find a new way to get to the starting line for this year's event.

After the Boston Athletic Association allegedly asked the organizers of the ride to derail their annual 26.2-mile trek, the MBTA announced that a set of train cars reserved last year for shipping hundreds of cyclists to the starting line would not be arriving at South Station in 2014.

"A special train, dedicated to bikes, will not be provided this year," said MBTA Spokesman Joe Pesaturo in an email to Boston. Pesaturo said the train would not be giving rides to the cyclists "at the request of local public safety officials," not the BAA. Standard rules for bikes on off-peak Commuter Rail trains will be in effect, which means a maximum of four bikes will be allowed per coach.

The BAA asked Midnight Marathon Bike Ride organizers not to host the event, citing safety concerns. Last week, the BAA put out a set of specific security guidelines in response to last year's bombings at the finish line.

Peter Judge, spokesman with the Massachusetts Emergency Management Agency, the state office that works with BAA officials to address security issues both prior to the marathon, and on race day, said the reason for asking cyclists to cancel their trip "dove tails" on last year's bombing, but it's actually just a general concern voiced by officials in municipalities that the riders pass through. "Anytime you are going to send 1,000 people out at midnight on bikes, you have the potential for issues. [The bombings] aside, this is something that has been discussed every year, and there has been concerns," he said. "It's strictly a public safety issue and the timing of it. It's a cool idea, but it's just raw with potential. That being said, we are asking them not to have the ride."
I feel like this is the worst possible response to a terrorist act. "They who would give up essential Liberty, to purchase a little temporary Safety, deserve neither Liberty nor Safety." We are basically saying that if you do something horrible to us, we will change our entire way of life and relinquish basic freedoms.  I guess 9/11 and the response to it has taught us nothing.
You are allowed to take your bike on the train, you are allowed to ride your bike on the road, and neither act is a danger to anyone. If the powers that be are concerned that people bike riding on a road at midnight with no crowds is more dangerous than having 26.2 miles of packed human beings watching the actual marathon than they are not thinking straight.
I simply don't see how they are going to lock down all 26.2 miles of the course. I don't see how they are going to search every person who wants to watch the marathon. Crowds if anything will be bigger this year. No cowardly act of violence is going to keep Bostonians from participating in a symbol of unity and international togetherness.
I don't know where the person in the story above is getting this 4 bikes per car thing (that rule is not listed here), but if that is how they are going to play it, we simply show up as soon as rush hour is over (7pm), and cram every car with 4 cyclists all night until midnight.  Folding bikes are also allowed at all times on any train, so bring your folder if you got one.
I say we all show up at south station and buy a ticket.  And then we cram ourselves onto any train available, we rent some buses, carpool, get a U-haul,  hell lets make this 26.2 mile ride into a 52.4 mile ride and do it out and back.  This sort of panic and fear based foolishness shouldn't keep us from enjoying our legal rights to use the trains and roads.  Feel free to use the comments below to set up ride shares, truck rentals, etc.
I think its important that we make this ride bigger and better than ever as a symbolic gesture, to raise a big middle finger to anyone that would use fear as a tool of persuasion.  Don't be confused, train or no train this ride is going to happen this year.  Bring a friend because its going to be huge!
Fuck fear mongers, fuck terrorists for using violence against innocent people, and fuck them both for trying to make us afraid.  Lets come together and show everyone that love and bicycles are stronger than bombs and fear.
Tags:
baa
,
fear
,
foolish
,
marathon
,
MBTA
,
midnight marathon ride
Posted in
news
|
4 Comments »